Imperial Palace's Quesadilla tries to keep it simple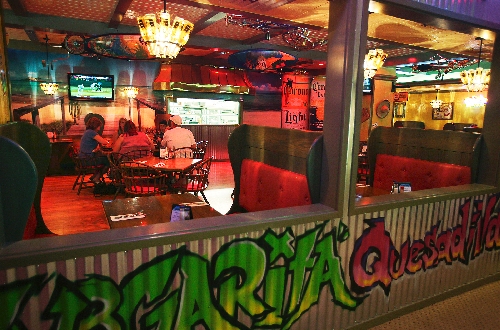 From its newspaper-plastered wooden chairs to its Corona bottle chandeliers to its basic Mexican menu, there is nothing fancy about Quesadilla at Imperial Palace, 3535 Las Vegas Blvd. South.
"Sometimes people want to make it too complicated," says Christophe Jorcin, food and beverage vice president for the Imperial Palace, who named his latest idea after a cantina he frequents in Cabo San Lucas, Mexico.
"What we're doing is just simple, affordable Mexican food where people can see the real value," he says, noting that the average check runs $13.
Quesadilla, which seats 110, opened in January on the hotel's fifth-floor food promenade — in the space formerly occupied by the Cockeyed Clam. Originally, only dinner was served, but Quesadilla is now open 11 a.m.-10 p.m. daily. (Pushes occur before the Human Nature and "Divas Las Vegas" performances at 7:30 and 10 p.m.)
Jorcin calls being accessible only by elevator "a challenge," but says more signage is going up on the casino floor.
Reservations are not required.
Signature dish: Loco-Loco quesadilla, $7.95
Starters: Tostado trio, $7.95; chicken wings, $7.95; mucho sampler, $12.95
Soups and salads: Chicken tortilla soup, $4.95; hacienda ensalada, $4.95; taco salad, $7.95
Entrees: Corracho chicken, $12.95; Cabo fish taco, $12.95; sizzling fajitas, $13.95.
Desserts: Flan, $4.95; Kahlua cheesecake, $4.95; chocolate mousse, $4.95.
Information: 731-3311