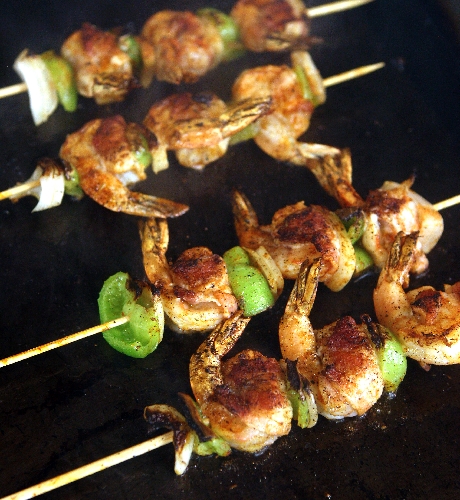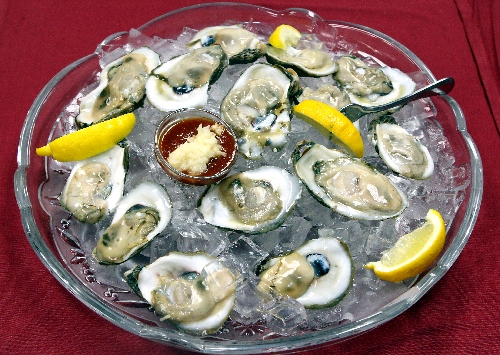 The images are stark as the oil well hemorrhages into the Gulf of Mexico. Like some sort of B-movie monster blob, it leaves a layer of its filthy spittle on waterfowl and big sticky tar balls on beaches as it spreads, imperiling not just the open waters but also inland waterways and marshes. While the oil spews, fishing boats bob at their docks alongside shrimp boats with slackened netting.
In Las Vegas, the land of the shrimp cocktail and crab leg buffet, seafood lovers are left wondering if the party's about to end. And the answer to that depends on who you talk to, and where they get their seafood.
Lola Pokorny, chef/owner of Lola's A Louisiana Bistro on West Charleston Boulevard, said obtaining Gulf shrimp has become a bit of a challenge.
"We're looking for other sources, because our sources are starting to dry up," she said. "Where I can get them, they are absolutely limiting how many I can get. At some point, we're going to dry up."
Scott Ghormley, chef/owner of Rhythm Kitchen on South Decatur Boulevard, said he has heard from suppliers that shrimp production in the Gulf is down to about 50 percent of normal levels.
"On the other side of Mexico, there's plenty of shrimp," Ghormley said. But the lower production in the Gulf is driving up prices, the restaurateurs noted. In the first two weeks after the spill, Pokorny said, prices increased $3 a pound, and have since gone up another $3. While her restaurant's website notes that shrimp prices may be going up because of the spill, Pokorny said, "so far I haven't passed that along to my customer and I don't know why — probably because I just don't want to face them saying, 'Oh, sure, you're a gouger.' "
"All the stuff coming out of Indonesia and China is going up, too," Ghormley added. "They're charging more because they can."
Pokorny said oysters haven't been much of a problem, because she gets those from Galveston, Texas, west of the spill, which has been moving east.
"They're coming in a little bit smaller, and my guess is they're just having to harvest them faster," said Pokorny, adding that the warmer summer waters also might have something to do with the size difference.
David Snyder, executive chef of Wynn Las Vegas and Encore, said the resorts haven't been greatly affected because about the only seafood they source from the Gulf is fin fish such as snapper, grouper and pompano, plus some rock shrimp. Most of the regular shrimp the resorts use comes from overseas, he said. Their oysters, he added, come from the Pacific Northwest.
But he does think prices will be affected.
"We're thinking over the next year, due to the limited availability of shrimp and oysters from that (Gulf) region, we'll see other commodities probably go up 10 (percent) to 20 percent," Snyder said. "That's what we're guessing, just based on supply and demand."
Marsha Gilford, vice president of public affairs for Smith's, said the supermarket chain doesn't typically use Gulf of Mexico shrimp, and hasn't seen any price increases so far.
Yvette Monet, corporate public affairs spokeswoman for MGM Resorts International, said the company gets its seafood all over the world and has been affected very little.
But Pokorny said some problems have been surprising.
"Funny enough, catfish, because so many people are going to catfish as an alternative," she said. "Our catfish supply is iffy, even though they are farm-raised. It's just supply and demand."
Ghormley said he's confident the supply is safe, and that the very process of ensuring it is causing some of the problems.
"I think it's taking just too much time for the government to get in and do the testing," he said. "The food coming out of the Gulf Coast right now is the most highly scrutinized and tested in the world. It's not normally tested; that's not like ever happened before. The stuff is safe."
Pokorny said she plans to go to Louisiana at the end of the month and find a restaurant to adopt. She plans fundraisers to raise money to help with payroll, mortgages — whatever.
"They tell us you can smell the oil," she said. "We had a customer in who said you can't smell it in the French Quarter, but on the outskirts, you can.
"It's just a sad situation."
Contact reporter Heidi Knapp Rinella at hrinella@review journal.com or 702-383-0474.