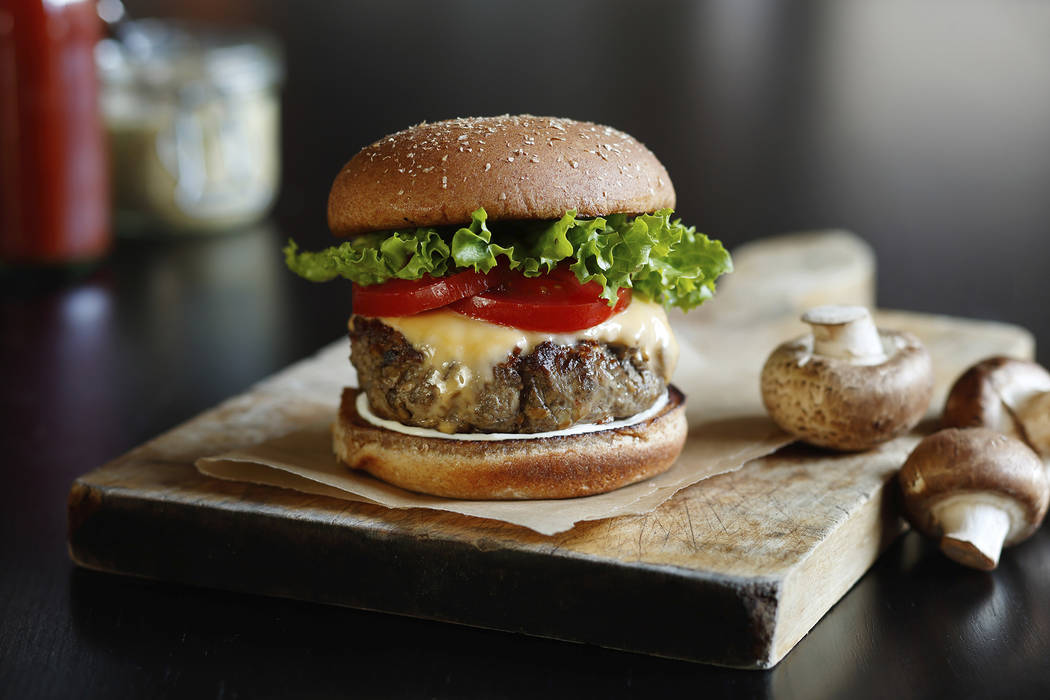 Burgers aren't exactly known as nutritional powerhouses, considering the saturated fat the average one contains. And then there's the hefty environmental impact of beef cattle, which is higher than dairy cattle, pigs or poultry. But we sure do love our burgers, which have become a staple of the American diet on levels ranging from fast food to haute cuisine.
Enter The Blend, a beef-and-mushroom burger conceived as part of an initiative by The Culinary Institute of America and the Mushroom Council. It was adopted as the Blended Burger Project, part of the James Beard Foundation's JBF Impact Programs, and became an annual contest three years ago. And it's something you can try at home.
The concept is simple: Finely chop fresh cultivated mushrooms and use them to replace at least 25 percent of the beef in a burger.
Of course, other things can be substituted for part of the beef; this project is partly supported by the Mushroom Council, which exists to support consumption of cultivated mushrooms. Yen-Soon Kim, an associate professor in the College of Hotel Administration at UNLV, said in countries where beef costs are particularly high, chicken, pork or tofu often is mixed with the beef.
But there's some science behind the idea of using mushrooms. A study by the University of California-Davis and The Culinary Institute of America found that adding mushrooms to the beef in burgers reduces the consumption of calories, fat and sodium and adds nutrients including vitamin D, potassium, B-vitamins and antioxidants.
And mushrooms contain a heck of a lot of umami, which can really boost a burger's flavor — or that of taco filling, or lasagna or anything else that contains ground beef or another kind of ground meat.
Plus, said Amanda Cohen, a spokeswoman for the Mushroom Council, "They have that meaty texture all by themselves. And they're very porous and can soak up that meaty flavor."
"Veggie burgers are too dry," Kim said. "But people who can eat meat can eat an enhanced burger. It's very sustainable."
Holsteins Shakes and Buns at The Cosmopolitan of Las Vegas participated in this year's Blended Burger Project, which ended in July. Chef de cuisine Robert Arcos said they offered the burger as a special for about a month and a half and it was so popular he plans to add it to the regular menu in the fall.
"A lot of the servers decided they liked it," he said. "When our servers like something, they tend to sell more."
Arcos said the requirement was to use at least 25 percent mushrooms, and they decided to use their usual blend of oyster, cremini and white.
"From there we started playing with the percentage of the mushrooms until we got to 50/50," he said. "And then we tried different setups. The best one we tried is a combination of our steak sauce, horseradish and mayonnaise. It blended really well with the mushrooms and our onion marmalade."
Lorin Watada, chef/owner of Bachi Burger, the only local entrant in the first year of the contest, said he took it on as a challenge.
"It took us a while," he said. "We had to figure out how to make a burger that tasted good but was still able to retain its shape and form."
Their burger was Indian-inspired. Watada said they cut up king oyster mushrooms and made a sort of mushroom masala, which they folded into the ground beef and served with yogurt raita and tomato jam.
"It was actually really good," he said. "It's something we ran as a specialty burger for about a year. It was well received."
Watada said it was taken off the menu because he felt it had run its course, but he feels good about the concept.
"I love the idea," he said. "The culture of our restaurants is about sustainability."
"It's very sustainable for the planet," Kim said. "The burger is not bad; it's a matter of how we make it."
But although Cohen said the project has grown each year and this year had 414 participating restaurants in 45 states, Watada is not as enthusiastic about the potential for the concept to become a regular part of the American diet.
"I think that's something hard to do," he said. "You're talking about changing people's dining habits. Just to change some habits in people, it took 30 years."
Classic Blended Burger
1/2 pound cremini or white button mushrooms
2 tablespoons olive oil (divided use)
1 pound ground beef
1/2 teaspoon salt
4 buns
Finely dice mushrooms or gently pulse in food processor.
In skillet, warm 1 tablespoon olive oil on medium-high heat and add mushrooms, sauteing 5-7 minutes, or until golden brown. Remove from heat and cool 5 minutes.
Transfer cooled mushrooms to medium bowl. Add ground beef and salt, mixing until combined.
Make 4 patties. Add remaining tablespoon of olive oil to pan and cook burger patties on medium-high heat until desired doneness. Place in buns on four plates and add desired toppings.
Topping recommendations: fresh tomato, red onion, butter lettuce, cheddar cheese and your favorite spreads.
Serves 4.
Red Cow Blended Burger
1 tablespoon canola oil
1 pound white button mushrooms, sliced
8 ounces assorted shiitake, cremini and oyster mushrooms
1 cup dry marsala wine
3 pounds ground beef (80/20 meat-to-fat ratio)
Roasted garlic aioli:
1 cup mayonnaise
1 tablespoon pureed roasted garlic
1⁄2 cup sour cream
1 teaspoon white vinegar
1⁄2 teaspoon kosher salt
1⁄4 teaspoon white pepper
Fried shallots:
Canola oil for frying
4 large shallots, thinly sliced
2 cups flour
Pinch of salt and pepper
1 tablespoon truffle oil
To serve:
6 large hamburger buns
Softened butter
6 slices fontina cheese
In a braising pan over medium heat, heat oil and cook mushrooms until juices are released. Continue to simmer until all moisture is evaporated. Add marsala and cook until all liquid is gone. Transfer mushrooms to a bowl and place in refrigerator to cool. Once cooled, place mushrooms in food processor and pulse until finely chopped.
In a medium bowl place mushrooms and ground beef; mix until well combined. Divide into six 8-ounce balls.
For roasted garlic aioli, place mayonnaise, garlic, sour cream, white vinegar, salt and white pepper in a bowl; whisk until smooth.
For fried shallots, heat a few inches of oil in a heavy-bottomed saucepan to 350 degrees on a deep-fry thermometer. Rinse shallots under cold water and place in a large bowl. Add flour to bowl and toss until shallots are coated. Shake off excess and drop shallots into hot oil. While frying, stir constantly until golden and crispy. Remove shallots from oil and transfer to a clean bowl. Toss with salt, pepper and truffle oil.
Place burger portions in a large skillet heated to 400 degrees and press into 1⁄2-inch-thick patties. Generously season with salt and pepper. Cook until crust has formed, about 5 minutes. Flip and continue to cook, about 5 minutes.
Place 1 slice of cheese on each patty and cook until melted. Remove burgers from heat to rest. Spread softened butter onto each half of bun and toast in skillet until golden brown. Remove bun and spread 1 tablespoon of aioli on the bottom half of each bun, with burger patty and fried shallots. Top with bun and serve.
Serves 6.
Cremini-Lamb Burgers
4 tablespoons unsalted butter, at room temperature (divided use)
2 shallots, peeled and minced
1 clove garlic, peeled and minced
8 ounces cremini mushrooms
1 tablespoon chopped fresh thyme
1 teaspoon kosher salt (divided use)
1 tablespoon olive oil
1 bunch scallions
1 pound ground lamb
1 ripe large tomato
16 crinkle-cut dill pickles
1 5-ounce container of boursin cheese, divided into 4 equal parts
Potato buns
Finely chop the mushrooms.
Place 3 tablespoons of butter in a large saute pan (12 inches or so) over medium-high heat. When the butter bubbles and froths add the shallots and cook for 1 minute. Reduce the heat to medium and add the garlic, mushrooms and thyme. Cook for 10 minutes, stirring often. Season with ½ teaspoon kosher salt. Remove the mushroom mixture from pan to a large bowl and place into the refrigerator to cool, spreading the mixture out with a spatula so it will cool more quickly.
Clean out the pan with a paper towel, place it over medium-high heat and add the olive oil to the pan. Add the scallions and char them for 4 minutes on each side. Remove the scallions, chop into ½-inch pieces and add them to the mushrooms.
Place the lamb in a large bowl and season with the remaining salt. Add the cooled mushroom and scallion mixture and mix well to thoroughly incorporate all components. Divide the mixture into four equally portioned balls and then form each into a patty about 5 inches in diameter and 1 inch thick. Store them in the refrigerator until ready to grill.
Spread the remaining 1 tablespoon of butter on each bun and toast in a pan over medium heat until each side is a nice buttery brown. Remove and cool while the burgers cook.
Get the grill hot and cook the burgers for 3 minutes per side. When they're done, rest the burgers off the heat for 3 minutes.
Top each bun bottom with a burger, then the boursin, then a seasoned slice of tomato and finish with the pickles.
Serves four.
Recipes adapted from the Mushroom Council
Contact Heidi Knapp Rinella at Hrinella@reviewjournal.com or 702-383-0474. Follow @HKRinella on Twitter.