As you've no doubt noticed with the ruby-red gems virtually everywhere, this is premium strawberry season. But this year, consider thinking outside the basket. In other words, don't sell yourself shortcake.
Chefs are using strawberries in numerous offbeat ways — pickling them, dehydrating them and drying them and grinding them into powder. It's all in an effort to make the most of their familiar flavor.
Rebecca Bills, corporate executive pastry chef for Block 16 Hospitality, whose Las Vegas restaurants include Holsteins Shakes and Buns at The Cosmopolitan of Las Vegas and Public House at the Palazzo, makes a strawberry gazpacho dessert by roasting the berries with sugar and vanilla bean until they're soft and release their juices, then mixing in some black pepper and chilling the mixture. When she serves it, she places a white-chocolate cup, filled with rice pudding, in a bowl of the gazpacho.
John Courtney, culinary director for Simon Hospitality Group, also uses strawberries in a dessert he serves at Carson Kitchen, but he dehydrates them. His honey cheesecake with lavender crust and strawberry-liqueur coulis was born because the restaurant's mixologists wanted to develop a cocktail using creme de fraise, or strawberry liqueur, and were looking for a pairing.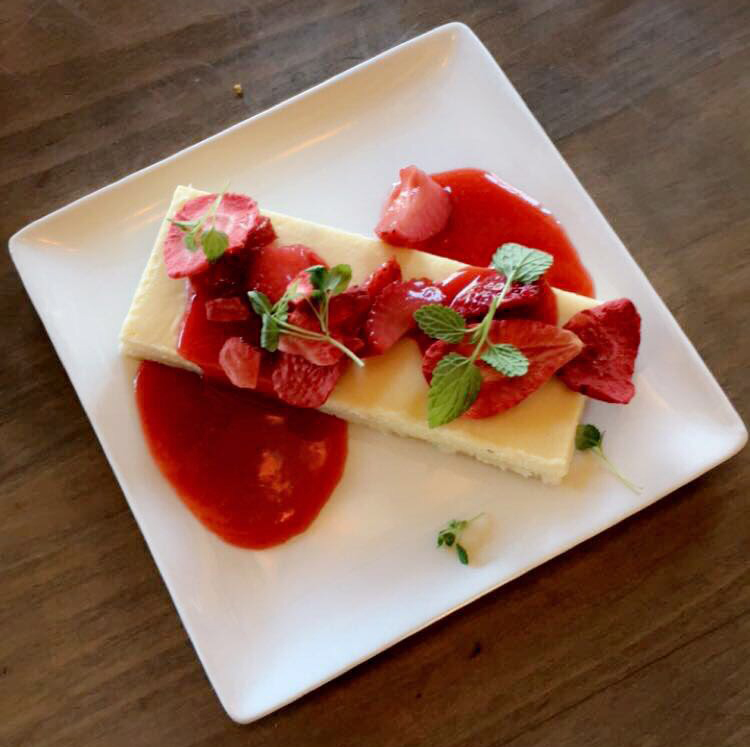 Honey Lavender Cheesecake at Carson Kitchen. Janna Karel Las Vegas Review-Journal
Courtney said he dehydrates the berries served atop the cheesecake because he uses Seascape strawberries, which tend to be a little more sweet and less tart.
"When you dehydrate it, it intensifies that berry flavor," he said. "And it's crunchy, so it gives me another layer of texture on the dessert." Plus, he said, strawberries are approachable for most people, but they're not used to seeing them in dehydrated form.
They're also not used to seeing them served with foie gras, but that's the case at Andre's Bistro & Bar.
"I just think foie gras warrants that sweet and kind of tangy flavor that strawberries always would have," said Marty Lopez, executive chef. He serves the duo with Nutella brioche for an upscale take on peanut butter and jelly.
Lopez said he finds strawberries quite useful in his kitchen.
Andre's Bistro and Bar
"They're pretty versatile," he said. "You can use them in any savory application, you can use them with dessert. You can make jams out of them, you can make gels out of them. You can pickle, you can dehydrate, you can dry. You can dehydrate and make a powder out of it. It depends on what kind of flavor you're trying to get."
Courtney said he likes strawberries because they were his grandmother's favorite — she even had strawberry wallpaper — but he also appreciates them as a chef.
"I like their versatility, the sweetness that they lend and the tartness, depending on the strawberry," he said.
"It's one of those things that tastes good just by itself," Bills added. "You don't have to monkey with them too much. You can sit down and eat a bowl of strawberries."
Contact Heidi Knapp Rinella at Hrinella@reviewjournal.com or 702-383-0474. Follow @HKRinella on Twitter.