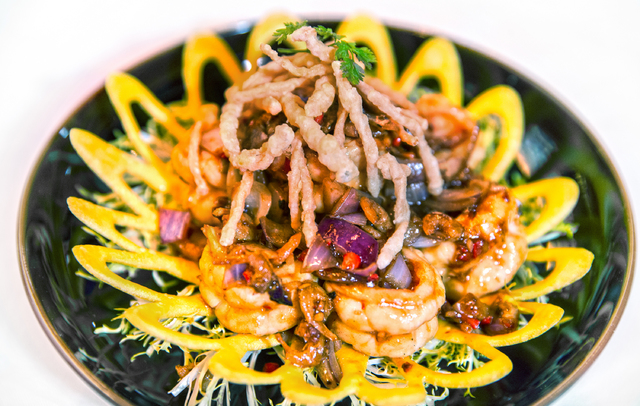 Saturday marks the beginning of the Lunar New Year, ushering in the year of the rooster. To celebrate, numerous Chinese restaurants in Las Vegas have planned special menus, some of them starting on the eve of the new year Friday.
You may notice some common ingredients among the dishes. If you're not familiar with the traditions, here's an explanation from representatives of China Poblano at The Cosmopolitan of Las Vegas: Dried oysters represent wealth and prosperity, and sea cucumber is considered a lucky dish because in Chinese mythology it was an edible monster that grows back as quickly as it's consumed. XO sauce, typically served to the middle class, contains the best of everything, including dried shrimp, scallops and fish. And black moss, which is difficult to harvest because it covers the earth and kills vegetation beneath it, is traditional around the new year because it's difficult to obtain. You'll notice most of the prices end in 8; that's because Chinese people consider it a lucky number.
China Poblano, The Cosmopolitan of Las Vegas; 702-698-7900 or www.chinapoblano.com.
Good Fortune and Potato (sauteed dried oysters with mixed vegetables over creamy potato, garnished with a lettuce leaf), $16.88; Happy New Year (fat choy, or black moss, softened in iberico stock, rolled inside cucumber slices and garnished with an iberico chip and soy vinaigrette), $13.88; Bountiful Treasure (stewed sea cucumber with scallion, ginger and oyster chicken stock), $20.88; Tied Up for the Moment (tofu knots cooked in a red braise, wok-fried with shishito chilies and finished with XO sauce), $13.88; Definite Fortune: $18.88 (sauteed fresh abalone with edamame bean, wild mushroom, sesame oil and black truffle), $18.88; More Things (a plate including a variety of mini bites/desserts: a small crispy bun filled with apple; a soft dumpling filled with house-made red bean paste and rolled in sesame; an array of candies including ginger, lotus root, wintermelon and peanut), $18.88, Friday through Feb. 11.
Happy New Year indeed! #quailegg #siumai pic.twitter.com/Mn6tqIPm1K

— China Poblano (@chinapoblano) January 2, 2017
Dragon Noodle Co., Monte Carlo; 702-730-7965 or www.dragonnoodlelv.com.
Traditional three-course dinner: Gong Hei Fat Choy (braised dried oyster and black moss with oyster sauce), Haha Smile (Manila clam with black bean sauce) and Budda Delight (Chinese napa, bean thread, black fungus, black moss, snow peas and Chinese mushroom), $28.88; Saturday only.
Flour & Barley, The Linq Promenade; 702-430-4430 or flourandbarley.com. Kung Pao Shrimp Pizza (Kung Pao sauce layered with mozzarella, roasted pepper and shrimp and garnished with green onion and peanuts), $17.50, Friday to Feb. 2.
Celebrate the Lunar New Year w/Kung Pao Shrimp Pizza
Kung Pao sauce, shrimp, roasted peppers, green onions & peanuts pic.twitter.com/wYCQoTwI2i

— Flour & Barley (@FLOURnBARLEY) February 9, 2016
Fu Asian Kitchen, Hard Rock Hotel; 702-522-8188 or www.hardrockhotel.com.
Health and Prosperity (pork tongue and lotus soup), $20; Luck Comes Easily (pork shank stewed with preserved bean curd), $18; Prosperous Home (braised pork belly with Chinese rice wine), $18; Gold Pieces (abalone with supreme sauce), $70; Instant Fortune (steamed chicken), $22; Full of Fortune (oysters with black moss and mushrooms), $22, Friday to Feb. 5.
Hakkasan, MGM Grand; 702-891-3838 or www.hakkasanlv.com.
Fortune Tale (roasted chicken, jellyfish and mooli), Hakka steamed dim sum platter (har gau, scallop shumai, Chinese chive dumpling, black pepper duck dumpling), steamed Dover sole with pumpkin, shiitake mushroom and ham; wok-fried tiger prawn with lemongrass and chili; braised abalone with fat choy and dried oyster; braised Chinese vegetables in bean curd skin; salted egg fried rice with spring onion; Golden Feather dessert (ginger panna cotta, mandarin and caramelized white chocolate), $128, through Feb. 11.
Hong Kong Cafe, the Palazzo; 702-607-2220 or www.palazzo.com.
Dishes including braised golden dried scallop, steamed live spot prawns, crispy squab with roasted salt and pan-fried scallops and asparagus with XO sauce, Jan. 28 to Feb. 8.
The Year of The Rooster begins this weekend! How are you celebrating? pic.twitter.com/0QfwM8UQrS

— Palazzo Las Vegas (@PalazzoVegas) January 27, 2017
Ondori Asian Kitchen, The Orleans; 702-365-7111 or www.orleanscasino.com.
Roast barbecue pork appetizer; mushroom with minced shrimp, fat choy pork feet or green beans with dry fish ($23.88), steamed whole seabass or whole lucky golden chicken ($28.88), Tsing Tao beer and tapioca taro milk, Friday to Tuesday .
Pearl Ocean, Lucky Dragon; 702-579-1287 or luckydragonlv.com.
Lotus root, black moss and pork tongue soup; barbecue pork; braised pork feet with red bean curd sauce; stir-fried sliced conch; crispy chicken; live Dungeness crab; fresh fruit platter, $238 for four people, lunch and dinner Saturday to Feb. 5. There's a $50 charge for each person over four, which adds another dish from among stir-fried crab paste with shrimp and broccoli, wok-fried scallop with greens, dried scallop cabbage wrap, wok-fried shark fin and crabmeat with eggs; and crispy honey oyster.
Contact Heidi Knapp Rinella at Hrinella@reviewjournal.com. Find more of her stories at www.reviewjournal.com, and follow @HKRinella on Twitter.