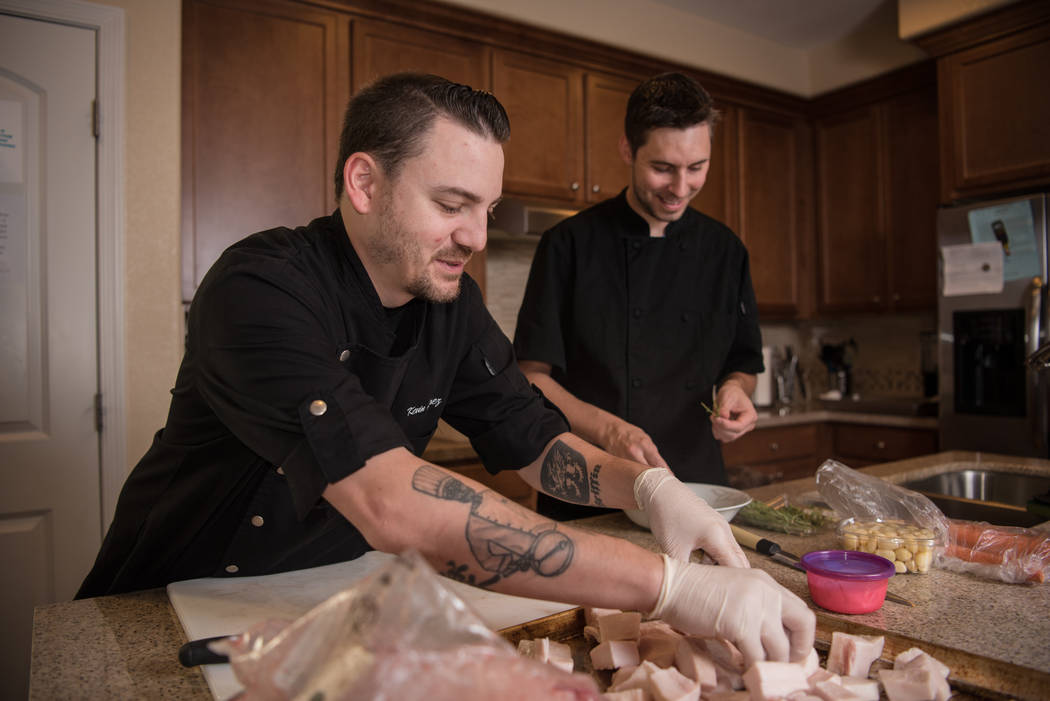 Former Andre's head chef Chris Bulen is planning a return to the local food scene after a five-month absence, aided by his longtime friend and co-worker Kevin Lopez. And although the pair are looking to break new culinary ground, their plans draw on two of the biggest culinary and financial fads of the past 10 years: food trucks and crowdfunding.
When Andre's closed at Monte Carlo in October, Bulen and Lopez transferred to owner Andre Rochat's Alize atop the Palms, where Bulen had worked in the past. But he says this time, the vibe just didn't feel right.
"We'd kind of lost something that we'd built at Andre's, that we'd built together," he explains. "That soul. Plus, Andre's was built on a family style and atmosphere, just as much with the customers as it was with the staff. And we'd kind of lost some of that."
Like many before them who have embraced mobile kitchens, Bulen and Lopez are hoping a truck can be the first step to a brick-and-mortar restaurant. They've heard warnings from other chefs who have learned this road can be more challenging than it looks. But they believe there's still a market to be served, and they have a plan to serve it.
"It's going to be playing a lot of festivals," Lopez explains. "(And) I can name three days a week when there's a liquor store having food trucks pull up, trying to get publicity out of it. It's just finding other businesses that want us around. And there have been a fair amount so far who have reached out and said that they want us there."
"We plan on picking up a little more of the catering side as well," Bulen is quick to add.
Lopez also thinks they have a concept that will set theirs apart from the throngs of trucks that crowded the local roads, parking lots and festivals earlier this decade.
"I think that we have a good idea going into it to be able to grow and change," he says. "If you're a slider truck, you're doing sliders. But we're kind of leaving it (open) to change as you would in a restaurant, with constantly changing menus."
Fittingly, the truck will be called Gastromix. And Lopez predicts they'll be serving "mostly French, a little bit of Spanish and American foods that we know and we've worked with."
"We're not going to have one set menu and pigeonhole ourselves," Bulen continues. "We want it to be a little more eclectic and, you know, keep people interested."
To facilitate that freedom, they chose to crowdfund enough money to keep them on the road for the first few months, rather than turn to traditional investors.
"The biggest downfall in a restaurant is when you have people over you trying to get their money back," Lopez says.
"They want their money," Bulen adds. "And they have an idea of food they want to do. So then their opinion is thrown in. (And) you're definitely expected to put out what they want instead of something that you'd rather have."
Their two-week Kickstarter campaign closed July 27 after raising $6,267, easily surpassing their $5,000 goal.
"That's going to cover the initial that we had to put down for the truck, and ensure that we can keep it running for the next couple of months after we get it," Lopez says. But, he adds, the campaign served another purpose.
"It's really advertisement for us, you know, spreading the word. … Plus, all the people who donated are going to come eat now."
The truck is under construction and should be delivered in about a month. That should put them on track to hit the road sometime in September, after the weather has cooled a bit.
In this town, the No. 1 killer of food truck dreams might be the sweltering summers.
Contact Al Mancini at amancini@reviewjournal.com or 702-387-5250. Follow @AlManciniVegas on Twitter.