Las Vegas' top chefs host 4 days of meals, demos at Uncork'd
Updated April 26, 2017 - 12:29 pm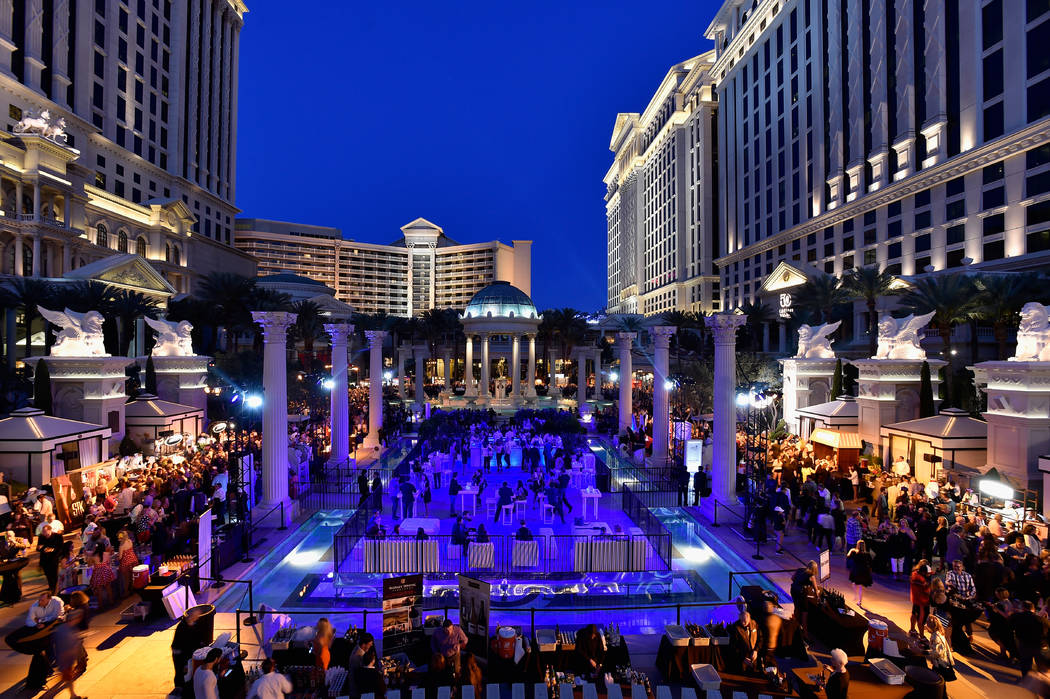 Vegas Uncork'd by Bon Appetit will be four days of meals, tastings and demos hosted by some of Las Vegas' top celebrity chefs. And with tickets priced from $79 to $595 per event, there's something for just about everyone. Right now, a little over half of the 34 experiences are sold out, but there are plenty of cool ones still available.
The weekend's traditional focal point is the Grand Tasting, held Friday night at Caesars Palace's Garden of the Gods Pool Oasis. That's where nearly every celebrity chef on the bill, and countless other movers and shakers in the restaurant world, drops by to meet and serve fans, mingle, drink and just cut loose.
The #VegasUncorkd Grand Tasting is almost here! Don't miss out on incredible dishes prepared by Forum Shops chefs: https://t.co/AwWpG4MCP6 pic.twitter.com/DUG3fN3nWM

— The Forum Shops (@TheForumShops) April 16, 2017
This year, however, there's a second large outdoor event looking to give the Grand Tasting a run for its money. Picnic in The Park will be Saturday afternoon in The Park between Monte Carlo and New York-New York, featuring food and beverages from some of the top chefs from Mandalay Bay, Bellagio, Aria and the Delano.
For more intimate experiences, tickets are available for meals hosted by stars such as Wolfgang Puck, Buddy V and Jose Andres. And for something different, the Two Hot Tamales, Mary Sue Milliken and Susan Feniger, will host a pair of untraditional events — a Thursday happy hour where they'll coach teams of guests through a TV-style cooking competition, and a Friday cooking demonstration that will offer lessons on how to shoot epic food porn.
For the money-is-no-object crowd, Nobu Matsuhisa will hold court at his Caesars Palace restaurant for two Saturday night seatings. The celebrity chef will personally greet his fans and prepare the first several courses. He'll then turn the reins over to his teppan chefs to grill up the rest of the meal. The price tag: a cool $595.
Finally, for the ultimate celebrity chef photo op that won't cost you a dime, check out the Saber-Off from 12:45 to 2 p.m. Thursday at The Vortex in The Linq resort. That's where everyone will gather to watch Feniger and Milliken pop the tops of two magnums of Prosecco with sabers, and toast the launch of the festivities.
For more information, and to buy tickets, go to VegasUncorked.com.
Contact Al Mancini at amancini @reviewjournal.com. Follow @AlManciniVegas on Twitter.
Uncork'd on a budget
With tickets for individual events running as high as $595 (for Nobu Matsuhisa's Saturday night teppan dinner), it's easy to dismiss Uncork'd as too expensive for your budget. But tickets are still available for some delicious parties that won't necessarily break the bank. Here are three budget-conscious picks to look into on each of the first three days.
Three-Kitchen Tasting at Sugarcane raw bar grill with chef Timon Balloo, The Venetian, 5-7 p.m. Thursday — Sip signature cocktails featuring rum from around the world, while award-winning executive chef and partner Timon Balloo presents a selection of the retaurant's globally-inspired small plates. $109.
The Hog in the Henhouse: Yardbird Presents a Potbelly Brunch with John Kunkel, The Venetian, 10-11:30 a.m. Friday — Yardbird's brunch will celebrate all things bacon and pork belly, served with bloody marys created with bacon-infused vodka. $149
Ultimate Big Cake & Craft Cocktail After-Party at Dorsey, The Venetian, 10 p.m. to 1 a.m. Saturday: Celebrate the evening with an official after-party with a colossal cake baked by the Cake Boss himself, Buddy Valastro, and items from Dorsey's hand-crafted cocktail menu. $79 (Or for just $20 more, you can combine this ticket with one for Sweet Escape: An Evening of Buddy, Beignets, BonBons & Booze, which runs 7:30-9:30 p.m. on the Venetian Pool Deck and originally cost $119 on its own.)
How chefs cut loose
While Uncork'd is a great chance for chefs to meet their fans, it's also a chance for them to hang out together after the crowds have dispersed. Shawn McClain, the culinary mind behind Aria's Sage and Five50 Pizza as well as Libertine Social at Mandalay Bay, says the parties can interfere with their responsibilities. He recalls one time when he almost slept through an event after staying up a bit too late the night before, and getting only an hour of sleep.
"I had to do a three-person panel discussion in Bellagio, and I woke up 15 minutes before it started," he confesses. "I was (at Aria), and it started in 15 minutes. And I just grabbed clothes, ran, took a cab and got over there. My heart was beating fast when I walked in and I just sat. And it was with Pierre (Gagnaire) and Laurent Tourondel and myself. And Pierre's up there and speaking French, and there's 100 people, and I'm just like in a cold sweat with just an hour's sleep. … And every time I've done a panel from then on I just think about that."
But McClain expects things to be a little more mellow this year.
"We're all getting a little older," he concedes. "So some of the shenanigans have quieted down. (After-parties) aren't quite what they used to be. But I still love it. … It's one of those times when people are here for a weekend, and there's a lot of time before and after events when they're on property. So it's fun to hang out. It's fun to catch up. It's fun to just see what people are doing."
McClain will be grilling octopus at Saturday's Picnic in The Park event.