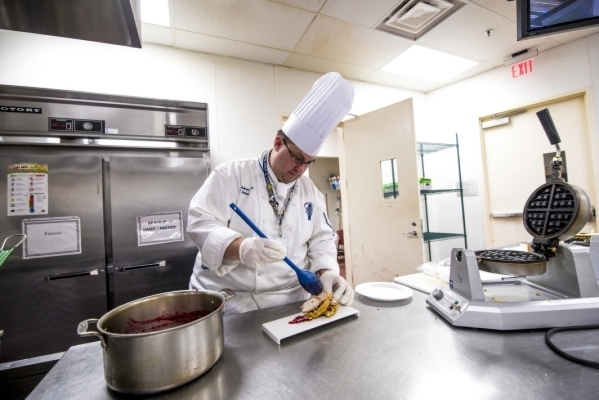 January marks the start of the last class Le Cordon Bleu in Summerlin will ever see: The school, which operates under Career Education Corp., will cease offering classes nationwide after this month.
Le Cordon Bleu College of Culinary Arts Las Vegas, 1451 Center Crossing Road, opened in 2003.
"This announcement only affects campuses in the United States," said a spokesman for CEC. "Campuses elsewhere around the world, including the Paris location founded in 1895, will continue to serve students."
The decision comes after Le Cordon Bleu was affected by what it termed in a press release as "the impact of the federal government's new regulations on career colleges" and referenced "the Obama administration's gainful employment rule, which cuts off federal financial aid to schools where graduates borrow money at high rates to pay for school but earn little after graduation."
Tom Rosenberger, chairman of the College of Southern Nevada's Department of Hospitality Management, said ceasing classes at Le Cordon Bleu has been "expected for a while as the feds get more dollar-conscious about educational funding; i.e., student loans. … There has long been talk about the feds testing to see how many grads of various private — for-profit — schools actually go out and get jobs — good paying jobs — in the industry they are training for. Culinary is one of the key areas they have been looking at, as it is quite expensive at a private school."
The last day to enroll at one of Le Cordon Bleu's 16 U.S. campuses was Jan. 4. Current Le Cordon Bleu Las Vegas students already progressing through classes will continue until they graduate as part of a school "teach-out." The Jan. 4 class is expected to graduate in September 2017.
The school's Summerlin location is housed in a leased, 60,000-square-foot facility with 10 demonstration/teaching kitchens. It includes a 5,401-square-foot restaurant where students gain real-world experience beyond mastering 450 culinary techniques taught in the curriculum.
The Summerlin school employs about 50 faculty and staff members. The company could not say how many were chef instructors.
According to the latest figures filed with the U.S. Department of Education, 587 students were enrolled at the Las Vegas campus as of the end of 2014. Nationwide, about 9,200 students attend Le Cordon Bleu.
Rosenberger said he's heard that more than 90 percent of Le Cordon Blue students use government-funded student loans and other federal funding to finance their education.
"As the feds cut out these loans, you can see the issue it causes for the schools," Rosenberger said. "Many students want to take culinary and even graduate, but on entering the workforce, they find that it is a lot of work to get from entry-level cook to the 'chef' level. Le Cordon Bleu has also lost many lawsuits from students because the students were led to believe that they would be getting out of school as a chef, making $60,000-plus."
While UNLV has no culinary program — it cut its culinary and some other hospitality programs in 2010 due to state budget cutbacks — CSN's culinary program and other hospitality programs "are flourishing," according to Rosenberger.
"The culinary and food and beverage programs are two of the premier programs in the U.S.," he said. "Our (CSN's) programs have always stressed the rigors and demands of the culinary/hospitality career path, and our students can be found throughout the local industry at varying levels, from cooks, pantry and bakers to executive chefs, food and beverage directors, and pastry chefs. Our students do very well in the industry."
— To reach Summerlin Area View reporter Jan Hogan, email jhogan@viewnews.com or call 702-387-2949.