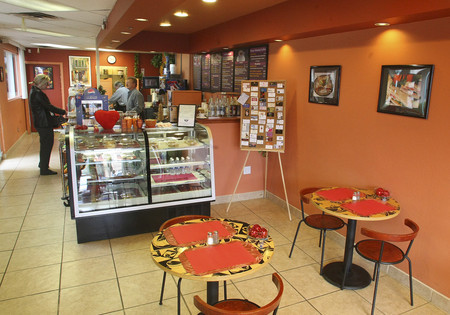 At Lekkerbeks Cafe and Deli, sandwich lovers can enjoy a roster of freshly made deli classics ranging from hot pastrami to Reubens to turkey and tuna, chicken and egg salads.
But Lekkerbeks also offers a few sandwiches many delis don't: namely panini, on plain, whole grain, sun-dried tomato or spinach European flat breads, then grilled.
John Fenn, who purchased the sandwich shop at 2550 S. Rainbow Blvd. with partner Stephen Rabeck about 14 months ago, says guests are becoming big fans of this grilled twist on the basic deli sandwich.
"Not a lot of people are familiar with them," he says. "But once (they) have them, they come back."
Lekkerbeks offers eight panini, including the signature Lekkerbek (grilled steak, mozzarella and spinach leaves). And, while Lekkerbeks also offers a breakfast panini (with scrambled eggs, bacon or ham and cheese), Fenn says the Lekkerbeck also has become a popular morning meal among some before-noon patrons.
The roster of deli sandwiches includes such classics as a club, a BLT, a vegetarian and a mortadella, while the hot deli sandwiches include corned beef and roast beef.
Salads and soups — made fresh daily, Fenn notes — desserts and a selection of smoothies, frappes and premium coffees round out the menu.
At about 900 square feet, Lekkerbeks is a relatively small sandwich shop. Diners may sit at four outside tables with umbrellas or inside, where there's room for about 10. And, of course, takeout always is available.
Lekkerbeks Cafe and Deli is open Tuesdays through Fridays from 9:30 a.m. to 5 p.m. and Saturdays from 10:30 a.m. to 5 p.m.
Soups and salads: Chicken pasta soup, $4; tuna, chicken and chef's salads, $6.75 each
Panini and sandwiches: Lekkerbek panini, $6.95; Southwestern turkey panini, $6.95; hot pastrami, corned beef and Reuben sandwiches, $6.50 each
Extras: Breakfast panini, $4.95; fruit smoothies, $4.85
Information: 873-7113
By JOHN PRZYBYS