Libertine Social at Mandalay Bay strives to offer creative food and more
August 23, 2016 - 7:56 pm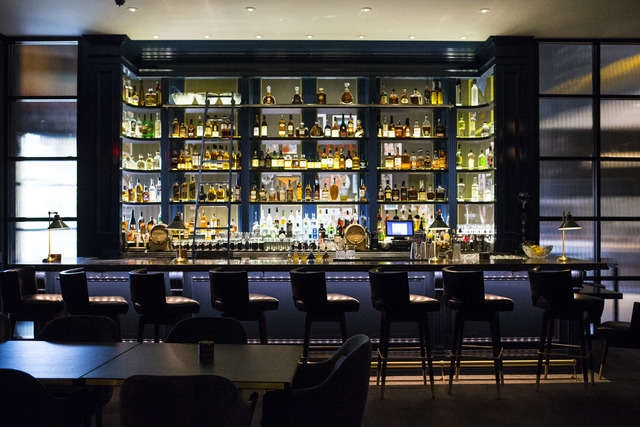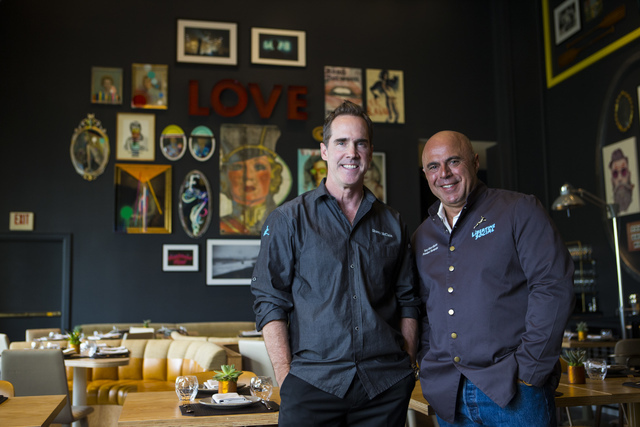 It's not something you'd expect to hear from a James Beard Award-winning chef discussing his latest venture.
"It started off as a restaurant," Shawn McClain said of the newly opened Libertine Social at Mandalay Bay. "But it's so dynamic, it's hard to put a label on it."
Libertine Social is decidedly different from other restaurants on the Strip, from the massive winged jackelope mural on the outside wall to the truth-or-dare-style custom card game to the Arcade, a bar within a bar.
Initially, the restaurant was intended to serve casual fare and an impressive array of craft beers, not unlike McClain's Five50 Pizza Bar, which, like his fine-dining restaurant Sage, is at sister property Aria.
But somewhere along the process, it became a much more artistic affair. McClain's Libertine partner is Tony Abou-Ganim, known far and wide as The Modern Mixologist. Since there isn't much mixology involved in beer, they crafted another, less conventional, plan.
"We wanted a cool space with a great art aspect," McClain said.
They commissioned Puerto Rican street muralist Alexis Diaz to create an eye-catching mural along the restaurant's exterior wall that even repurposed body-part sculptures that had long graced the space.
The interior is filled with both color and whimsy, including "stay wild" in neon over the front bar. On the soaring walls of the dining room, separated from the Mandalay Bay Beach only by a stand of trees, is a collection of beach-life-related odds and ends. They were compiled by McClain, Abou-Ganim and Diaz after a trip to Venice, California, and are the property of a fictional guy they created named Kyle — who represents the Libertine Social spirit.
None of which is to divert the focus from the food. It is, McClain said, bar food, but not the popcorn and peanuts of yore. The fare leans to things such as Parmesan churros or Scotch olives (a take on the Scotch egg) or a house-made soft pretzel with beer, cheddar and raclette cheese. There's a mesquite-fired grill for whole roasted fish or wagyu skirt steak, a wood-burning oven for flatbreads such as caramelized fennel and sausage. Desserts are cocktail-themed, such as the Negroni, which is juniper panna cotta with Campari gel and pistachio crumble. Small plates range from $4 to $21, entrees $21 to $56.
Although there are 14 craft beers on tap, it's the cocktails that truly stand out. One of Libertine Social's most unusual features is the Arcade Bar, which has its own art-filled menu of historically based cocktails such as the Bobby Burns and the Holland House, plus drinks such as cobblers and cups, daisies and fixes that often are misidentified as such.
"They're overlooked drinks," Abou-Ganim said. "Stylistically, we lose track and call everything a cocktail."
Not that all the fun is confined to the Arcade. In the main bar area, the drink menu includes fizzes, for which Abou-Ganim custom-designed a glass after he couldn't find an authentic pre-Prohibition fizz glass, and swizzles. Abou-Ganim said the swizzle was created in the Caribbean. The original swizzle sticks — the forebears of all of those plastic things you've been tossing for years — were cut from the root structure of a particular tree, and Libertine Social uses them, hand-cut in Martinique. The swizzles are sized for four people and finished at the table, as servers share the origins of the drink and its oddly shaped namesake stirring stick.
The new restaurant boasts several social aspects, including the card game, to encourage visitors to interact with each other. Decks of cards sit on each table, challenging players to perform a specific task, which may involve other guests, in order to earn letters. Whoever spells "liberate" first is the winner.
The salonlike elements — from group cocktails to conversation-area couches — help create a more layered experience than just dining out, said Stowe Shoemaker, dean of the William F. Harrah College of Hotel Administration at the University of Nevada, Las Vegas.
"Really, what hospitality organizations are selling is experience," said Shoemaker, who was not involved in the planning of Libertine Social. "When people go out, it's not so much about selling the food, it's about, 'How do we create a great experience of people spending time together?' You can go to Whole Foods and pick up meals to go. This becomes a great way to say, 'Let's go out with friends and instead of just eating, it's the whole experience around that.' We're going to be seeing more of those."
Libertine Social, McClain said, is meant to reflect a character who's "a little progressive, a little irreverent."
And never boring.
"We try to stay away from any pretentiousness," Abou-Ganim said. "It needs to be fun."
Contact Heidi Knapp Rinella at Hrinella@reviewjournal.com. Find more of her stories at www.reviewjournal.com, and follow @HKRinella on Twitter.