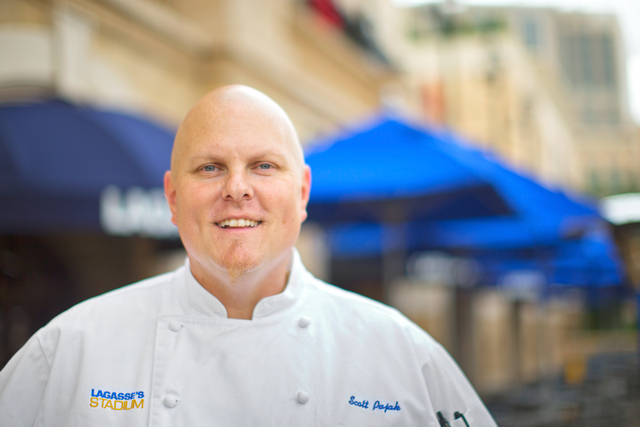 Not for nothing has it been called "the most exciting two minutes in sports"; by the time viewers hear "They're off!" they'd better be paying attention or they won't get to see who won The Run for the Roses.
Considering the main event is that brief, if you're planning to throw a party to celebrate the Kentucky Derby on Saturday — which is, after all, the first Saturday in May — it might be a good idea to ensure the food and drink are worthy of your guests' focus.
When one thinks Kentucky Derby in relation to food and drink, the first thing that comes to mind tends to be mint juleps, but those in the know consider that traditional cocktail a dicey proposition at best; there are plenty of bad mint juleps around.
"I love the Kentucky Derby," said Tony Abou-Ganim, whose craft cocktails created for Bellagio's opening led him to national fame as The Modern Mixologist.
"It's hard to get away from the mint julep," he said. "My experience, when I was at the Derby, was that they're not good."
Damian Cross, mixologist for Wynn Las Vegas and Encore, said the drink dates to around the 1860s — and therein lies part of the problem.
"The whole concept of the julep is misunderstood," Cross said. "Maybe they didn't put in enough mint, or they didn't add the sugar. I just think that sometimes when you're making cocktails — especially when you're making a classic like a julep — it's important to find a recipe that's maybe … from the original era. It's important to nail those recipes."
At Wynn and Encore this weekend, he said, they will serve a very traditional julep.
"Our catch is that we're using a single-barrel select Buffalo Trace bourbon that we hand-selected for the property," Cross said. "It's used currently at SW Steakhouse and The Country Club, but we're going to use it propertywide for the Derby. That bourbon just works really well with our julep; it definitely has to be a little lighter and more refreshing."
The only other ingredients, he said, will be a little simple syrup, a lot of crushed ice and plenty of fresh mint.
Abou-Ganim said that if you're giving a party, making individual mint juleps tends to be very labor-intensive, so he suggests what he calls "communal drinks," made in punch bowls or pitchers.
"Put it out and decorate it beautifully and let guests serve themselves," he said. "I think more romances have taken place at random meetings over the punch bowl than any other place in history."
It's important to have a presentation, he added. Abou-Ganim likes to go to a local company such as Premium Ice for specialty ice.
"You can buy those big, beautiful blocks of crystal-clear ice that are impossible to make at home," he said.
He makes the punch in advance, chills it thoroughly and then pours it into the punch bowl, using the 4-by-4-inch or 5-by-5-inch blocks of ice as a focal point.
The most important thing when creating the mixture, he said, is balance. In the case of the mint julep, that means introducing water or tea to ensure the strong spirit isn't overwhelming.
"Imagine if I were making you a drink and I were shaking that drink over ice; I'm going to introduce about 20 percent of water to that drink by shaking it," Abou-Ganim said. "I always add about 15 percent water or tea. Tea's another way to dilute the punch, but also adds another layer of flavor, and tea goes beautifully with whiskey."
As for the spirit, he said, "I try to remain a purist whenever I can. If it's going to be the Kentucky Derby and Kentucky is home to some of the finest whiskeys in America, it should probably be whiskey-based."
If you don't want to use a punch bowl, Abou-Ganim said you can make a pitcher version: Put mint leaves in the bottom of a pitcher and add 12 ounce of simple syrup and five or six lemons cut into chunks, and muddle it with a big wooden muddler. Fill the pitcher with crushed ice and add about 24 ounces of bourbon.
"I would stir it really well until the pitcher starts to frost, add more crushed ice, decorate it with slices of lemon and put that on the table with some glasses," he said.
But even dedicated Kentucky Derby fans can't live on mint juleps alone, so you'll need to think about what food to serve. Chef Scott Pajak of Lagasse's Stadium at Palazzo plans a Derby menu this weekend with such Southern favorites as fried green tomatoes coated in cornmeal, fried-chicken biscuits with bourbon barbecue sauce and fried pickles and a Kentucky Hot Brown, which reportedly originates to Louisville's Brown Hotel in the '20s. The latter, he said, will be done in traditional style, with turkey breast on white bread topped with Mornay sauce, tomato, bacon and a sprinkling of chives.
"It's one of those classics," Pajak said. "Somebody who worked here, that was one of their favorites. If you're from Kentucky, that kind of reminds you of back home."
They'll be serving a mint julep, too, containing Woodford Reserve, which he said is a Derby sponsor.
Of course, if you really want to, you can add a little jazz to your julep.
"Have some fun with the flavor," Abou-Ganim said. "We're not quite into stone-fruit season, but peaches, apricots — all those things go beautifully with whiskey. And then taste it. If it tastes good to you, it's going to taste good to your guests."
"It's a very easy cocktail to add fresh berries or a modified simple syrup to, but it's important to have those basics down," Cross said.
"It's very simple, and that's the way we mess things up."
THE LEGENDARY HOT BROWN
1½ tablespoons salted butter
1½ tablespoons all-purpose flour
1½ cups heavy cream
¼ cup Pecorino Romano cheese, plus extra for garnish
Pinch of ground nutmeg
Salt and pepper
4 slices Texas toast, crusts trimmed
14 ounces thickly sliced roasted turkey breast
2 Roma tomatoes, cut in half
4 slices bacon
Paprika
Parsley
In a 2-quart saucepan, melt butter and slowly whisk in flour until combined to form a thick paste or roux. Continue to cook roux for 2 minutes over medium-low heat, stirring frequently. Whisk heavy cream into the roux and cook over medium heat until the cream begins to simmer, about 2 to 3 minutes. Remove sauce from heat and slowly whisk in Pecorino Romano cheese until the Mornay sauce is smooth. Add nutmeg, salt and pepper, to taste.
For each Hot Brown, place one slice of toast in an oven-safe dish and cover with 7 ounces of turkey. Take two halves of Roma tomato and two toast points (from the remaining slices of Texas toast) and set them alongside the base of turkey and toast. Pour half of the sauce over the dish, completely covering it. Sprinkle with additional cheese. Place entire dish under a broiler until cheese begins to brown and bubble. Remove and cross two pieces of crispy bacon on top. Sprinkle with paprika and parsley and serve immediately.
Serves 2.
— Recipe from the Brown Hotel
DERBY TRUFFLES
3 (4-ounce) bittersweet chocolate baking bars, chopped
1½ tablespoons cold butter, cubed
2 teaspoons vanilla extract
9 tablespoons heavy cream
¼ cup bourbon
1 (5.3-ounce) package pure butter shortbread cookies, crushed
2 cups finely chopped roasted, salted pecans
Combine first three ingredients in a large glass bowl. Cook cream and bourbon in a small saucepan over medium heat 3 to 4 minutes, or until mixture is hot but not boiling. (Mixture will steam, and bubbles will form around edge of pan.) Pour cream mixture over chocolate. Let stand 1 minute.
Stir chocolate mixture until melted and smooth. If mixture doesn't melt completely, microwave at high (100 percent power) 30 seconds. Stir in crushed cookies. Cover and chill 3 hours or until firm. (Mixture can be prepared and chilled as long a two days ahead.)
Shape mixture into 1-inch balls (about 2 teaspoons per ball). Roll in chopped pecans. Place on wax paper-lined baking sheets. Chill 1 hour. Store in an airtight container in refrigerator as long as 5 days.
Makes about 3 dozen.
— Recipe from Southern Living
MINT JULEP
2 ounces bourbon
½ ounce simple syrup
3 fresh mint leaves
Crushed ice
Express the essential oils in the mint and rub them inside the glass. To the same glass, add simple syrup, bourbon and crushed ice. Stir. Garnish with more ice and fresh mint.
Serves 1.
— Recipe from Woodford Reserve
MINT JULEP SWEET TEA
½ cup loosely packed fresh mint leaves
1 lemon, sliced
2 tablespoons sugar
3 cups cold sweetened tea
1 cup bourbon
Crushed ice
Garnish: fresh mint sprigs
Combine first three ingredients in a 2-quart pitcher. Press mint leaves against sides of pitcher with back of spoon to release flavors. Stir in tea and bourbon. Serve over crushed ice. Garnish, if desired.
Makes 4 cups.
— Recipe from Southern Living
Contact Heidi Knapp Rinella at Hrinella@reviewjournal.com. Find more of her stories at www.reviewjournal.com, and follow @HKRinella on Twitter.