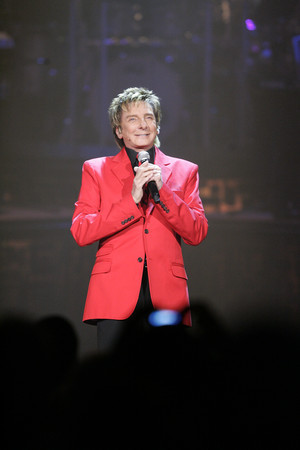 Barry Manilow will continue his run as a Las Vegas headliner next year, with a long-expected move to Paris Las Vegas starting March 5.
The 63-year-old pop star will have both a new producer and new content for his show. The Paris venture will be helmed by AEG Live, which operates the Colosseum at Caesars Palace and The Joint at the Hard Rock Hotel.
The new show will be directed by Jeffrey Hornaday, who has staged tours for pop stars such as Madonna and choreographed films including "Flashdance."
Manilow wraps a five-year run at the Las Vegas Hilton with three more dates Dec. 28-30. He signed on for a two-year run at Paris, with 78 shows per year in the 1,500-seat theater. Tickets already are on sale at $95, $125, $175 and $250 by calling (800) 745-3000.
"We started from scratch and it's going to be just gorgeous," Manilow told the Associated Press. "All of the equipment and all of the production we had at the Hilton, I didn't want to just move it to the Paris."
The singer has a new album, "The Greatest Love Songs of All Time," set for release Jan. 26.
"I've always believed that a good love song will never go out of style, no matter how angry the young people get — and they seem to be getting more angry," Manilow said. "It's reflected in the songwriting of the day and the performing of the day, but I still believe that there are a lot of people who would love to hear a great love song."
Contact reporter Mike Weatherford at mweatherford@ reviewjournal.com or 702-383-0288.