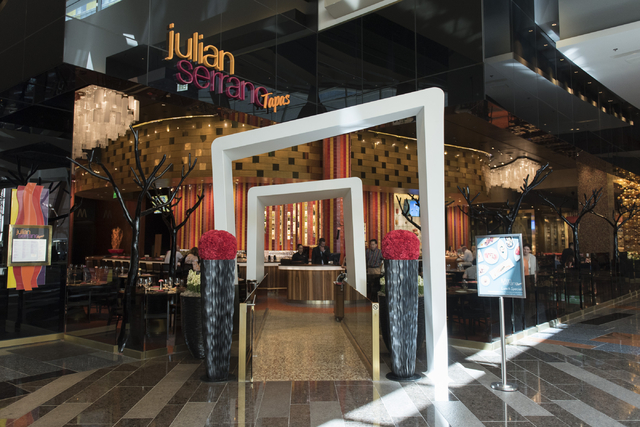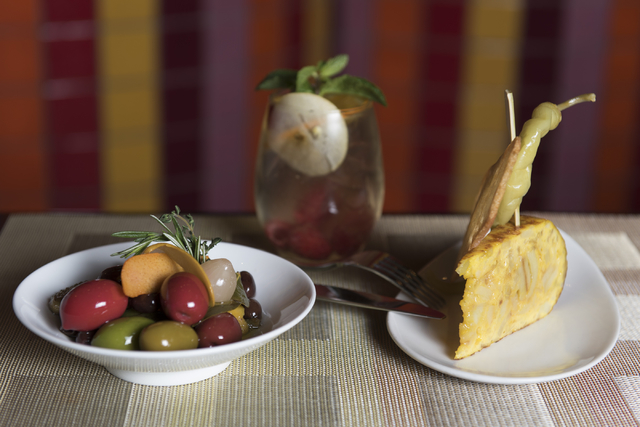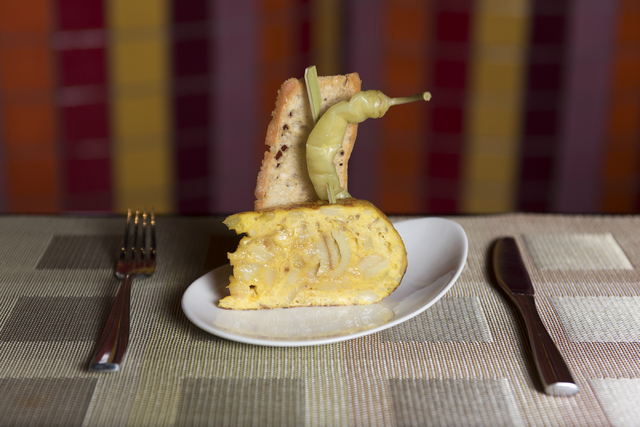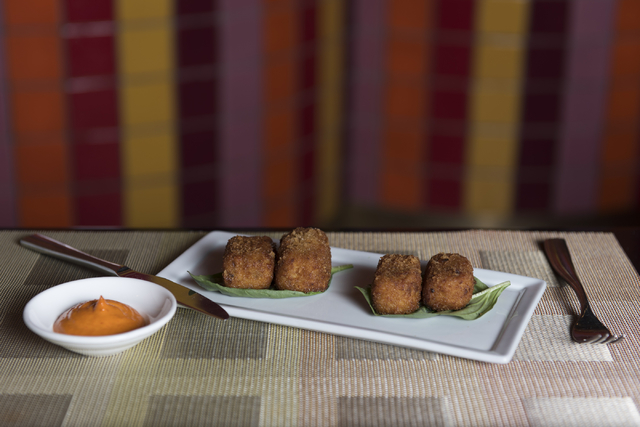 Entertaining can be a bit of a challenge these days. Our increased familiarity with foods Americans once thought strange or exotic leaves guests looking for something a little offbeat, and the more variety, the better. Add to that dietary restrictions and a chronic shortage of time and — well, throwing a dinner party isn't quite as simple as it was in grandma's day, when a home cook could put out some grape-jelly-and-chili sauce cocktail meatballs, a molded Jell-O "salad," chicken a la king and out-of-the-box pineapple-upside-down cake and call it a day.
A solution: Throw a tapas party.
As you're probably aware by now, tapas are the little dishes of Spain, which originated in Andalusian taverns as a piece of bread or slice of meat a traveler would use to put on top of his or her drink to keep the flies out — hence the name. They've become enormously popular in our country of grazers over the past decade or so — sometimes simply called "small plates" — and the variety has expanded exponentially to take in most cuisines. Their relative ease of preparation, inherent variety and dining style that encourages conversation make them perfect for a dinner party (even easier if you can enlist your guests to each bring a dish).
Julian Serrano, a native of Spain whose three Las Vegas restaurants include an eponymous tapas spot at Aria, said variety always was an aspect of tapas, though indirectly.
"Originally they came from southern Spain," he said. "People would go to different bars, and in each bar they would give them something," usually the specialty of the house.
When he was growing up, Serrano said, the tapas concept was pretty much limited to that region.
"Not anymore; now tapas is everywhere," he said. "Right now, you can make tapas with anything."
Serrano said it's smart to plan dishes that can be made in advance, such as croquetas, aka croquettes.
"You could put in chicken, you could put in crab, you could put in ham," he said. "You could do it in advance, and at the last minute, all you have to do is the frying. That's one of the best tapas."
Patatas Bravas also can be prepped in advance and fried at the last minute, he said. Gazpacho can be made ahead and chilled, then served in small coffee cups. Another classic tapa is the Tortilla Espanola, or Spanish tortilla, which is nothing like a Mexican tortilla but much akin to an Italian frittata, eggs and potatoes being principal ingredients.
"If you wanted, you could put olives in it," he said. "That's a very good combination."
Serrano ham and Manchego cheese is another classic combination.
"The important thing is you have to slice (the ham) very thin," he said. "Cut the Manchego in cubes."
Almonds and olives are pretty simple; "Marcona almonds are the best almonds in the world," Serrano said. As for the olives, he suggests pitted ones, probably stuffed with something, such as his favorite, anchovies.
"You can buy olives and you have to be very aggressive, but you can stuff them yourself," he said, with blue cheese, garlic or almonds.
Or you can roast green olives, he said: Wrap them in aluminum foil, and salt them if they're not too salty. Roast at 350 for 10 to 15 minutes.
"These are simple tapas that anybody can do," he said.
PATATAS BRAVAS
Sauce:
1 tablespoon vegetable oil
2 teaspoons garlic, minced to paste
1 teaspoon sweet smoked paprika
½ teaspoon kosher salt
½ to ¾ teaspoon cayenne pepper
¼ cup tomato paste
2 teaspoons sherry vinegar
¼ cup mayonnaise
Potatoes:
2¼ pounds russet potatoes, peeled and cut into 1-inch pieces
½ teaspoon baking soda
Kosher salt
3 cups vegetable oil
For the sauce, heat oil in small saucepan over medium-low heat until shimmering. Add garlic, paprika, salt and cayenne and cook until fragrant, about 30 seconds. Add tomato paste and cook for 30 seconds. Whisk in ½ cup water and bring to boil over high heat. Reduce heat to medium-low and simmer until slightly thickened, 4 to 5 minutes. Transfer sauce to bowl, stir in vinegar and let cool completely. Once cool, whisk in mayonnaise. (Sauce can be refrigerated for as long as 24 hours. Bring to room temperature before serving.)
For potatoes, bring 8 cups water to boil in large saucepan over high heat. Add potatoes and baking soda. Return to boil and cook for 1 minute. Drain potatoes. Return potatoes to saucepan and place over low heat. Cook, shaking saucepan occasionally, until any surface moisture has evaporated, 30 seconds to 1 minute. Remove from heat. Add 1½ teaspoons salt and stir with rubber spatula until potatoes are coated with thick, starchy paste, about 30 seconds. Transfer potatoes to rimmed baking sheet in single layer to cool. (Potatoes can stand at room temperature for as long as two hours.)
Heat oil in large Dutch oven over high heat to 375 degrees. Add all potatoes (they should just be submerged in oil) and cook, stirring occasionally with wire skimmer or slotted spoon, until deep golden brown and crispy, 20 to 25 minutes.
Transfer potatoes to paper towel-lined wire rack set in rimmed baking sheet. Season with salt, to taste. Spoon ½ cup sauce onto bottom of large platter or 1½ tablespoons sauce onto individual plates. Arrange potatoes over sauce and serve immediately, passing remaining sauce separately.
Serves 4 to 6.
— Recipe from Cook's Illustrated
CROQUETTES WITH SERRANO HAM AND MANCHEGO CHEESE
2 tablespoons unsalted butter
2 tablespoons olive oil
¼ cup finely chopped onion
Coarse salt and freshly ground pepper
7 tablespoons all­-purpose flour, plus more for shaping
¾ cup whole milk
6 tablespoons finely chopped Serrano ham
1/3 cup plus ¼ cup grated Manchego cheese (about 1¾ ounces)
3 large eggs
1½ cups fresh bread crumbs
Vegetable oil, for frying
Fresh flat­-leaf parsley sprigs, for garnish
Heat butter and oil in a medium saucepan over medium heat until butter has melted. Add onion; season with salt and pepper. Cook, stirring occasionally, until onion is translucent, about 3 minutes. Add flour; cook, stirring, 1 minute. Whisk in milk and cook, whisking, 3 minutes. Whisk in ham and 1/3 cup cheese. Season with salt and pepper as desired.
Spread mixture on a baking sheet and let cool completely. (Mixture can be refrigerated in an airtight container for as long as two days.)
Whisk eggs together in a shallow dish. Stir together bread crumbs and remaining ¼ cup cheese in another shallow dish. Scoop tablespoons of cooled mixture and shape with floured hands into 2-­inch ovals. Working with one oval at a time, coat in beaten egg, then in bread crumb mixture. Transfer to a baking sheet lined with parchment paper.
Heat 2½ inches oil in a large, heavy stockpot until it registers 375 degrees on a deep-­fry thermometer. Working in batches to avoid crowding, fry croquettes, flipping once, until dark golden brown, 1 to 2 minutes total. Using a slotted spoon, transfer to paper towels to drain. (Adjust heat between batches as needed to keep oil at a steady temperature.)
Serve warm, garnished with parsley sprigs.
Makes about 16.
— Recipe from Martha Stewart Living
MARCONA ALMONDS WITH SMOKED PAPRIKA
2 cups Marcona almonds
1 tablespoon olive oil (see note)
1 teaspoon smoked paprika
Flaky sea salt (such as Maldon)
Heat oven to 350 degrees. Toss almonds, oil and paprika on a rimmed baking sheet to coat; spread out in a single layer and toast, tossing occasionally, until dark golden brown, 8 to 10 minutes.
Transfer to a bowl, sprinkle with salt and toss to coat. Let cool.
Notes: If your Marcona almonds haven't already been oiled and salted, add another 1 tablespoon oil when toasting. Nuts can be toasted one week ahead; store airtight at room temperature.
Serves 6 to 8.
— Recipe from Bon Appetit
TORTILLA ESPANOLA
2 cups plus 1 tablespoon olive oil
1 thinly sliced medium onion
Salt
2 peeled medium waxy potatoes, cut into ¾-inch pieces
8 large eggs
Heat 1 tablespoon olive oil in a large skillet over medium heat. Add onion, season with salt and cook, stirring occasionally, until softened and dark brown, 35–40 minutes; let cool slightly.
Meanwhile, heat the potatoes in 2 cups olive oil in a medium saucepan over medium-high heat until oil around potatoes begins to bubble. Reduce heat to medium and cook until potatoes are tender but have not taken on any color, 10 to 12 minutes. Drain potatoes, reserving oil; season with salt and let cool slightly.
Using a fork, gently beat the eggs with onion, potatoes and ¼ cup reserved cooking oil in a large bowl.
Heat 3 tablespoons reserved cooking oil in a 10-inch nonstick skillet over medium heat (reserve remaining oil for another use). Add egg mixture and cook, lifting at edge and tilting skillet to let uncooked egg run underneath, until bottom and edge of tortilla are set but center is still wet.
Set a large plate on top of skillet. Swiftly invert tortilla onto plate, then slide back into skillet, cooked side up. Cook until just set, about 2 minutes longer. Cut into wedges.
— Recipe from Bon Appetit
PAN COM TOMATE Y ANCHOA
1½ pounds very ripe and flavorful tomatoes, preferably plum tomatoes, split in half crosswise
2 large garlic cloves, mashed to a paste
4 tablespoons best-quality fruity extra virgin olive oil, plus more for drizzling
Kosher or sea salt
Good-quality French-style loaf, split in half and halves cut into 4-inch lengths
8 to 16 best-quality anchovy fillets, preferably jarred, optional
With a coarse grater held over a bowl grate the tomatoes down to the skin. Pour off any excess liquid. Add the garlic, olive oil and salt, to taste (the mixture should be well seasoned). Let sit for a few minutes to meld flavors.
Lightly toast the split bread and drizzle with olive oil. Pour the tomato mixture into a serving bowl and arrange the bread and anchovies, if using, on plates. Let each guest spread the tomato mixture on the bread and top it off with one or two anchovy fillets.
Serves 4.
— Recipe from "La Cocina de Mama: The Great Home Cooking of Spain" by Penelope Casas
Contact Heidi Knapp Rinella at Hrinella@reviewjournal.com. Find more of her stories at www.reviewjournal.com, and follow @HKRinella on Twitter.