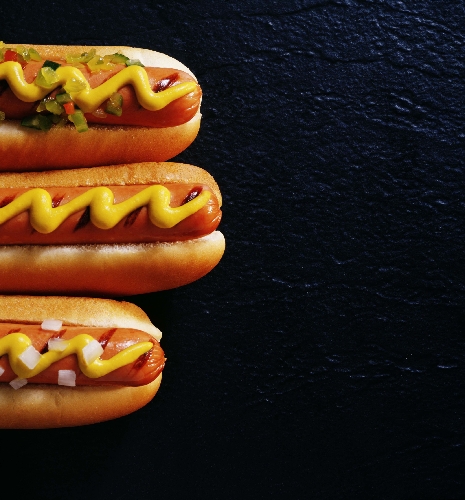 Thinking of throwing some hot dogs on the grill this weekend to celebrate the Fourth of July? How American of you.
The link between hot dogs and this most patriotic of holidays isn't exactly set forth in the Constitution, but Billy Richardson, owner of Pink's Hot Dogs at Planet Hollywood Resort, thinks he understands it.
"I guess because the word 'hot dog' was invented during a baseball game," Richardson said, "and baseball's played during the summertime."
What is undeniable is that this is hot dog season. Of the 2.3 billion hot dogs eaten by Americans each year, 150 million are consumed on the Fourth of July, Richardson noted. And the National Hot Dog & Sausage Council reports that 38 percent of hot dogs produced each year are sold during July, which is National Hot Dog Month.
The appeal of the hot dog?
"They're fast," said Bill Fredlund, owner/manager of Chicago Hot Dogs. "You can fix them so many different ways."
"It's easy, you can cook it any way you want — boil, steam, fry," Richardson said. "Everyone loves it. You give it to a kid, they know what to do with it. You eat a hot dog, it brings you back to your childhood."
Plus, he said, "they're cheap," which no doubt increases their appeal these days.
Richardson said the top dog at Pink's Las Vegas is a chili dog with onions and mustard — "very simple, very to the point."
At Chicago Hot Dogs, the Windy City specialties are dragged through the garden in traditional fashion, with the hot dogs in their natural casings that create the familiar "snap."
And hot dogs will be on the menu at Fredlund's home on the Fourth of July — either Vienna from his shop, or Sabrett if he stops on the way home.
Fredlund said he likes them grilled with ketchup, mustard and onions, the ketchup part of that equation being heresy to die-hard Chicago hot dog lovers. But as the following recipes show, there's more than one way to dress a dog.
CHICAGO-STYLE HOT DOG
1 beef hot dog
1 poppyseed hot dog bun
Yellow mustard
Sweet green pickle relish
Chopped onion
2 tomato wedges
1 dill pickle spear
2 sport peppers
Dash celery salt
Grill hot dog until done. Grill bun, or for authenticity, steam it in a steamer basket over hot water for 2 minutes or until warm.
Place hot dog in bun. Add mustard along the length of the dog, then relish and onion. Place tomato wedges between hot dog and top of bun, pickle between hot dog and bottom of bun, then top with peppers and sprinkle with celery salt.
Serves 1.
— Recipe from Las Vegas Review-Journal files
SONORAN-STYLE HOT DOG
1-pound package beef franks
8 slices bacon
8 bolillo rolls, steamed
1 15-ounce can pinto beans, rinsed
1 tomato, chopped
½ cup chopped onions
2 tablespoons jalapeno pepper sauce
3 tablespoons mayonnaise
1 tablespoon yellow mustard
Wrap each frank with 1 slice of bacon. Grill or cook in skillet until bacon is done, turning frequently.
Cut long slit along top of each roll, being careful to not cut through to bottom. Fill rolls with franks and remaining ingredients.
Serves 8.
— Recipe adapted from Oscar Mayer
GARLIC MOJO HOT DOGS
¼ cup olive oil
6 garlic cloves, chopped
1 tomato, halved, seeded, chopped
1/3 cup fresh lime juice
1/3 cup fresh orange juice
½ teaspoon ground cumin
Coarse kosher salt, to taste
Pepper, to taste
6 grilled hot dog buns
1½ cups finely shredded romaine lettuce
6 grilled all-beef hot dogs
2 avocados, halved, pitted, diced
2/3 cup finely chopped, peeled, cored pineapple
Heat oil in heavy medium skillet over medium heat. Add garlic; stir 30 seconds. Add next 4 ingredients; bring to simmer. Remove from heat. Season mojo sauce to taste with coarse salt and pepper.
Arrange buns on plates. Top each with lettuce, grilled hot dog, avocado, mojo sauce and pineapple. Serve with remaining mojo.
Serves 6.
— Recipe from Bon Appetit magazine
CHAR-DOG CHICAGO SALAD
1 pound hot dogs (beef preferred, in keeping with Chicago tradition)
2 cups chilled iceberg lettuce, cut in strips
8 ounces chilled, shredded cabbage or purchased slaw mix
1/3 cup chopped white onion
2 tablespoons yellow mustard
1 tablespoon cider vinegar
3 tablespoons canola oil
½ teaspoon poppy seeds
½ teaspoon celery salt
3 tablespoons diced kosher dill pickles
1 cup thin tomato wedges
4 tablespoons sweet pickle relish
Preheat grill for the direct grilling method, using medium heat. Place hot dogs on grill rack, about 4 to 5 inches from the heat. Cook hot dogs over direct medium heat to an internal temperature of 165 degrees, about 8 to 12 minutes. Cool slightly and slice into 1-inch pieces.
Meanwhile, in a large bowl, toss lettuce, cabbage and onion. Cover and refrigerate.
In a small bowl, whip together mustard, vinegar, oil, poppy seeds and celery salt.
Add hot dogs, pickles and dressing to greens mixture. Toss. Portion onto dinner plates. Arrange tomato wedges on sides of salad and place 1 tablespoon relish atop each salad.
Serves 4 as an entree.
— Recipe from the National Hot Dog & Sausage Council
GRILLED HOT DOG AND FRUIT KEBABS
1 medium tart crisp apple (such as Gala), quartered and cored
1 medium crisp pear, quartered and cored
1 8-ounce can pineapple chunks in natural juice
½ cup sweet honey mustard (divided use)
1 16-ounce package hot dogs, cut in 1½-inch pieces
8 12-inch metal or wooden skewers (if using wooden, soak in cold water for 30 minutes)
1 tablespoon honey
Cut apple and pear quarters into thick wedges. Then cut each wedge in half.
Measure 2 tablespoons pineapple juice and reserve in a small bowl. Pour pineapple chunks and remaining juice into a 9-by-12-inch pan. Add apples and pears and toss to coat all surfaces (this will prevent the fruit from turning brown). Add ¼ cup mustard and hot dog pieces. Stir to coat all surfaces.
Alternately thread hot dogs, apples, pears and pineapple on skewers. Liberally brush assembled kebabs with mustard mixture.
Mix remaining ¼ cup mustard with honey and reserved 2 tablespoons of pineapple juice. Save for a dipping sauce.
Preheat grill to medium-high. Using the direct heat method, cook about 5 inches from heat, turning a quarter-turn every 2 to 2½ minutes. Cook until hot dogs reach an internal temperature of 165 degrees, about 8 to 10 minutes.
Serve with dipping sauce.
Serves 6 to 8.
— Recipe from the National Hot Dog & Sausage Council
HOT DOG TRIVIA
Legend — to which Pink's Las Vegas owner Billy Richardson refers in the accompanying story — has it that the term "hot dog" was coined in 1906 by cartoonist Tad Dorgan of the New York Journal. Dorgan was inspired by a ballpark vendor hawking "hot dachshund sausages" to draw an actual dog in a bun and then, because he couldn't spell "dachshund," to christen it a "hot dog." But hot dog historians — yes, they do exist — say that story is apocryphal, and a reference to "hot dogs" was found in an 1895 copy of the Yale Record.
Chicago hot dogs traditionally are topped with yellow mustard, bright green relish, chopped onion, tomato wedges and celery salt and served on poppy-seed buns. New York hot dogs are more likely to come with steamed onions and deli mustard. Go to a Braves game in Atlanta and your hot dog might be topped with coleslaw. In Kansas City, Mo., you can get sauerkraut and Swiss, on a sesame-seed bun. In Boston, the Fenway Frank is served on a grilled New England-style bun with mustard and relish. And at Minute Maid Park in Houston, the classic toppings are chili, cheese and jalapenos.
The only stadium that sells more sausages than hot dogs is Miller Park in Milwaukee.
— From the National Hot Dog & Sausage Council