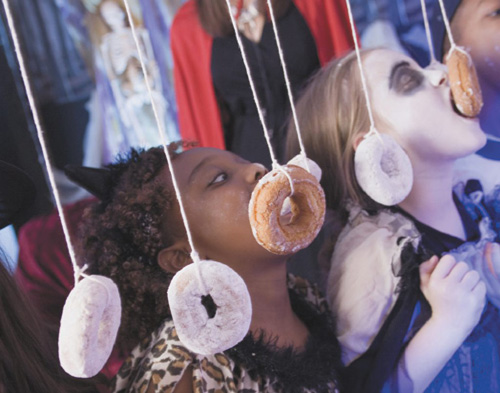 Ah, those Halloween traditions: They sure have a way of building memories.
For example, Mary Clarke, a chef/instructor at Le Cordon Bleu College of Culinary Arts Las Vegas, remembers bobbing for apples — "which I only tried once, and water went up my nose, and I cried."
OK, so we didn't say they were all fond memories.
But surely you remember bobbing for apples. It involved a big tub filled with water with apples floating around. The object was to keep your hands behind your back and grab an apple with your teeth, with everybody taking turns to see who would be the first to get one.
These days, we tend to frown on those sorts of activities. It may have been mildly disconcerting back in the day to grab an apple with somebody else's teeth marks in it, but the sort of stuff that can be spread around by saliva these days is more frightening than the most dedicated zombie.
Which isn't to say you have to abandon the idea of playing with food to celebrate Halloween and the fall harvest. You can still do the apples, for example, but give everyone their own plastic bowl and their own apple, and set a timer to see who gets theirs first.
Clarke apparently has abandoned the whole apple thing, but she does know some food-related games that she has used for the birthday parties of her 9-year-old daughter, Frances.
Chopsticks and jelly beans, for example — using orange and black jelly beans for a Halloween theme.
"Give every kid a pair of chopsticks, which is always kind of fun and interesting" because most American kids aren't real handy with them, she says. Each child also gets two bowls, one empty and one containing jelly beans. The object is to use the chopsticks to transfer the jelly beans from one bowl to the other.
"You want something that's not too easy — candy corn, maybe," Clarke adds.
Another idea from Clarke is to give the kids empty sugar cones (usually used for ice cream) and cake-decorating items and let them decorate the cones to make witches' hats.
"Also the old relay idea," she says. "A little relay race with marshmallows and a spoon."
Malinda Kolias, a chef/partner with Two Chefs to Go, suggests updating another game — Pass the Lifesaver. Divide the kids into teams and give one member of each team a plastic beverage stirrer with a Lifesaver on it. The object is to pass it to the next child in line, without using their hands.
Michelle Vietmeier, chef/instructor at The International Culinary School at the Art Institute of Las Vegas, recommends hosting a Monster Mash, in which you have kids use food-safe paint to make faces on baked potatoes, then see who can mash their potato the fastest.
Or Dracula's Garden, which is another variation on a theme. For this one you blindfold the kids and place a selection of foods in front of them. Use your imagination on this one: peeled grapes are "eyeballs," Jell-O is "brains," spaghetti is "worms." You know, the ookier the better. Then you see who can correctly identify the most items.
Vietmeier also suggests the Pretzel Prank, which is along the same lines as a pinata game. A string is tied to a pretzel, which is raised and lowered while a blindfolded child tries to eat it off the string. You could do the same thing with a doughnut, or have either swinging by a string from the top of a doorway.
Another idea is to have your little partyers make their own decorated food items, to eat on the spot or take home. In addition to Clarke's sugar-cone witch hats, you could have the kids create witch-hat cookies, which Vietmeier remembers her grandmother making. Turn a chocolate-covered shortbread cookie upside down, top with a chocolate kiss adhered with a little decorator icing, and let the kids use the icing to embellish their hats.
Or, she says, let them create a cemetery cake, topped with crushed chocolate sandwich cookies for "dirt," plus half-buried gummy worms, Peeps shaped like ghosts, etc.
Variations on these themes are endless, and you also can try some of them with adults.
Bobbing for apples could get real interesting if somebody spikes the Halloween punch.
Contact reporter Heidi Knapp Rinella at hrinella@review journal.com or 702-383-0474.