Shaved snow starts to stick in Las Vegas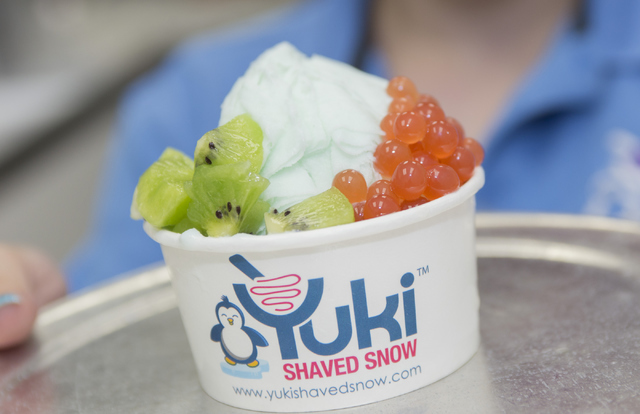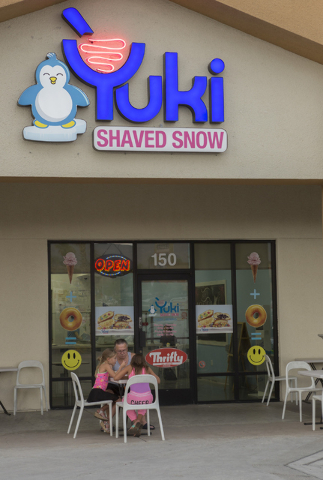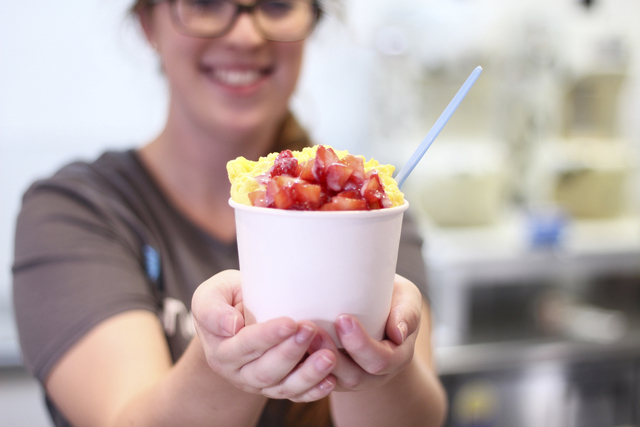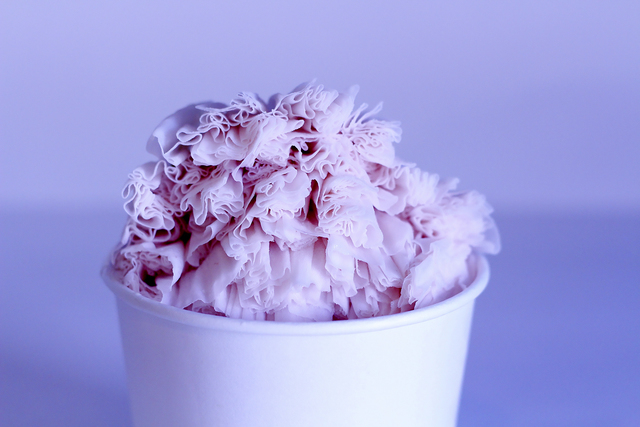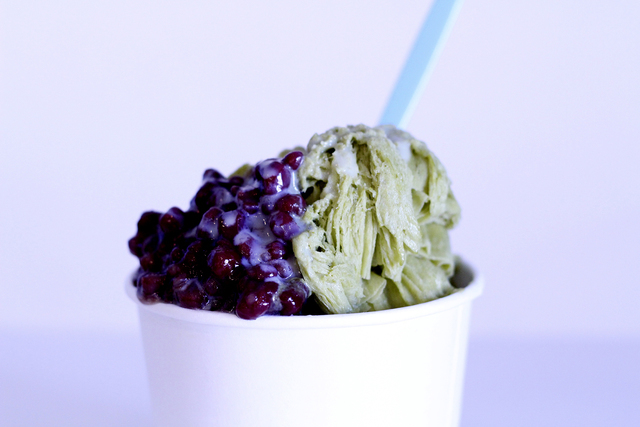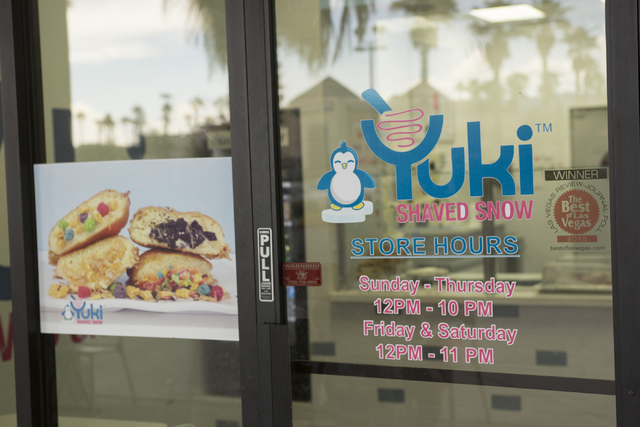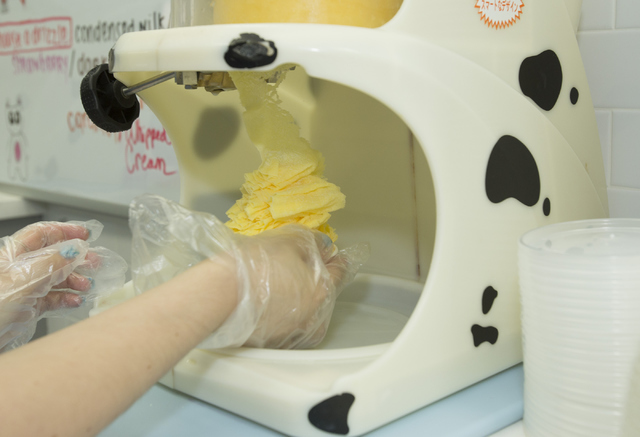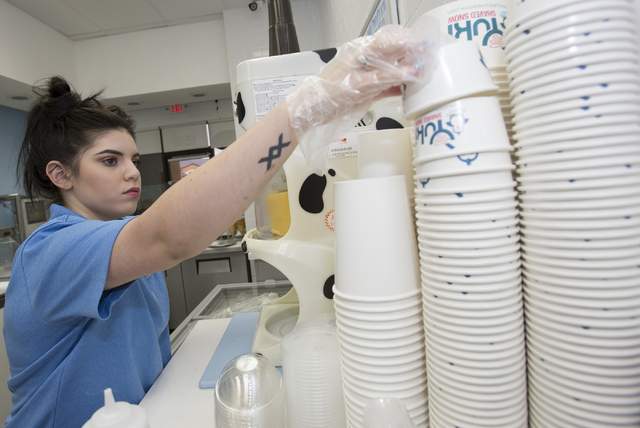 You may know the difference between shaved ice and shave ice (yes, those are two distinct things). But what about shaved snow?
The Taiwanese dessert consists of thin, creamy, frozen ribbons shaved off a round block, then drizzled with sweetened condensed milk or chocolate sauce and topped with options such as mochi, red bean, fresh fruit or cereal. The ribbons end up packed into the bowl, resulting in a dense and satisfying dessert.
Shaved snow caught on long ago in Los Angeles, but the dessert has only had a brief run in Las Vegas, beginning with Jet Tila's Kuma Snow Cream, which closed less than three years after opening. Now, a couple of businesses are forging ahead in what they believe to be an as-of-yet untapped market. Brad Fishback, owner of Snowflake Shavery on Spring Mountain Road, thinks the uniquely textured creation could be the next fro yo.
"There's no dominant player yet," Fishback says. "If I was to jump into frozen yogurt, I've got to compete with Pinkberry and Yogurtland, which is going to be very difficult to do."
Snowflake Shavery offers preset combos such as green tea snow with red bean and sweetened condensed milk drizzle (called "snowflake sauce" here) or coconut snow with coconut flakes and fresh pineapple, though customers can also choose their own combination of snow and toppings. Sizes range from a small for $3.93 to the behemoth "monster" size for $6.93.
Fishback took over the shop in 2015 from his close Taiwanese-American friends who first opened as a trailer in Henderson in 2013 before eventually moving to the storefront on Spring Mountain Road three months later. They developed the initial recipe, which Fishback stays true to, using high-quality ingredients and real flavoring rather than a powder or syrup. The cookie butter flavor, for example, tastes eerily similar to the real speculoos spread, which Fishback explains is because they use the actual spread to make the snow flavor.
"It's texture and flavor. Those two things have both got to be good for people to want to come back," Fishback says.
His shop, in Seoul Plaza near the popular Japanese grill Raku, is packed in the evenings. The store has never had a losing month, and continues to grow every year and experience high profit margins, Fishback says. He plans to have multiple franchises open throughout the country by next summer.
Yuki Shaved Snow in Centennial Hills uses the same cow-spotted contraption as Snowflake Shavery to shave ribbons of flavor, but its formula is wetter, like the fatter snowflakes that fall in warmer temperatures as opposed to Snowflake Shavery's drier texture, like the dusty flakes that come down on a bone-chilling day. Instead of suggesting combinations, people choose their own snow, topping and drizzle. Flavors include frozen cotton candy, mango, chocolate and a vegan lychee variety. Yuki Shaved Snow also offers traditional ice cream and a "creamy bun" option — a doughnutlike pastry stuffed with ice cream and topped with cereal or crushed oreos, for example.
"With shaved snow, that's what I grew up with," owner Linda Ma says of the impetus behind opening the shop. "I grew up in L.A. and ever since I've known I've always had shaved snow."
Business isn't as frequent two years after opening as Ma would like — there's no line out the door yet — but is good nonetheless. For Ma, the biggest barrier to a more successful business is that many people are unaware that shaved snow even exists. But once customers find out, Ma says, they're amazed.
"What I tell them is that it's kind of like if shaved ice and ice cream had a baby, it would be this product," Ma says. "Light, airy, fluffy and flavorful."
At Snowflake Shavery, one regular customer orders a monster-sized green tea snow combo twice a week like clockwork. He's been dubbed the "Green Tea Monster Guy." If his enthusiasm for the dessert is any indication, these businesses and the ones to follow will have customers shoveling snow for a while.
Contact Sarah Corsa at scorsa@reviewjournal.com or 702-383-0353. Follow @sarahcorsa on Twitter.