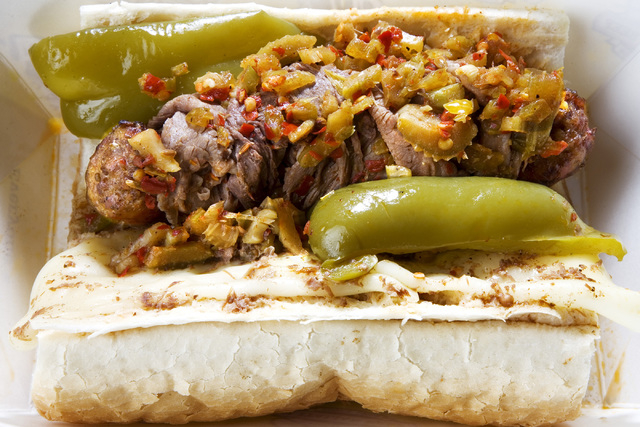 DINING OUT
AL'S BEEF, 6840 W. SAHARA AVE.
Al's Beef, a franchised operation of the Chicago original that dates to 1938, opened in January. Its specialty is Italian beef sandwiches, which come in two sizes plus extra-meat options and a beef-sausage combo. The signature sandwich has won numerous awards over the years, named Chicago's No. 1 Italian beef sandwich by Chicago magazine and one of the best sandwiches in America by Esquire magazine. But Al's has a lot more to offer than Italian beef sandwiches, serving burgers, Polish sausages, char-grilled chicken sandwiches, a variety of fresh-cut french fries, salads and wraps. Dine-in and carryout are available, and Al's also offers catering. Here's a sample of the menu:
Sandwiches and burgers: Regular Al's Italian Beef, $6.35; Big Al, $7.90; Al's Combo Beef &Sausage, $7.35; 1/3-pound burger, $5.85; Maxwell Street Burger (grilled onions and mustard), $5.85; buffalo chicken, $6.95; BBQ bacon cheddar chicken, $7.40.
French fries: Regular fries, $2.55 for small, $3.85 for large; cheddar cheese fries, $3.85/$4.85; BBQ fries, $3.85/$4.85; blue cheese fries (crumbled Gorgonzola and chunky blue cheese dressing), $4.35/$5.85; Loaded Fries (cheddar cheese sauce, bacon, chopped green onion, sour cream), $4.35/$5.85.
Salads and wraps: Al's Old Chicago Chopped Salad, $4.95 for a half, $8.35 for a full; The Big Boss Caesar, $3.50/$4.65; chipotle chicken wrap, $7.65; buffalo chicken wrap, $7.70; Southwest turkey wrap, $7.50.
Hours are from 10:30 a.m. to 9 p.m. Mondays through Thursdays, 10:30 a.m. to 10 p.m. Fridays and Saturdays and 11 a.m. to 9 p.m. Sundays. Call 702-644-2333 or visit www.alsbeef.com.
NEW BOOKS FOR COOKS
CLAMS WITH ISRAELI COUSCOUS, KIELBASA AND FENNEL
1 cup Israeli couscous (don't use small couscous instead)
1 tablespoon unsalted butter
1 small onion, coarsely chopped
1 small fennel bulb (8 ounces), stalks discarded, bulb halved, cored and coarsely chopped
4 ounces kielbasa, halved lengthwise and sliced ½ inch thick
1 garlic clove, minced
¼ cup dry white wine or dry vermouth
1½ pounds littleneck clams, scrubbed
6 ounces cherry tomatoes, quartered
¼ cup coarsely chopped fresh parsley
Brings two quarts water to a boil in a medium saucepan. Add couscous and cook, stirring often, until al dente; drain well.
Meanwhile, melt butter in large saucepan over medium heat. Add onion, fennel and kielbasa; cook until vegetables are softened, about 5 minutes. Stir in garlic and cook until fragrant, about 30 seconds. Stir in wine, scraping up any browned bits, and cook until slightly reduced, about 30 seconds. Stir in clams, cover and cook, stirring occasionally, until clams open, 8 to 10 minutes.
Using slotted spoon, transfer opened clams to large bowl; discard any clams that have not opened. Stir drained couscous, tomatoes and parsley into cooking liquid left in saucepan and season with salt and pepper, to taste. Portion couscous into individual bowls, top with clams and serve. Serves 2.
Recipe from "The Complete Cooking for Two Cookbook" (America's Test Kitchen; $29.95)
— Heidi Knapp Rinella