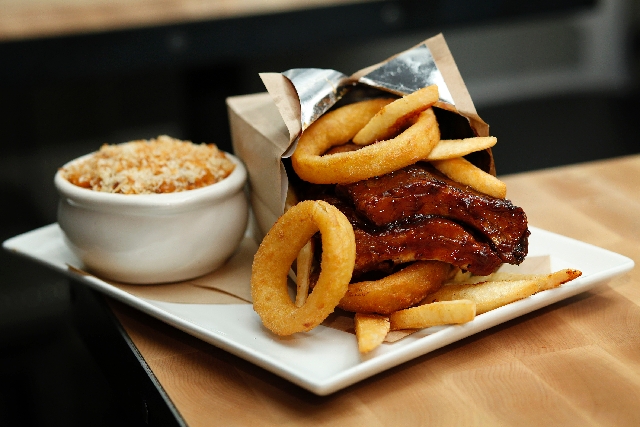 DINING OUT
CITIZENS KITCHEN & BAR, MANDALAY BAY, 3950 LAS VEGAS BLVD. SOUTH
From the Light Group, Citizens Kitchen & Bar serves the updated classic American food of corporate executive chef Brian Massie and also has a grab-and-go counter and an espresso bar. Here's a sample from the menu:
Breakfast: corned beef hash skillet, $15.50; banana pancakes, $12.95; Denver omelet, $15; steel-cut Irish oatmeal, $7.50
Starters: Buffalo wings, $10.95; old-fashioned chicken soup, $8.95; soup and salad, $19
Burgers and sandwiches: toasted Reuben, $16.95; tuna melt, $14.95; classic hamburger, $14.95; open-faced turkey sandwich, $16.50
Entrees: mahi mahi tacos, $18; Southern fried chicken, $23.50; bag of bones (dry-rubbed baby back ribs, crispy onions, pot of slow-cooked beans), $29 for a full rack, $15 for a half; mussels and fries, $29; flat-iron steak, $29; filet mignon, $39
The restaurant is open 24/7. Call 632-7200 or visit www.MandalayBay.com.
NEW BOOKS
FOR COOKS
WARM CHOCOLATE
FUDGE CAKES
1½ cups cake flour
1 cup cocoa
1 teaspoon baking powder
½ teaspoon baking soda
½ teaspoon salt
1¼ cups 2 percent low-fat milk
1½ cups packed dark brown sugar
¼ cup canola oil
2 large eggs
1 teaspoon vanilla extract
2 ounces bittersweet chocolate, broken into 8 equal pieces
Adjust oven rack to middle position and heat oven to 350 degrees. Grease and flour eight 6-ounce ramekins and arrange on rimmed baking sheet. Whisk flour, cocoa, baking powder, baking soda and salt together in bowl. In large bowl, whisk milk, sugar, oil, eggs and vanilla together. Slowly whisk flour mixture into milk mixture.
Portion batter into prepared ramekins and gently tap ramekins on counter to release air bubbles. Gently press 1 piece chocolate into center of each ramekin to submerge. Bake until cakes rise, tops turn glossy and center is gooey when pierced with skewer, about 20 minutes, rotating sheet halfway through baking. (Do not overbake.) Serve warm.
Serves 8.
— Recipe from "America's Test Kitchen Comfort Food Makeovers" (America's Test Kitchen, $26.95)
— Heidi Knapp Rinella