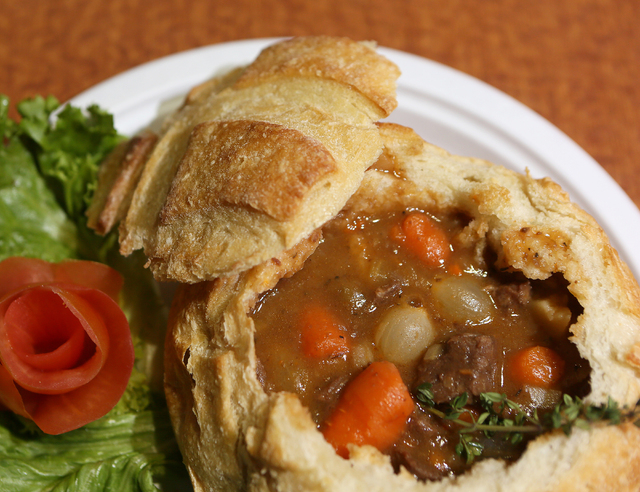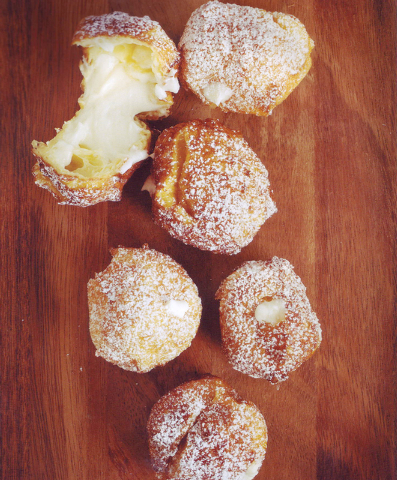 DINING OUT
KITCHEN CREATIONS CAFE, CLARK COUNTY GOVERNMENT CENTER, 500 S. GRAND CENTRAL PARKWAY
Kitchen Creations, a new venture from Opportunity Village, opened in March. Mauro Lara, the organization's chief operating officer, said food service and training has long been one of its focuses, with commercial kitchens at two of the group's campuses. "In addition to that, for 10 or 15 years, we've served 40,000 to 50,000 meals a year to the servicemen at Nellis Air Force Base," he said. The cafe is a joint venture through the Business Enterprise Network of Nevada that brings Opportunity Village's clients with intellectual disabilities together with people with visual impairments. So far, Lara said, the cafe has been frequented primarily by government center employees, although they would like to expand that customer base. "We just need to make sure we get the word out," Lara said. Here's a sample of the menu:
Breakfast: Breakfast sandwich on English muffin or biscuit, $4.50; two-egg breakfast with hash browns and toast, $5 ($7 with bacon, ham or sausage); customized omelets, $5.50; buttermilk pancakes, $3.95 for a full stack of three or $2.95 for a short stack of two; French toast, $4.50; butter croissant, $3; chocolate croissant, $3; scone, $2.
Lunch: Soup of the day, $4; Guinness Beer Brat, $4; cheese quesadilla, $5 ($7 with chicken); Angus beef burger, $6; tuna melt, $6; Philly steak sandwich, $7; turkey club croissant, $6; Chef's Dagwood Sandwich, $7; wrap of the day, $6; panini of the day, $6; personal cheese pizza, $5 ($6 with pepperoni, bacon or artichokes; other items 50 cents each).
Breakfast is served from 7 to 11 a.m., lunch from 11 a.m. to 2 p.m., cold items until 4 p.m. weekdays. Call 702-486-7461.
NEW BOOKS FOR COOKS
ZEPPOLE
For the filling:
2¾ cups fresh ricotta cheese
¾ cup confectioners' sugar
¾ teaspoon vanilla extract
¾ teaspoon finely grated lemon zest
¼ teaspoon fresh lemon juice
For the dough:
2 cups water
½ cup unsalted butter
4 tablespoons sugar (divided use)
2 teaspoons salt
2 cups bread flour
¼ teaspoon baking powder
7 large eggs
1 quart peanut oil, for frying
To make the filling: Line a sieve with a layer of cheesecloth and set it over a bowl. Spoon the ricotta into the sieve. Cover and let drain in the refrigerator overnight.
Transfer the drained ricotta to a mixing bowl. Using a mixer on medium speed, beat the ricotta and confectioners' sugar until fluffy, about 2 minutes. Add the vanilla, zest and lemon juice. Use immediately or cover with plastic wrap and refrigerate until ready to use.
To make the dough: In a large saucepan over medium heat, combine the water, butter, 2 tablespoons of the sugar and the salt. Cook until the butter and sugar are melted, about 2 minutes. Bring to a boil and cook for 30 seconds, then remove from the heat. Stir in the flour and baking powder, then place over low heat; using a wooden spoon, beat constantly until stiff, about 1 minute. Remove from the heat and let cool for 4 minutes.
Transfer to a stand mixer fitted with a paddle attachment and let sit for 2 minutes. Turn the mixer on low and add the eggs, one at a time, beating until thick and ribbonlike (it should be the temperature of lukewarm water). Cover with plastic wrap and let cool to room temperature, about 10 minutes.
Pour the oil into an electric fryer or deep saucepan and heat to 360 degrees. Scoop individual tablespoons of the dough into the hot oil. Fry the zeppole until golden brown, about 3½ minutes, turning over halfway through the cooking time. Transfer to a wire rack to drain. When cool, fill with the ricotta mixture using a pastry bag and filling tip, or cut in half and spoon the ricotta in the middle; then sprinkle with the remaining sugar.
Makes 24.
Recipe from "Homemade Doughnuts" by Kamal Grant (Quarry Books; $24.99)
— Heidi Knapp Rinella