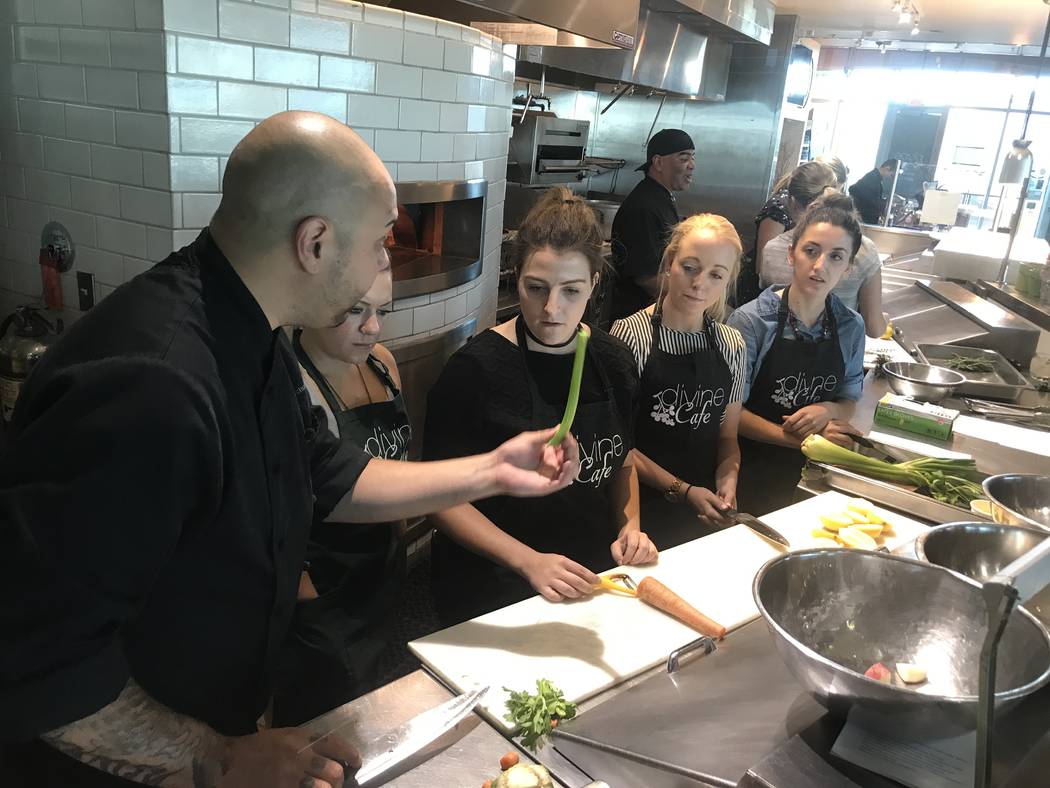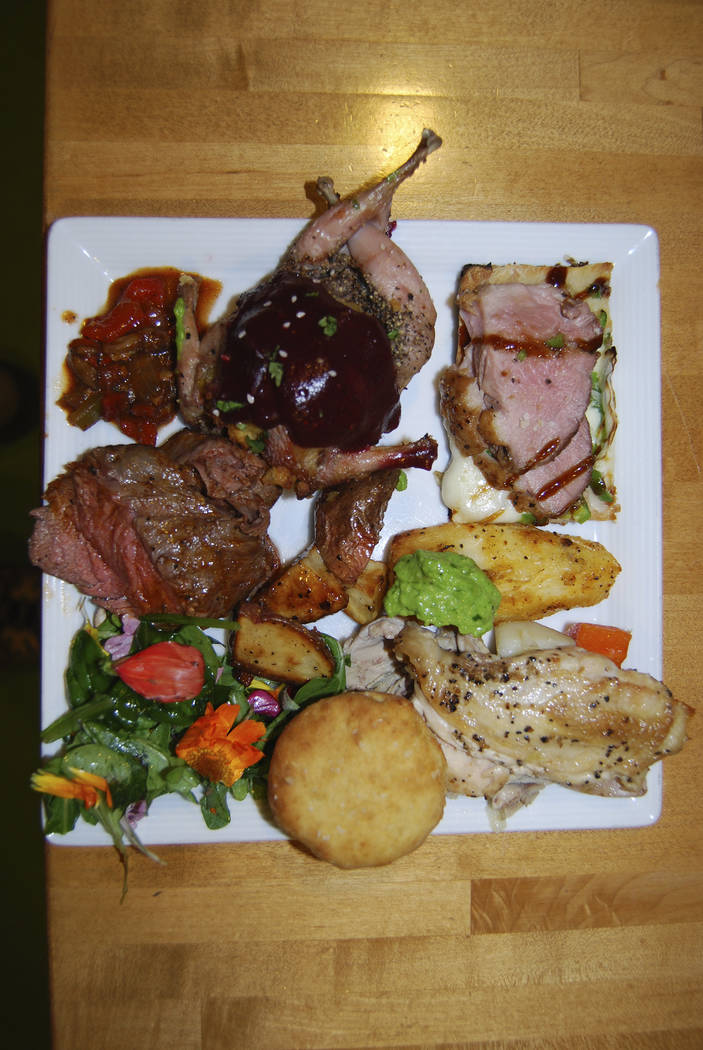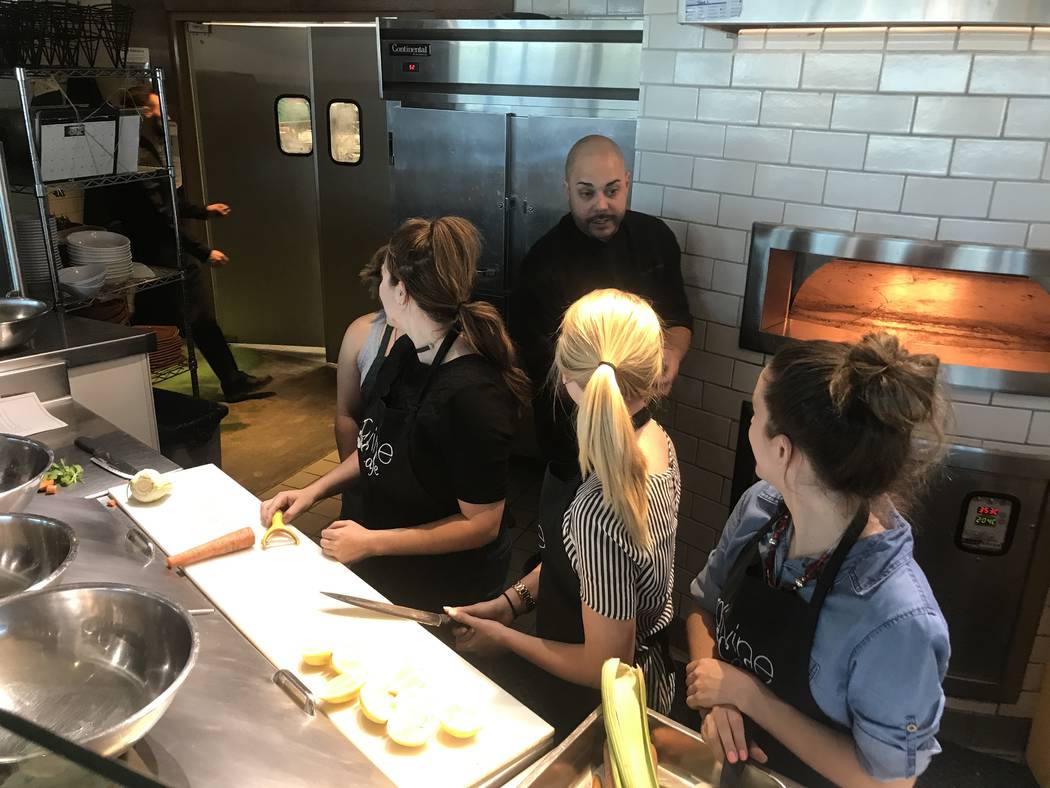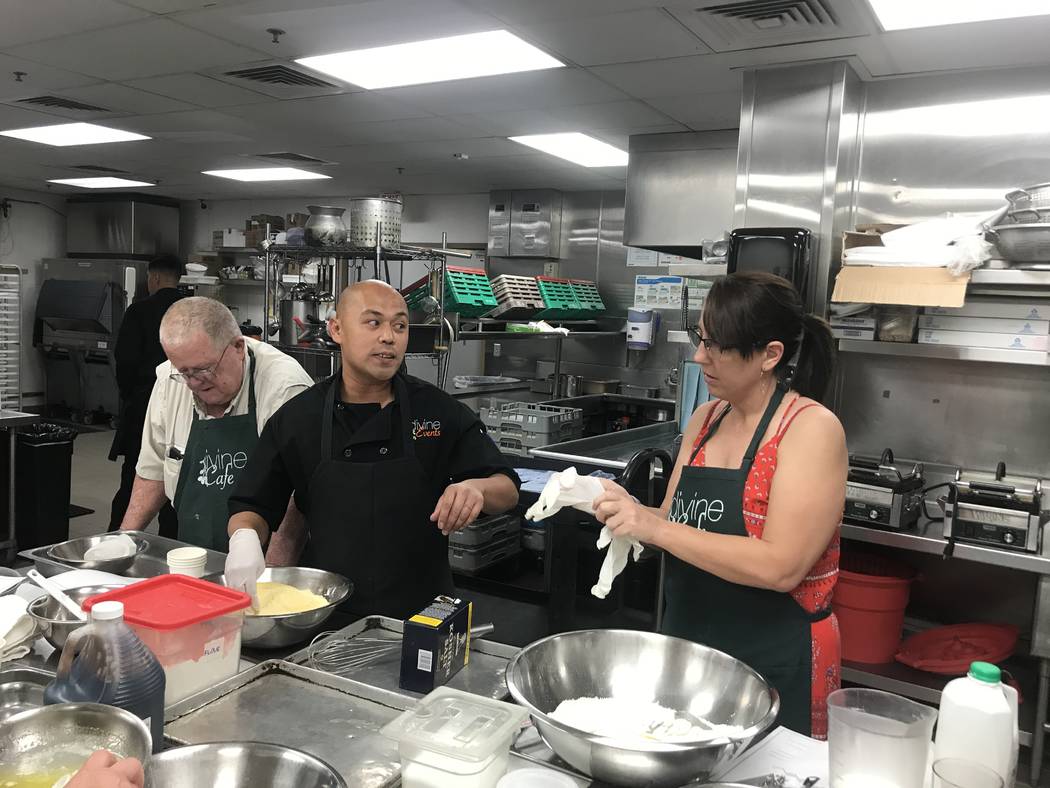 If the farm-to-table movement encourages people to learn where the ingredients in their meals come from, a class Friday night at the Divine Cafe at Springs Preserve was looking to do it one better.
Call it field-to-table, if you will, meaning working with animals you or someone you know has hunted or fished. The June edition of the restaurant's Hands-on Cooking Class series was dedicated to game meat, and it aimed to make anyone, regardless of their experience, more comfortable with cooking wild animals.
"In society today, everybody's looking for organic, non-hormonal foods, and nothing is more organic than wild game," explains Martin Olson, hunter education coordinator for the Nevada Department of Wildlife.
Olson opened the evening with a discussion of the hunting and fishing available in Nevada, and some of the rules and regulations hunters and fishers must follow. A little over 20 attendees, many of whom had never hunted in their lives, sipped wine and craft beer as he discussed topics like how to skin an animal, what parts of a carcass hunters are required to take home with them, and how to keep it from spoiling in Nevada's heat.
From there, Divine Cafe chef Chef Steven Piamchuntar separated the group into three teams. In a makeshift butcher shop on one side of the dining room, one group was taught the intricacies of breaking down proteins like trout, duck, quail, game hens and elk loin — although the truly messy work, such as removing the animals' skin and heads, had mercifully been done beforehand. In the open front-of-house kitchen, another group began their evening's chores by chopping vegetables. And in the main, industrial kitchen, a larger group began work on sauces, stews, sides and baked goods.
Over the next two hours, they created what would be their shared dinner. As the restaurant's staff made sure their glasses were always filled with libations, they worked as a team to create 10 dishes. Starters included duck flatbreads and a wildflower salad. For main courses, they prepared rosemary roast rabbit, stuffed game hen, baked trout with sorrel sauce and game chilindron, or stew. They were accompanied by johnny cakes, yucca fries and old range biscuits with pine nut pesto. And for dessert: oatmeal black walnut pie.
Gary Wilson traveled all the way from Provo, Utah, for the event with his family, after attending several other classes in the series. As he and his son chopped elk loin, he admitted little experience with game meat, but said all options were open if he enjoyed the meal.
"I would like to be able to go out and shoot a rabbit or something like that, (but) I haven't been a big hunter in the past," he explained.
In the kitchen, another repeat attendee named Susan said this evening's theme struck a personal note with her.
"My husband used to hunt before he passed away, and he used to cook all kinds of wild game," she explained. "So I'm here to do it for myself now."
Despite that carnivorous goal, as she worked on a salad, she said the most interesting thing she'd learned involved edible wildflowers.
The evening saw a few mistakes, like a batch of burnt pies the team scrambled to replace before meal time. But in most instances, the pros stepped in with some helpful hints (or hands) that managed to save a dish that might otherwise have been lost.
"We try not to let them have mistakes," Piamchuntar said. "A lot of people really don't know how to work in an industrial kitchen. They know how to cook at home making soups and sauces and stews and stuff like that. But when it comes to char broiling and butchering, they don't know. But it's fun for them. So you just try to help them."
Despite that minimal assistance from the pros, when the group sat down to eat, everyone was able to proudly point to a dish he or she had made. And they seemed to unanimously approve of the results.
"I feel it turned out great," John Carlton, who attended with his wife, said of the feast. "It was a unique experience, not just making your own meal, but the pressure of (all these) people. This is a great experience. This is wonderful."
Contact Al Mancini at AMancini@reviewjournal.com or 702-387-5250. Follow @AlManciniVegas on Twitter.
Rosemary roasted rabbit
Ingredients
2 rabbits (1 -2 lbs.); each cut into eight pieces, rinsed, pat dry
16 medium red potatoes; quartered
24 cloves garlic; peeled, crushed
6 tbsp. olive oil
4 oz. slab of bacon
8 tbsp. fresh rosemary leaves
2 tsp. ground black pepper
1 tsp. sea salt, more to taste
8 sprigs rosemary
1/2 cup white wine
Directions
Preheat oven to 400 degrees.
Place the potatoes and garlic cloves on sheet pan. Toss with 1 tbsp. of olive oil. Bake for 20 minutes, until potatoes are browned and soft, turning as needed.
While the potatoes and garlic are roasting, heat skillet over medium heat.
Add 2 tbsp. oil and bacon. Render bacon. Reserving oil, remove with slotted spoon into small mixing bowl with paper towel to drain. Set aside.
In same skillet, working in batches, sauté the rabbit over medium heat. Cook 3-4 minutes each side, to golden brown. Remove rabbit and place aside on half sheet pan with drying rack to hold. Reserve 2 tbsp. of pan drippings.
When potatoes are done, remove from oven and reduce heat to 350 degrees F.
Combine rabbit, rosemary, pepper, salt, reserved pan drippings, potatoes, garlic and remaining 3 tbsp. oil in roasting pan. Toss thoroughly to combine well and roast for about 30 minutes, until meat is cooked thoroughly and golden and vegetables are tender.
Toss as needed during cooking.
If rabbit or potatoes appear to be getting too dry during cooking, add ½ cup white wine to pan and toss to combine.
Serve hot on warmed platter or plates.
Garnish with rosemary sprigs and bacon.
— Divine Café