'That's why it's $795 a shot': Sampling rare Irish whiskeys, scotches on the Strip
Updated March 17, 2023 - 9:55 am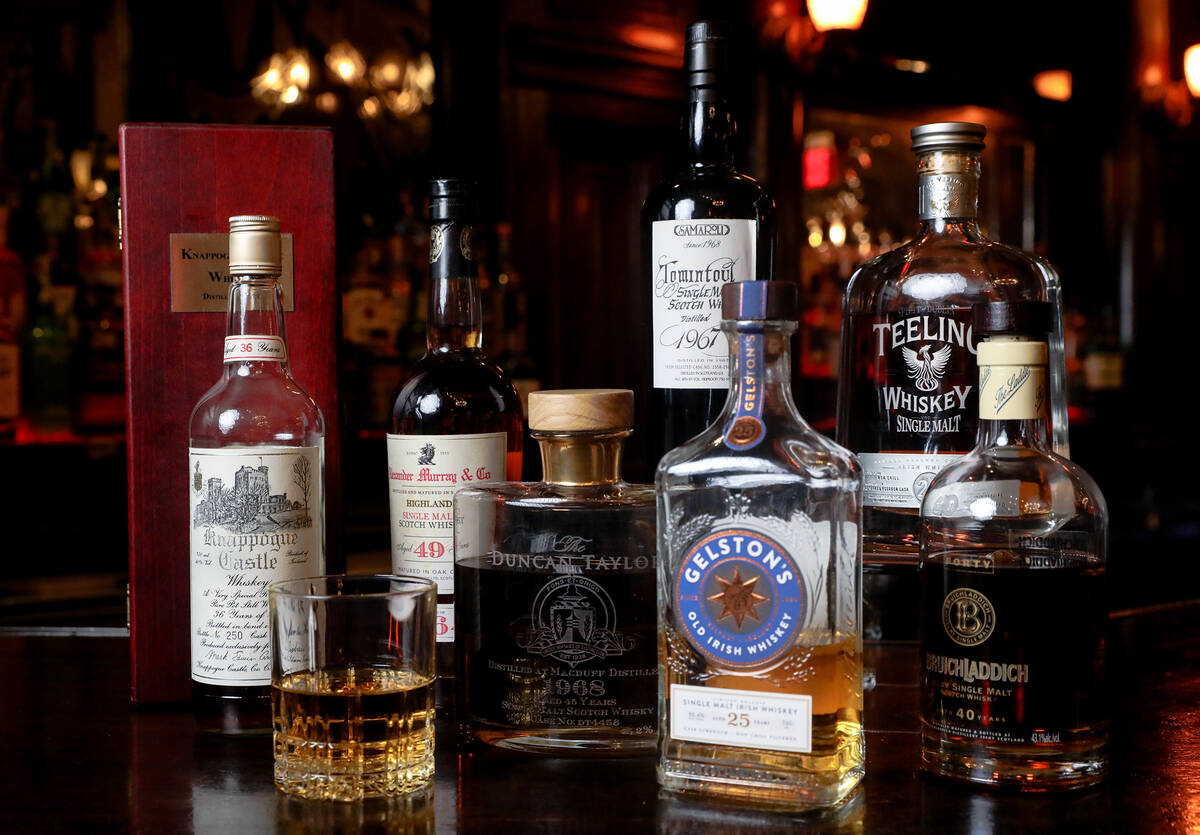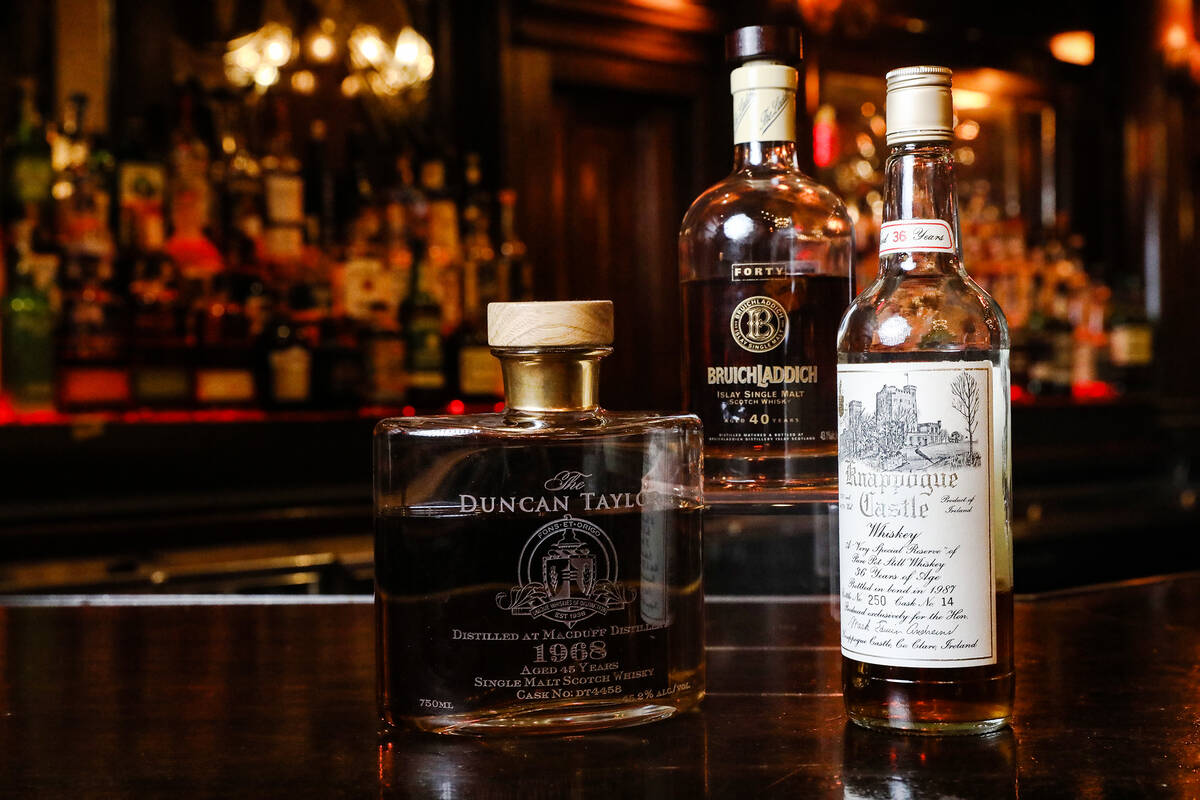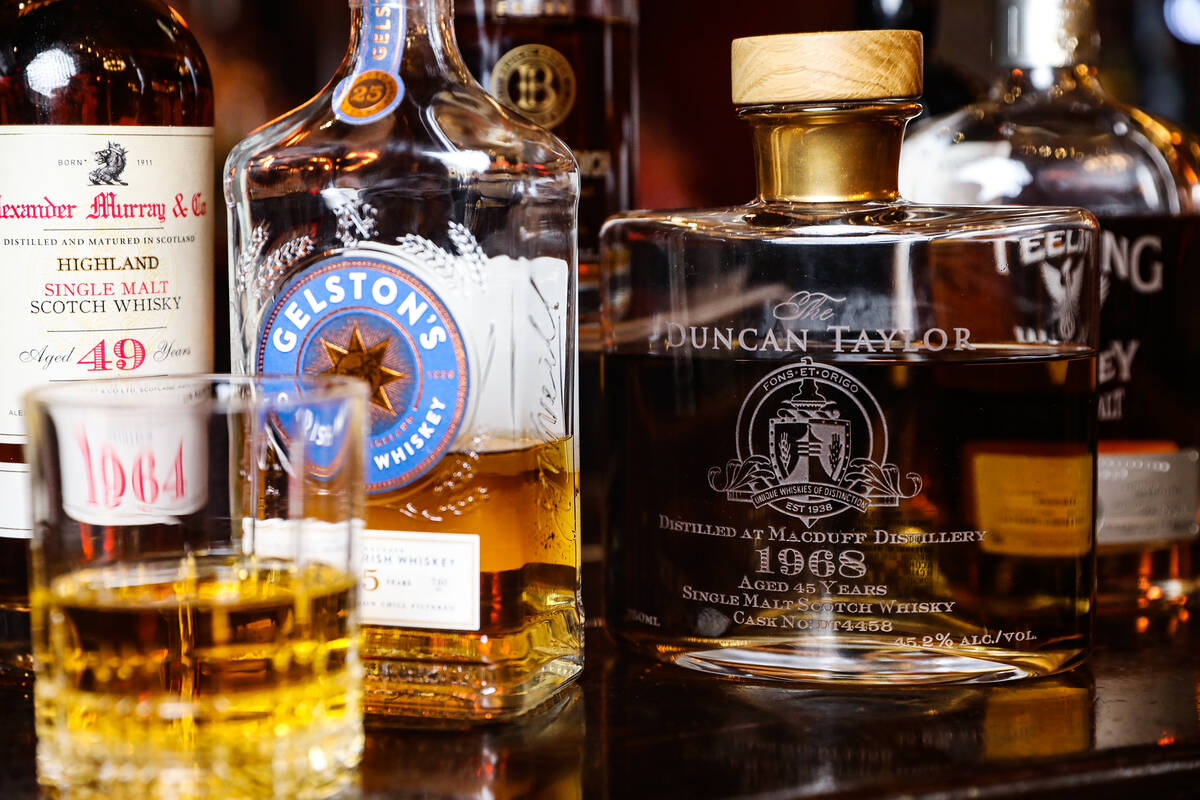 With whatever apologies (if any) are owed to green beer, this call to conviviality for St. Patrick's Day does not concern green beer. Or anything green in a glass. What it does involve is some of the finest (and priciest) Irish whiskeys and Scotch whiskies on the Las Vegas Strip.
We lay our scene at Rí Rá Irish Pub in the Shoppes at Mandalay Place. Wally Lang, the whiskey whisperer of Rí Rá, guides us through seven pours that range from $160 to nearly $800 for 1.5 ounces, with age, quality and scarcity variously contributing to those prices.
Sláinte indeed.
Irish whiskeys
■ Knappogue Castle 1951, $500 a pour
The 1951 Knappogue Castle, distilled in that year and bottled in 1987, is no longer released; everything ever bottled is now in the market. Rí Rá Irish Pub has two 750-milliliter bottles (plus another quarter bottle) left of its allocation.
The whiskey, aged 36 years in sherry casks, shows apples and honey on the nose, caramel and a bit of pepper on the palate, with a long finish. You can almost hear the strings swell as Lang described his first taste.
"I bought it out of my tips and drank it out of a Waterford crystal glass. I can still remember every nose, every taste, every finish. It had an amazing nose. The taste had really rich viscosity on your palate. It rests there, very well balanced, and then you get to the finish, kind of this echo off your taste buds that keeps reminding you of what you just tasted.
"The lingering finish on the Knappogue Castle has a vibrant quality, and then you want to go for another. I sat and drank that one shot for 2½ hours."
Who is ordering the Knappogue 1951 and the other ultra-pricey spirits being showcased? Aficionados in town, whales accompanied by a casino host, and "the person that just won three or four grand downstairs and they want to splurge and it's memorable," Lang said.
■ Samuel Gelston's 25-Year-Old Single Malt, $170 a pour
This extremely rare whiskey, matured in different cask styles, receives kudos for the way it balances spice, tropical fruit and toffee notes, the latter especially on the finish. Frank McHardy, a legendary distiller in Ireland and Scotland, laid down the Gelston's 25-year-old.
Rí Rá also serves the clear golden whiskey in a flight of three, along with a scotch and a bourbon, each 25 years old. The flight is $94.
■ Teeling Vintage Reserve 24-Year-Old Single Malt, $160 a pour
Teeling distilled this whiskey in 1991, then aged it in bourbon barrels, with a finish in barrels once used for Sauternes, the sweet wine of Bordeaux. Apricots unfurl on the nose; on the palate, the fruit joins chocolate, honey and a jab of brine.
The whiskey is very smooth, Lang said, and "it's not like every other Irish pub carries a bottle of Teeling. That nose gives you a reason to spend your wallet before you blow money on a Pappy Van Winkle."
Scotch whiskies
■ Duncan Taylor Macduff 1968 45-Year-Old Single Malt, $795 a pour
Whiskies (and whiskeys) aged for decades are highly prized, but they present a paradox, Lang said.
"When you barrel-age for 45 years, it starts full, but every year, you lose X amount to evaporation, the angel's share. By the time you get to 45 years, there's a smaller amount left to bottle and turn a profit on. That's why it's $795 a shot."
The whisky was distilled in 1968 at the Macduff distillery and bottled by Duncan Taylor, one of the top independent bottlers in Scotland. The whisky, in a hand-blown glass decanter, is packaged in a tantalus, a wooden stand for the decanter made, in this case, from the casks in which the spirit aged.
■ Bruichladdich 40-Year-Old Single Malt, $500 a pour
Lang sipped Bruichladdich with a big casino customer. It offered chocolate aromas on the nose, he said, and a velvety buttery palate, smooth and soft. The whisky was distilled in 1964 and aged in bourbon casks on the Islay coast of Scotland, with only 550 bottles produced.
■ Alexander Murray Highland 1964 49-Year-Old Single Malt, $485 a pour
Like Duncan Taylor, Alexander Murray is a bottler, sourcing whisky from distilleries for bottling. Unlike the Duncan Taylor Macduff, this whisky does not identify the distiller. The 49-Year-Old, aged in oak casks, is sought out for its elegance and depth and scarcity; only 1,000 bottles were released.
"This is one of the rarest scotches we have in the bar," Lang said. "This whiskey is asked about the most. Someone born in 1964, they see that number, the year, and then they hear the price, and they don't try it." Which makes the experience of sipping it even more distinctive.
■ Samaroli Tomintoul 1967 Single Malt, $188 a pour
Italy meets Scotland in this whisky. Samaroli is a famed independent Italian bottler of whisky and rum. Tomintoul is the distillery, from the Speyside region of northern Scotland. Notes of ginger, pear and citrus mingle in this very limited release.
Contact Johnathan L. Wright at jwright@reviewjournal.com. Follow @ItsJLW on Twitter.