Todd English P.U.B. features modern take on pub food
April 20, 2010 - 11:00 pm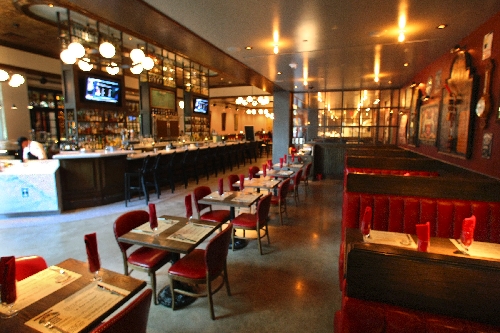 When three-time James Beard Award winner Todd English decides to open a pub in Las Vegas, odds are good that it's going to be different from most other pubs in town.
And Todd English P.U.B. certainly is, combining an authentic, pub feel with some decidedly nontraditional, and even unexpected, offerings.
Todd English P.U.B. — it's an acronym for "Public Urban Bar" — opened last month at Crystals at CityCenter, 3720 Las Vegas Blvd. South. English said his goal was to offer "a new spin" on the classic pub.
The bar is wooden and curved, the environment spacious — there's also a patio dining area — and the ambience is relaxed and casual, with amusements that include plasma TVs throughout, such classic pub games as darts and such newer American favorites as beer pong.
The pub's roster of libations includes 30 premium hand-pulled beers, all hand-selected by English and ranging from Belgian and English ales to such American classics as Pabst Blue Ribbon, as well as another 20 or so brands in bottles.
For diners or grazers, the menu offers what English describes as a modern interpretation of traditional English pub fare. "We tried not to pull too many punches, to be true to what a pub is, but then, also, to shake it up a little bit," says English, whose other creations include Olives and Beso.
There's a mix of such pub classics as fish and chips, bangers and mash, and bubble and squeak, as well as such American comfort foods as a grilled bologna sandwich.
A "carvery" offers guests the chance to create pretty much any sort of sandwich they'd like from the ground up, based on a selection of rotisserie-cooked meats. And, a raw bar is the home of seafood ranging from shrimp cocktail to oysters that come from both East and West coasts.
"I've been very pleased with the sort of mix of things on my menu," English says. "I wasn't sure it would really actually work, but they do seem to be working."
Todd English P.U.B. is open daily from 11 a.m. to 2 a.m., and the menu is served Sunday through Thursday until 11 p.m. and Friday and Saturday until midnight. The pub seats 206.
Starters: Shrimp cocktail, $4; oysters, $3 per piece; Welsh rarebit, $7
Salads: Wedge salad, $13; giardiniera of pickled veggies, $5; tomato and onion, $10
Entrees: Fish and chips, $18; grilled bologna, $16; organic chicken potpie, $18
Extras: Corn Dog Puppies, $8; brown butter lobster rolls, $24; dirty chips, $11
Information: 489-8080
By JOHN PRZYBYS