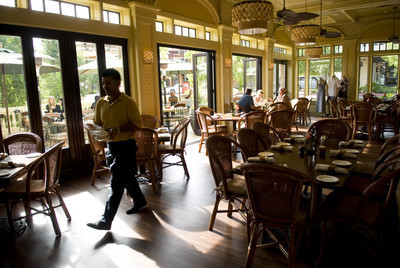 If you walked into Tommy Bahama's at Town Square thinking you were going to pick up some camp shirts or capris, you're not the first person to confuse the restaurant with the clothing line.
People do it all the time, says Chris Mazza, general manager of Tommy Bahama's Paradise Cafe, 6635 Las Vegas Blvd. South.
One of the perks of the job is being able to wear the clothes, Mazza says. But just because the clothing line is more well-known doesn't mean the restaurant lacks its own following. It's a favorite spot for shoppers and diners who are looking for a casual but elegant meal.
Like the clothes, the upscale casual restaurant is inspired by the islands of the Florida Keys. The dining room, which seats 340, has the feel of an old-style plantation house. Live music, sometimes steel drums, other times guitar, plays Wednesday through Sunday from 5:30 to 8:30 p.m.
The restaurant features a separate lunch menu consisting of salads and sandwiches, while the dinner menu offers appetizers and entrees. There is a separate kids' menu but Tommy Bahama's isn't a typical family restaurant. Reservations aren't required but they are accepted, Mazza says.
The restaurant opens at 11 a.m.
Specialties: Coconut shrimp, $17; lunch saba steak salad with balsamic vinaigrette, $18
Appetizers: Loki loki tuna poki, $16.50; crab cakes, $17; South Seas scallop sliders, $11.50
Soups and salads: Tahitian tuna salad, $18; St. Croix chopped salad, $16.50; Cooper Island crab bisque, $7 for a cup, $10 for a bowl
Entrees: Shoal Bay snapper with macadamia nut crust, $30.50; Palm Island pasta with jumbo shrimp, $26.50; pork tenderloin with sweet potatoes, $27.50
Desserts: Pina colada cake, $10; Blackbeard's butterscotch pudding, $10; Key lime pie, $8
Information: 948-8006
By SONYA PADGETT