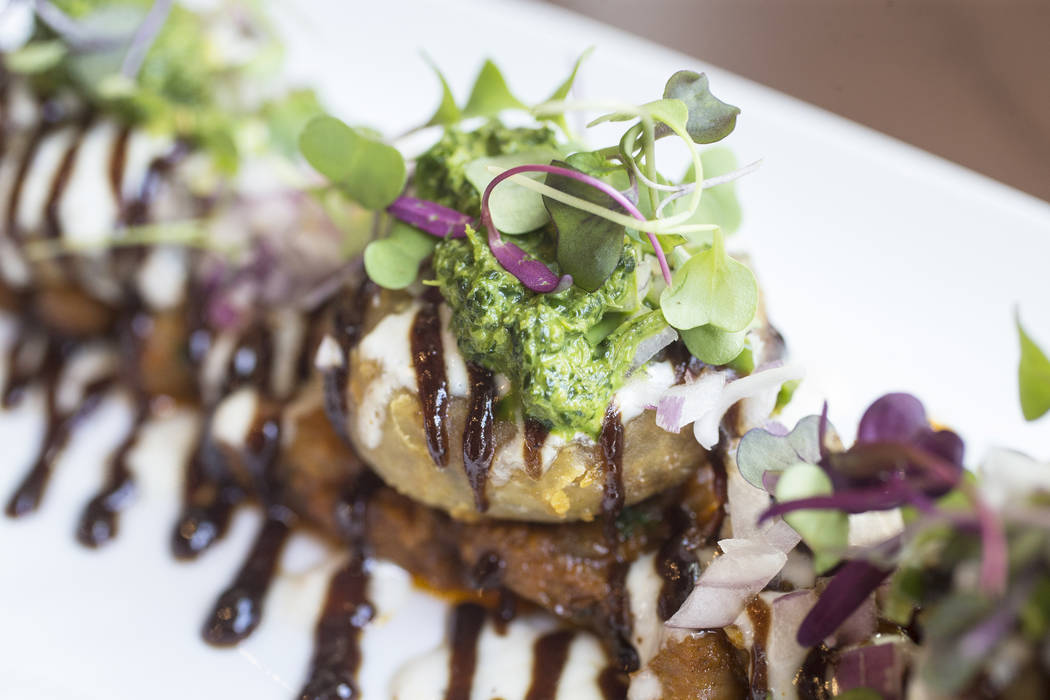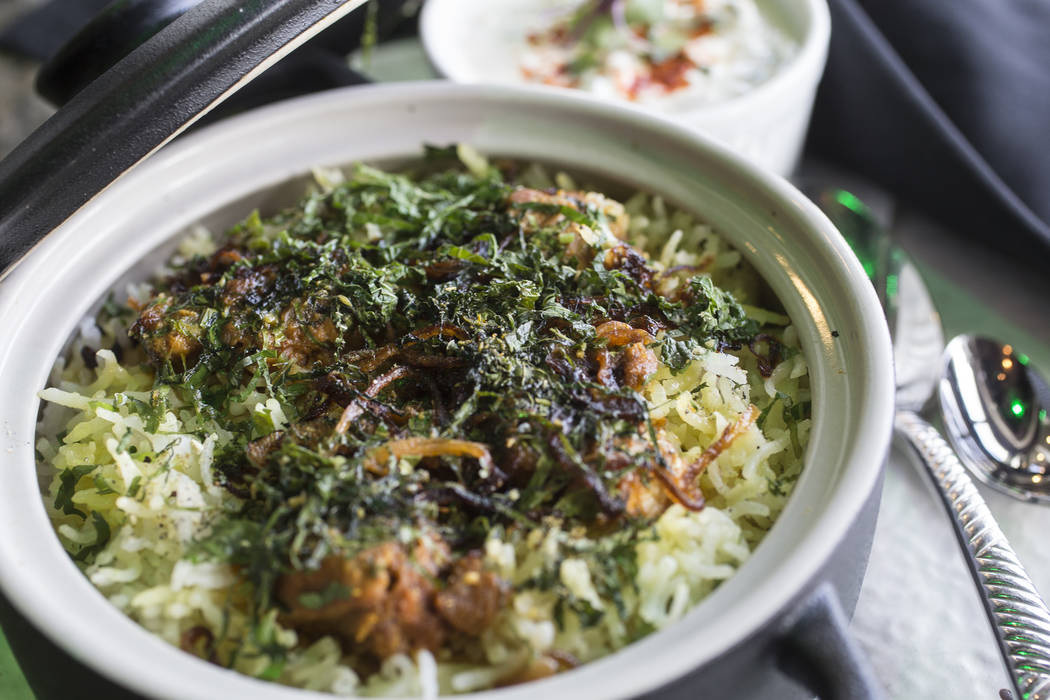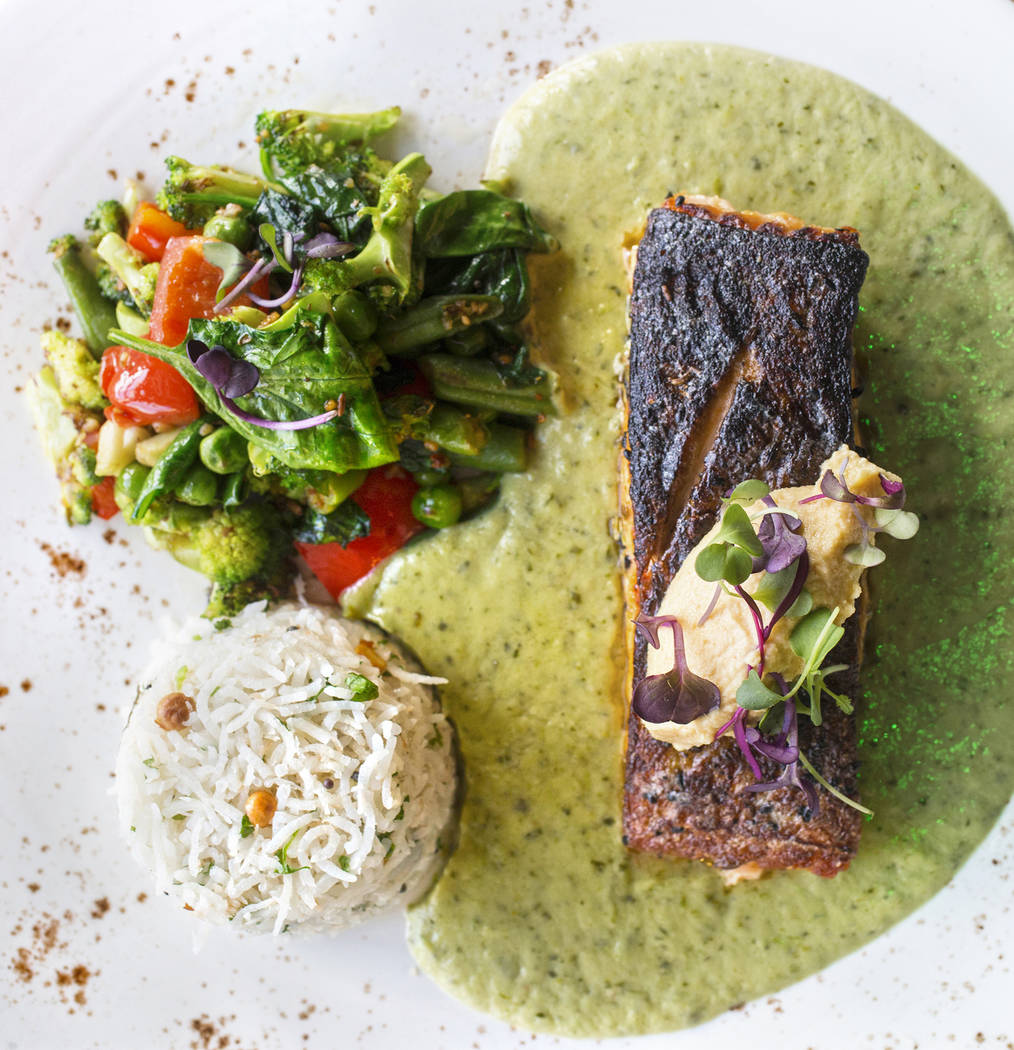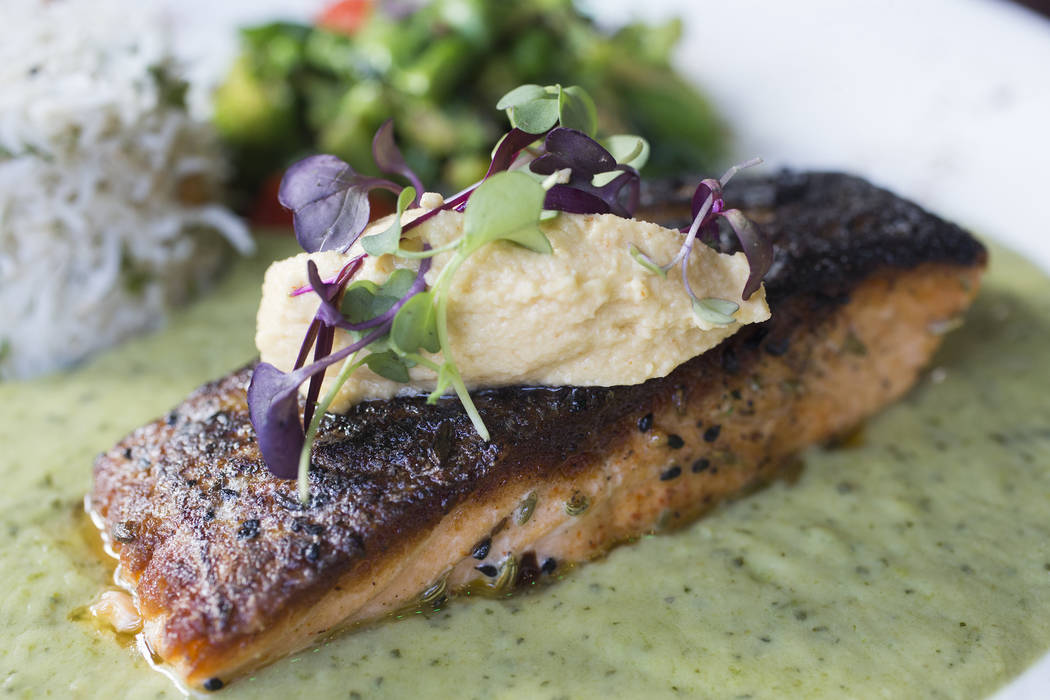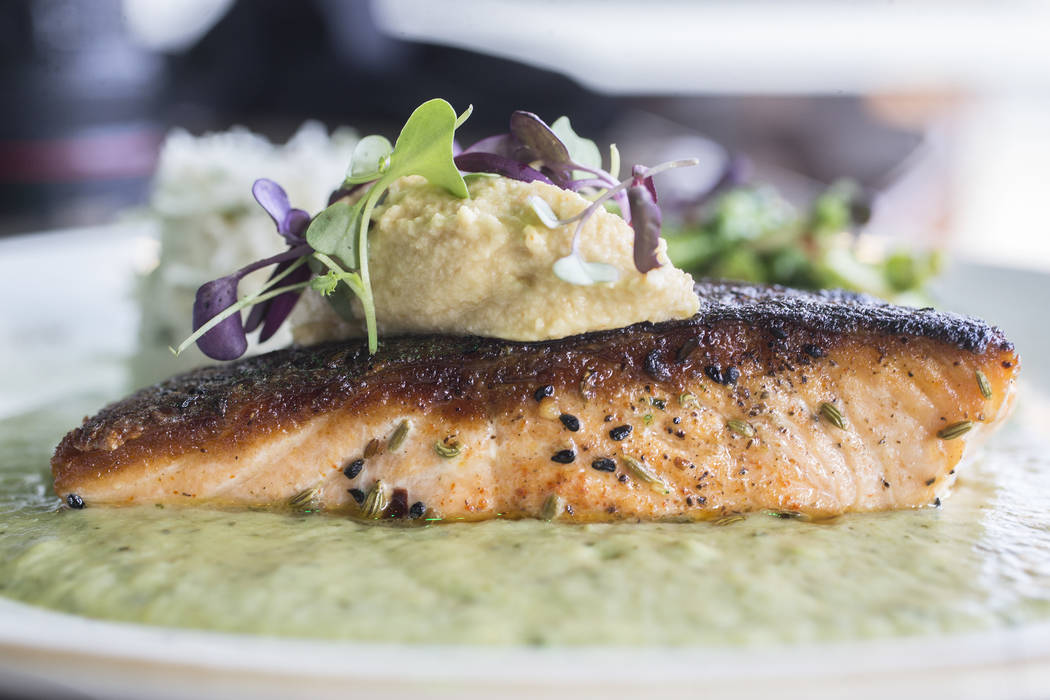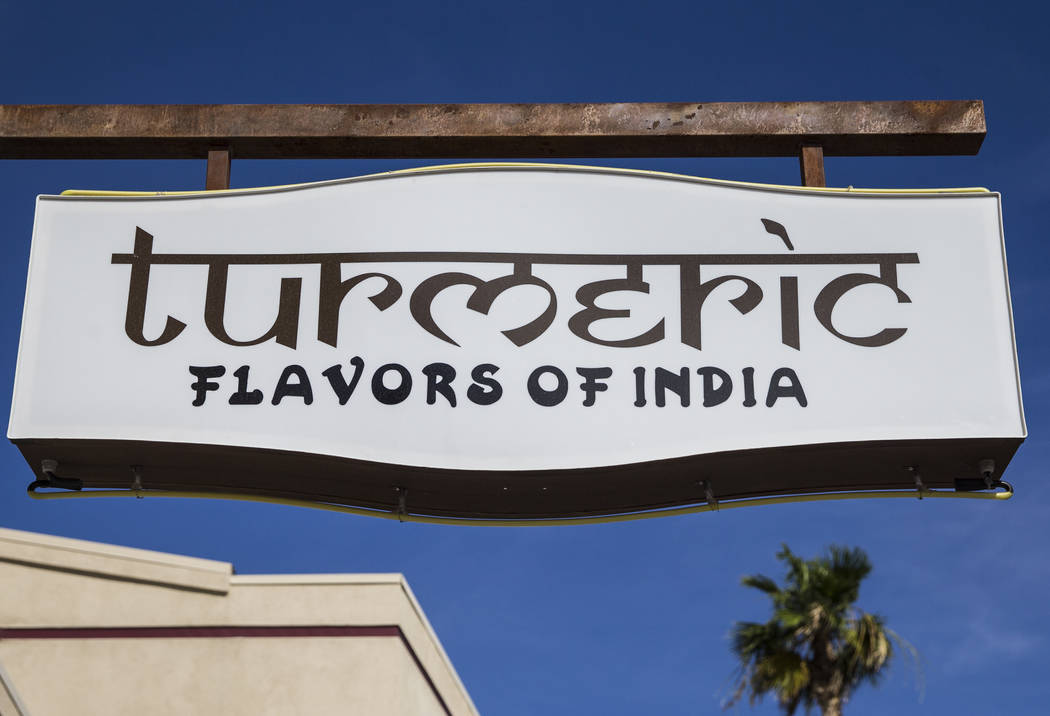 When Turmeric Flavors of India opened downtown last fall, it was with the stated intention of doing things a little differently; it's even reflected in the restaurant's motto, "Indian cuisine elevated." That mission has been met, on numerous fronts.
There's the middle-of-the-action location on Fremont Street, across from the Downtown Container Park. There's the open-to-the-street windows in the front of the bar area, and the rooftop nightclub. There's the sleek, non-traditional decor with pistachio-colored banquettes, plum walls, cinnamon floors and granite tables. And while there are some family-style dishes on the menu as a concession to traditionalists (butter chicken, chicken tikka masala, biryanis), there are numerous choices plated like conventional entrees, many of them quite creative.
Consider the starter of grilled eggplant ($10). What elevates the dish is a crisp coating of peanuts and sesame, which mellowed out the somewhat assertive flavor of the eggplant. It was slightly spicy and so was the smear of tamarind chutney, but they were balanced by the cool, creamy neutrality of a mound of labne, also known as hung yogurt and far more at home in Middle Eastern cuisine than Indian.
Border-bending also was evident in the masala shrimp ($10). The largish, just-firm-enough crustaceans had been traditionally seasoned but were served in a far-from-conventional filo basket, a smear of mango-tamarind chutney decorating the plate along with a little pile of greens.
On the other hand, garlic naan ($4) was about as traditional as it gets, characteristically light and crisp and sprinkled with lots of garlic.
Spinach dumplings ($19) sounded likewise traditional — "spinach-coated paneer" — but instead of the customary cubes of house-made cheese, they were actual dumplings, the paneer mixed with seeds and seasonings and served on a pond of mild tomato-ginger sauce, with a little top hat of yellow rice and a sauteed melange of fresh vegetables including peas, carrots, string beans, broccoli and red pepper."
The "corn sauce" served on the side with the lamb rack ($25) provided a bit of a detour; it was more of a salsa, with a prodigious kick. Lemon rice with this one, too. But the lamb chops, which should have been delicate and succulent, were terribly overcooked. With medium-rare lamb the norm these days, they were disappointing.
Rice with entrees is a rarity in Indian restaurants and another way in which Turmeric is a little different.
Service was standard, with periodic updates from the servers and frequent refilling of water glasses.
One caveat is that the building is a little offbeat. It's at Fremont and Seventh streets, on the property of the City Center Motel. The entry is somewhat confusing; you go in the door and walk along a glass wall enclosing the bar before ending up at a hostess station that's not clearly marked. The parking is a little confusing as well; there's plenty on the streets, at meters, but while the City Center's lot is posted with signs saying it's for motel guests only, a server said it is available to restaurant guests.
But the small bit of navigation that's required is worth the effort, because Turmeric's creative touches do elevate the flavors of India above those of its brethren.
Las Vegas Review-Journal restaurant reviews are done anonymously at Review-Journal expense. Contact Heidi Knapp Rinella at Hrinella@reviewjournal.com or 702-383-0474. Follow @HKRinella on Twitter.
Turmeric Flavors of India, 700 Fremont St.; 702-906-2700
The essence: Things are a little different here, and it's mostly to advantage.