Vegan, vegetarian restaurants popping up in Las Vegas Valley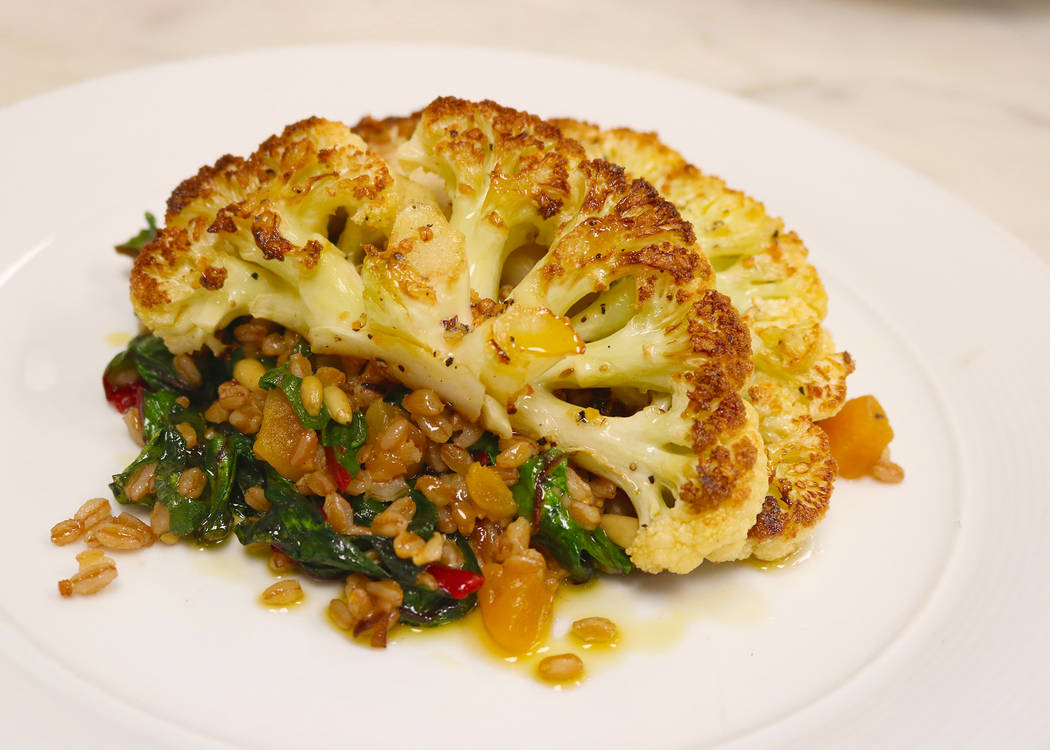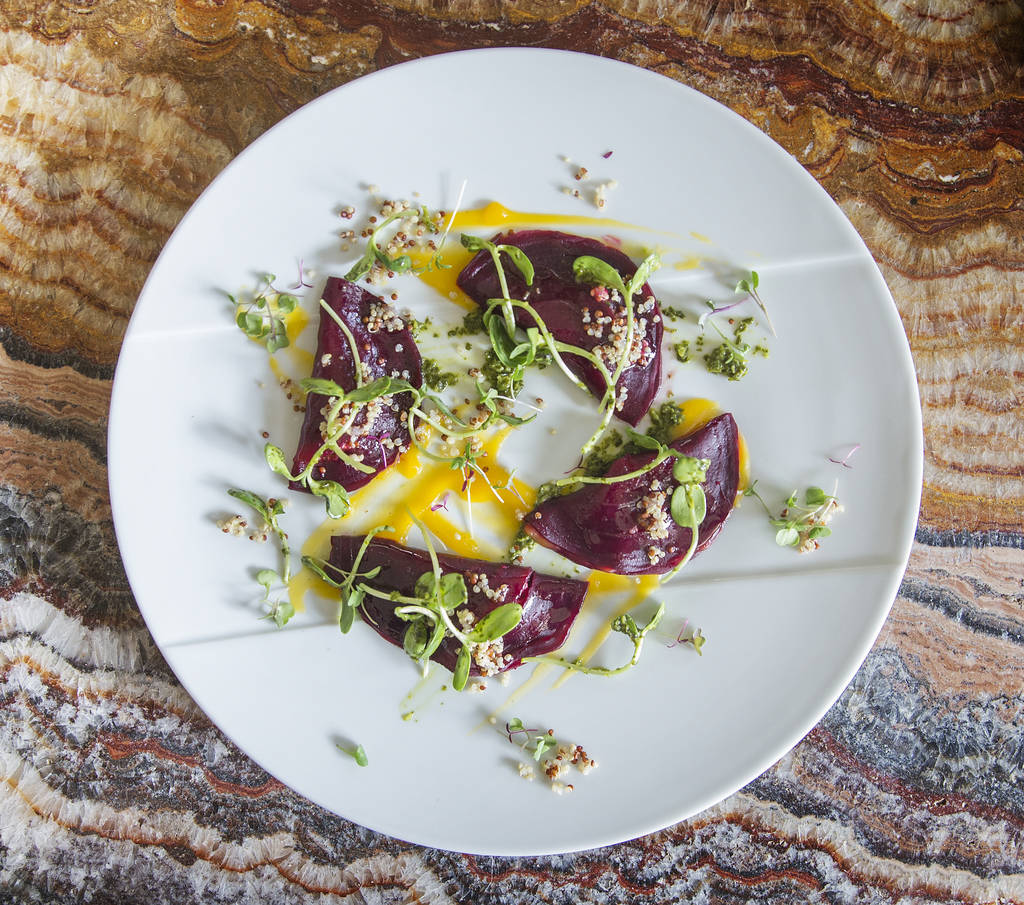 Vegans and vegetarians have been wandering in the meat-lovers' paradise that's Las Vegas for decades, and it seems like they're finally reaching the promised land, with — Holy cow! — vegan and vegetarian menus in steakhouses. Indeed, plant-based options are popping up like wildflowers after a spring rain — both new spots and more options in mainstream restaurants.
Diana Edelman, founder of the Vegans, Baby website, which is a guide to being vegan in Las Vegas, said the trend had been included in some year-end trend forecasts.
"I've noticed a lot of things in the vegan world have skyrocketed recently," she said, such as vegan choices coming to the fast-food world with the Impossible Burger at the Fatburger fast-food chain.
Edelman said several things are driving the trend, including awareness of health benefits, factory-farm conditions and general environmental effects.
"A lot of athletes and celebrities are trying out vegan life, too," she said. "As more high-profile people get that conversation going in mainstream media, people are opening their minds a lot more to it."
Among new restaurants locally, The Modern Vegan opened in March at 700 E. Naples Drive, off Paradise Road, serving breakfast, brunch and lunch. It has an extensive menu with familiar choices and offbeat dishes such as vegan poutine and biscuits and gravy.
Pots, which opened in February at 1745 S. Rainbow Blvd., is an Egyptian and vegetarian restaurant with a variety of offerings, including Egyptian street foods. Among them: koshari, with rice, lentils, pasta, chickpeas, tomato sauce and caramelized onions.
A number of established restaurants across the valley have added vegan and vegetarian dishes. Twin Creeks Steakhouse at the Silverton last week announced a new plant-based menu of dishes such as pan-seared cauliflower steak with farro, pine nuts, apricots, sauteed Swiss chard and lemon beurre blanc.
During Veganuary, a monthlong celebration of vegan spots and vegan and vegetarian dishes added at mainstream restaurants, Border Grill at Mandalay Bay served more than 1,200 vegan dishes, according to Vegans, Baby. That led to vegan additions to the regular menu, among them a tamale with Spanish chile masa, roasted corn puree and root vegetable salad.
Restaurants at Red Rock Resort have added vegan and vegetarian dishes such as the roasted beet ravioli with tri-color quinoa ragout, sweet basil watercress pistou and zucchini flower at T-Bones Chophouse. Similar choices are now available at The Grand Cafe, Hearthstone and Libre, and Red Rock's in-room dining offers vegan choices including the Impossible Burger.
Vegan and vegetarian dishes have been added at Bottiglia and Borracha at Green Valley Ranch Resort, and Hank's Fine Steaks & Martinis is serving mushroom Rockefeller and other choices.
Craftkitchen on Eastern Avenue in Henderson has introduced choices including veggie toast, with tomato-onion jam, wilted spinach, sauteed mushrooms and roasted red pepper coulis on grilled garlic ciabatta.
At Caesars Palace, new vegetarian and vegan options are being served at Nobu, Rao's and Gordon Ramsay Pub & Grill, which has added a vegetarian pie.
Giada at The Cromwell offers a vegan eggplant stack, and a veggie burger and salad are available at Guy Fieri's Kitchen & Bar at The Linq.
Beauty & Essex at The Cosmopolitan of Las Vegas now serves dishes such as a wild mushroom salad and Szechuan chili-dusted tofu.
And all restaurants at Wynn Las Vegas and Encore continue to offer vegan choices, which are updated regularly.
New places are on the horizon as well. Flower Child, from growing restaurant group Fox Restaurant Concepts, is expected to open in early May in Rampart Commons, serving some chicken and meat, and vegetarian and vegan soups, salads, plates, bowls and wraps.
The owners of Urban Turban, 3900 Paradise Road, are converting the space to Juicy Beets, scheduled to open in May with a vegan and vegetarian menu including organic juices. Urban Turban will live on as online menu and delivery service.
Blinders Burgers and Brunch, which is scheduled to open in late April, plans to serve lots of burgers but no meat. It will be at 6410 N. Durango Drive in the location that had been Vege-Way, which was from prominent local vegan chef Kenny Chye. (Chye still has Vege-Way at 7790 S. Jones Blvd).
And Chye has something up his sleeve as well — Chef Kenny's Asian Vegan Restaurant, which he predicts will open mid-month at 6820 Spring Mountain Road. Chye, who first became known to local vegans for Veggie House at 5115 Spring Mountain Road, will serve his signature vegan dishes including crispy beef and Kung Pao Chicken, as well as vegan sushi, pho, beer and wine.
Contact Heidi Knapp Rinella at Hrinella@reviewjournal.com or 702-383-0474. Follow @HKRinella on Twitter.