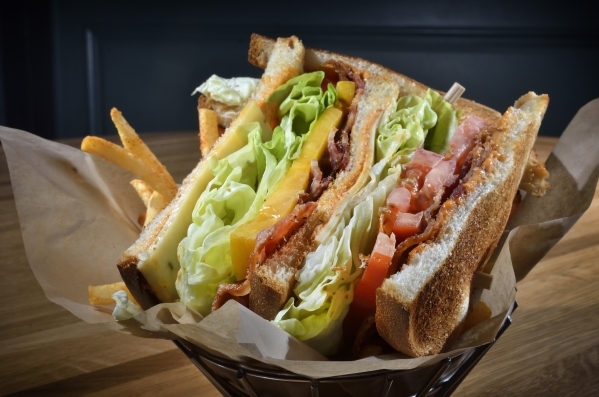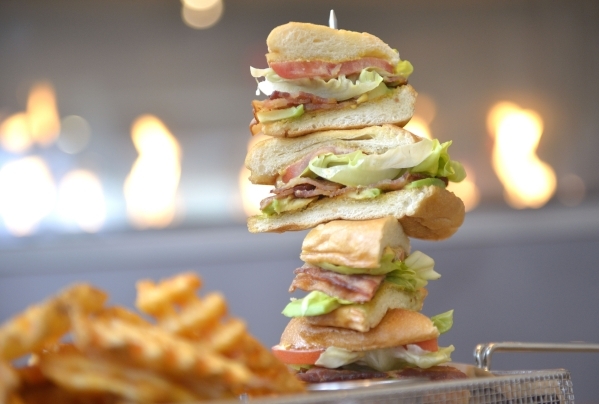 The BLT is arguably the quintessential summer sandwich and it couldn't be more simple: You layer slices of red-ripe tomatoes, strips of smoky bacon, a few leaves of crisp lettuce and a swipe of mayo between two slices of good bread and end up with the perfect light meal for a sultry summer evening.
But truth be told, the ol' BLT can get a little boring, in that it's always the same thing on a different day. Since it's too good to simply skip, we asked a few local chefs for ideas on how to change up this American classic. And several of them said to start by taking a look at the individual ingredients.
"One thing that we like to do is really focus on the bacon that we use," said Anthony Schutz, chef of Pub 1842 at the MGM Grand. "We use really high-quality bacon, thicker-cut than normal. It just kind of makes the sandwich more meaty."
As for the bread, he said they use a good-quality white, made by a local bakery, and three slices, "so it's almost like a double sandwich."
"We make sure the tomatoes we use never go in the refrigerator," Schutz added. "The minute you put a tomato in the refrigerator, it starts to get really mealy."
They use butter lettuce, he said, which is softer than other types, but the bread adds plenty of crispness.
"For the mayonnaise, we change it up a bit and make a sun-dried-tomato mayonnaise," he said. "More or less that's an aioli, whole roasted garlic cloves, a little bit of basil, a little bit of Champagne vinegar to raise its acidity, and we puree sun-dried tomatoes."
Damon Workman, executive chef of Cantina Laredo at Tivoli Village, also likes to use ingredients that are anything but the norm.
"You can do a lot of different stuff as far as the bacon," he said. "If you want it a little bit sweeter, you can do a candied bacon — bake it with some brown sugar. You can also do it au poivre, with a little black pepper and a bit more salt.
"And different kinds of lettuce. Everybody uses iceberg, but you can throw in some arugula. That adds a nice peppery flavor."
For the mayonnaise, Workman said, add flavor with ingredients such as chipotle or jalapeno.
"Any flavor you want, you could whip up," he said. "It's supereasy to do all of that."
For a Southern-style BLT, said Stacy Armstrong, general manager of casual dining at the Palms, you could make fried green tomatoes and bacon jam and put them on pita bread with alfalfa sprouts and ranch, sour cream or mayonnaise.
"For a healthy style, you could use gluten-free bread or a nine-grain whole-wheat bread; your choice of a crispy lettuce like romaine, iceberg or red leaf lettuce; beefsteak tomatoes and turkey bacon and spread it with hummus," she said.
At the Palms' Cafe 6, they make a BLT with a special sauce that contains ketchup, sriracha "and the third ingredient I can only give to President Obama," she said.
"Definitely be creative," she said; "just come up with things that you think would be good."
Which is exactly what Yvonne Maatouk did recently, resulting in a build-your-own BLT party at her home. She had seen lamb bellies at a local butcher shop and decided to make lamb bacon.
"We actually bought some pork bellies and lamb bellies and I had a friend smoke them so we made our own bacon, but that's a lot of work," she said.
Maatouk suggests you take an easier approach.
"I always like to play with the tomatoes and the mayo, because they're essential but they're also really easy things to modify," she said. "The tomatoes can be flavored so many different ways with balsamic vinegar, fresh herbs, caramelized onions or just straight marinating.
"The mayo I sometimes make from scratch, and add basil or fresh jalapeno or whatever is hanging 'round in my fridge."
And you can layer on other ingredients, the chefs said.
"I like avocado in it," Workman said. "Basically any good veggies. You can add thin slices of jicama with a little bit of cayenne pepper to give it a bit more crunch."
"I like to put pickles on it," Schutz said. "Dill pickles. I don't know if everybody's going to enjoy it; I'm a pickle guy. It just gives it another level of complexity, adds crunch and more acidity.
"Really, you could add any vegetable to it — sliced cucumbers, even some cabbage."
"The easiest way to do it," Armstrong said, "is to have fun with it."
SALMON BLT
¼ cup fat-free mayonnaise
1 teaspoon lemon zest
1½ teaspoons lemon juice
Pinch of cayenne pepper
4 slices center-cut bacon (or turkey bacon)
2 teaspoons olive oil
10 ounces salmon, cut into 4 fillets, skin removed
8 slices country white (or whole-wheat) bread
4 lettuce leaves
8 slices tomato
Combine mayonnaise, lemon zest, juice and cayenne in a bowl; set aside.
Cook bacon in a nonstick skillet over medium heat until crispy, about 6 to 8 minutes; remove skillet from heat and transfer bacon to a plate lined with paper towels. Drain.
Pour off all fat and wipe skillet clean; add oil. Return skillet to stove and heat to medium high; add salmon. Cook until fillets are no longer translucent in the center, 2 to 3 minutes per side.
Toast bread and spread four slices with mayonnaise mix. Place one lettuce leaf, two slices tomato, one salmon fillet and one piece bacon on top of each; close; cut in half; serve.
Serves 4.
— Recipe from Self
THE BEST BLTs
2½ cups (lightly packed) fresh basil leaves
1 cup mayonnaise
¼ cup butter, room temperature
12 thick-sliced bacon strips (about 1 pound)
12 ½-inch-thick slices fresh country-style white bread
3 large tomatoes, cut into ¼-inch-thick rounds
2 ripe avocados, pitted, peeled, sliced
1 red onion, thinly sliced
6 lettuce leaves
Mix basil, mayonnaise and butter in processor until basil is finely chopped and mixture is well blended. Season to taste with salt and pepper. (Can be made one day ahead. Cover and refrigerate.)
Cook bacon in heavy large skillet over medium-high heat until crisp, about 8 minutes. Transfer to paper towels; drain.
Spread half of mayonnaise mixture over one side of six bread slices. Top each with two tomato slices. Sprinkle tomatoes with salt and pepper. Top tomato slices with avocado, then with bacon strips, onion and lettuce. Spread remaining mayonnaise mixture over remaining six bread slices. Place bread slices atop lettuce. Cut sandwiches in half and serve.
Serves 6.
— Recipe from Bon Appetit
FRIED GREEN TOMATO BLTs
For the fried green tomatoes:
½ cup cornmeal
½ cup all-purpose flour
1 teaspoon garlic powder
1 teaspoon onion powder
1/8 teaspoon cayenne pepper
1¼ teaspoons kosher salt (divided use)
½ teaspoon black pepper (divided use)
1 cup buttermilk
3 dashes hot sauce
Vegetable oil, for frying
1 to 2 large green tomatoes, ends removed, cut into 4 slices, each ½ inch thick
For the sandwich:
2 pieces green leaf lettuce
2 slices red tomato
½ ripe avocado, sliced
4 slices thick-cut bacon, cooked until crisp
2 tablespoons mayonnaise
Whisk the cornmeal, flour, garlic and onion powders, cayenne, ½ teaspoon salt and ¼ teaspoon black pepper in a medium bowl. In another medium bowl, stir the buttermilk, hot sauce, ½ teaspoon salt and remaining ¼ teaspoon pepper.
Fill a large Dutch oven or cast-iron skillet with oil to a depth of 1 inch and heat carefully to 350 degrees. Dip the tomato slices in the buttermilk, then dredge in the cornmeal mixture. Fry until crispy and golden brown, 3 to 4 minutes per side. Sprinkle with remaining ¼ teaspoon salt and drain on a wire rack placed over a sheet tray.
Place one fried green tomato on a plate and layer with one piece lettuce, one slice red tomato, half of the avocado slices, two slices bacon and one tablespoon mayonnaise. Top with another fried green tomato to form a sandwich.
Repeat with remaining ingredients to make a second sandwich.
Serves 2.
— Recipe from Epicurious
Contact Heidi Knapp Rinella at Hrinella@reviewjournal.com. Find more of her stories at www.reviewjournal.com and bestoflasvegas.com and follow @HKRinella on Twitter.