Where to find Las Vegas' best shrimp cocktails
Updated June 23, 2017 - 3:12 pm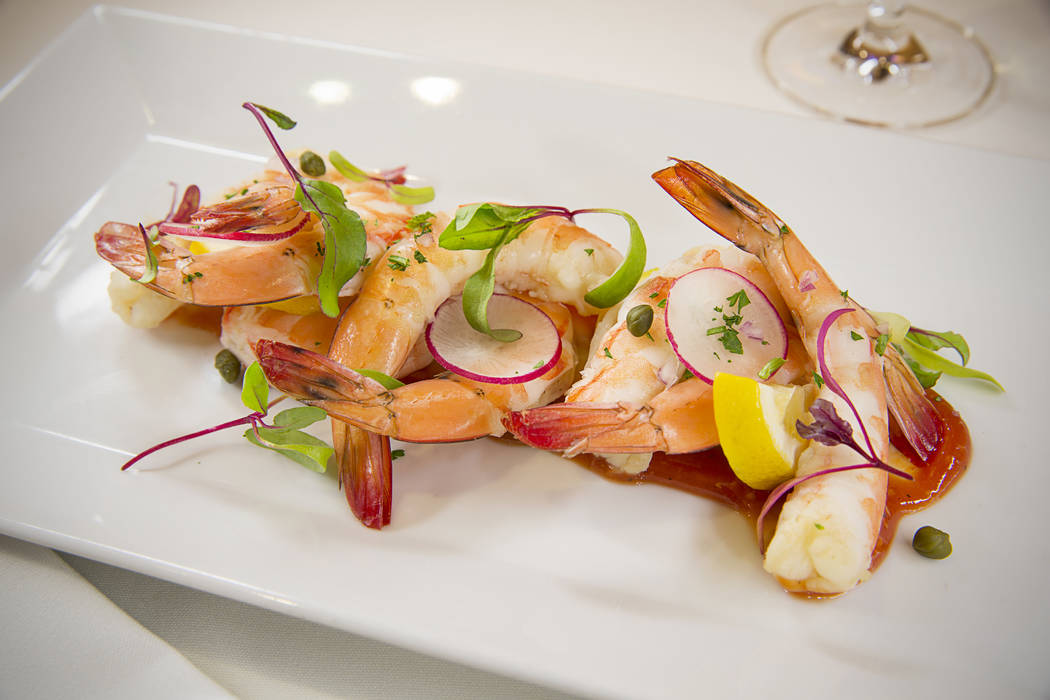 Emeril's New Orleans Fish House
You'd figure a guy who hails from a Gulf Coast state would know a thing or two about shrimp, and in the case of Emeril Lagasse, you'd be right. His fish house serves a cocktail of Creole-seasoned boiled shrimp with lemon, capers, red onion and microgreens, with a spicy horseradish cocktail sauce.
Emeril's New Orleans Fish House, MGM Grand, 702-891-7374, emerilsrestaurants.com.
Skyline Casino
Another Las Vegas institution that has become nearly extinct, the bargain shrimp cocktail lives on at the Skyline Casino in Henderson. Belly up to the bar and you'll be served a tall plastic tulip cup filled with fresh, good-sized shrimp and nothing but shrimp — well, except for the cocktail sauce the bartender squirts on top. Best of all: It's $1.50.
Skyline Casino, 1741 N. Boulder Highway, Henderson, 702-565-9116, skylinehenderson.com.
Libertine Social
These shrimp truly are smokin', courtesy of Libertine Social's wood-burning grill. After smoking, the four giant Florida Gulf shrimp are tossed in a light citrus vinaigrette and served with cocktail sauce and Old Bay aioli, on ice in a pot that exudes more smoke when the lid is removed.
Libertine Social, Mandalay Bay, 702-632-7558 or mandalaybay.com.
The Oyster Bar
Here's a cocktail that's about as classic as it gets: U-15 shrimp are poached in a proprietary spice blend, then quick-chilled and served with cocktail sauce with a touch of Atomic horseradish.
The Oyster Bar, Palace Station, 702-367-2411 or palacestation.sclv.com.
Brigg's Oyster Co.
This is one is almost two dishes in one: It starts with jumbo prawns, topped with lemon and cocktail sauce, but once the prawns are gone, the chopped lettuce and celery below them serve as a sort of de facto salad.
Brigg's Oyster Co., Suncoast, 702-636-7111 or suncoastcasino.com.