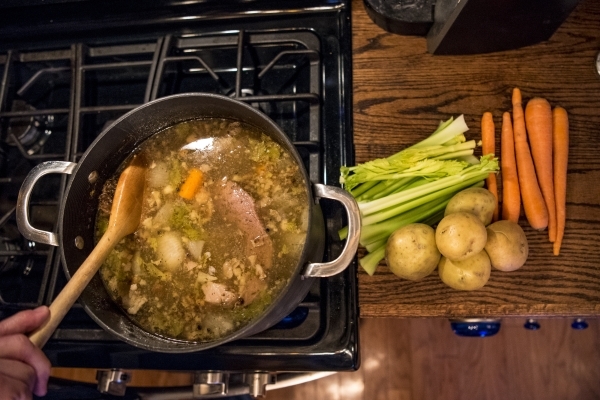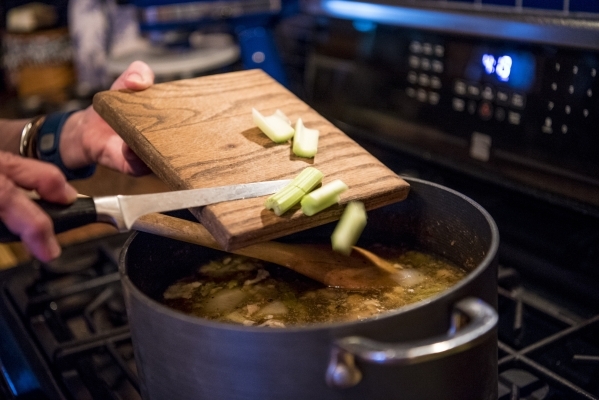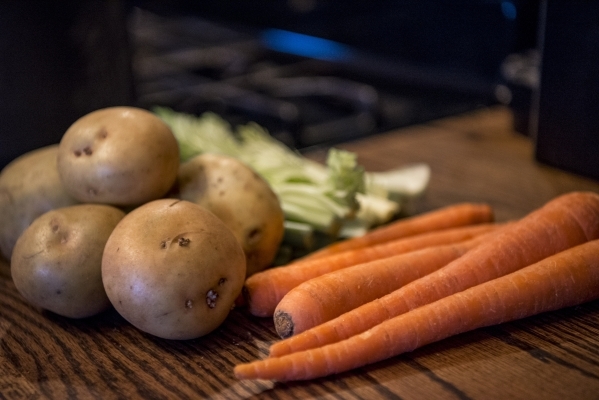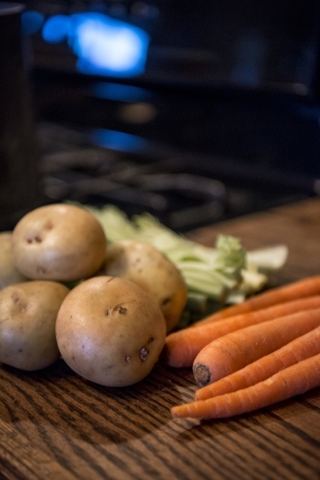 It's definitely soup season, which I look forward to as eagerly as I do rotisserie season in the summer.
Unless I'm suffering from a particularly nasty virus or strain of the flu, the soups in my house are always homemade, and so it surprises me how many people have told me over the years that making soup is too much trouble. Commercial soups are never as good as homemade because on several levels they can't be; the requirements of packaging and shipping and trying to appeal to a mass audience make that impossible.
With homemade soups, you know there are no additives and you can control things such as sodium and fat. And they are, by and large, easy to make at home.
While I sometimes make cream of broccoli soup (using broccoli stems I've saved in the fridge) and a few others, the three I make most often in the winter are chicken, turkey and beef, because they're the easiest. You know all the bones you have left after carving the Thanksgiving turkey? Those could make a fantastic turkey soup. Similarly, I make beef-vegetable soup with the frozen remains of the Christmas beast.
I also freeze and later use for soup the bones of every rotisserie chicken I make over the summer. (And yes, the bones from store-bought rotisserie chicken would be just fine. You could even use the bones from KFC dinners, as long as nobody's been gnawing on them.) Also save those steak and other beef bones. Just separate them by type (beef, chicken or turkey), double-bag them and throw them in the freezer.
Plan to make soup on a day when you have a few hours at home. It doesn't require a lot of active time, but you'll want to pop in now and again to make sure something hasn't gone wrong with your stove and your kitchen isn't about to catch fire. If you don't want to eat it the same day, no problem, since broth-based soups hold beautifully in the refrigerator or freezer.
Take the bones for whatever soup you want to make out of the freezer and dump them, still frozen, into a stock pot (the size depends on how many you have). Add cold water to cover the bones. Then you'll need to add what chefs refer to as mirepoix, the carrots, celery and onions that add a special magic to savory dishes. Peel an onion and cut it into chunks. Trim and peel or scrub a few carrots, and ditto. Trim and wash a few ribs of celery (and remember the leaves, which add flavor of their own) and cut it in chunks. Toss it all in the pot, pour some whole peppercorns into the palm of your hand and throw those in. If you use cheeses on a regular basis, freeze the rinds and toss in one or two of those. If you think some herbs would be nice — fresh thyme, maybe — toss that in as well. It's tough to go wrong.
Then let it all simmer. How long depends on the size of the pot and the amount of water and bones, but it'll be at least several hours. You'll know when it's done, because it will have produced a nice rich broth.
Turn off the heat. Let it cool a bit if you like and then, using tongs, remove the larger chunks from the broth. Using a strainer or colander, strain the contents into another pot. Remove the meat from the bones and discard the bones and vegetables, which have added all the flavor they can. If the broth seems to have too much fat floating on top, skim some of it off.
To the new broth, add whatever vegetables you choose — maybe chunks of peeled potatoes, sliced peeled carrots, root vegetables such as parsnips or maybe green peas. And some crushed garlic, if you like, or herbs. Bring the soup to a boil and then simmer until the vegetables are nearly soft.
At this point, you can add whatever else you want. At our house, after years of negotiations, it's matzo balls for chicken, quick-cooking barley for beef and the tiny pasta acini di pepe for turkey. Simmer until your matzo balls/barley/acini di pepe are cooked. Put a half-ladleful of soup in a bowl and taste for seasonings, adding salt and pepper as desired.
And, it's soup. And it truly is mmm-mmm good.
Contact Heidi Knapp Rinella at Hrinella@reviewjournal.com. Find more of her stories at www.reviewjournal.com, and follow @HKRinella on Twitter.