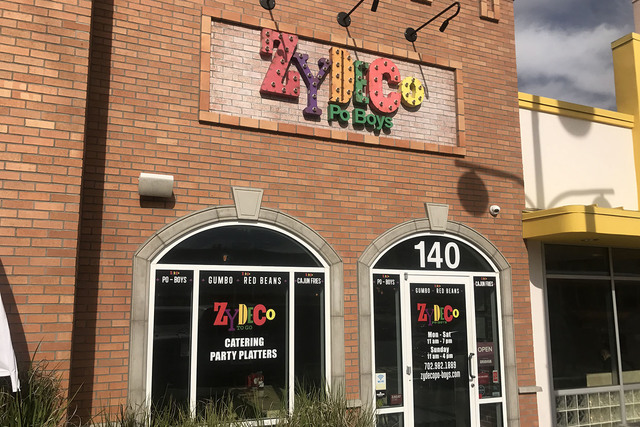 Downtown's Zydeco Po-Boys has announced via its Facebook page that it will close its doors on March 3. The statement, attributed to owner Brandon Trahan, thanks "Tony (presumably Hsieh) and the staff of Downtown Project for the opportunity to be part of the downtown revitalization," as well as "our loyal supporters who came out over the last year and a half to dine with us."
It goes on to wish good luck to the restaurant's friends and neighbors, but offers no reason for the decision.
This is the second major closing on the block of Carson Avenue between 6th and 7th streets in two months. On Dec. 18, Glutton shuttered its doors.
When asked for a comment on what is happening in the neighborhood, Glutton owner and chef Bradley Manchester described several problems in the area, including crime, inconsistent traffic, lack of parking and a high concentration of homeless people.
"Unfortunately, people don't want to be eating inside a restaurant while watching someone dig in the trash directly outside the window," he said.
Cory Harwell of Simon Hospitality Group, which operates Carson Kitchen just a block to the west, was much more optimistic about the area. "For every business that's closing," he said, "there's another business that's up year after year. I know at Carson Kitchen, our numbers are up about 3, almost 4 percent, over the prior year."
"Obviously when a business closes," Harwell continued, "it gives you pause for concern. You evaluate what you're doing right or wrong and make corrections. But I think, ultimately, the places that are standing strong will continue to stand strong for a multitude of reasons."
Michael Stoll of Downtown Project, which has partnered with numerous businesses in the neighborhood, including Zydeco and Glutton, was also quick note successful ventures in the area.
"Within that neighborhood, or close by on that street, you have Carson Kitchen that's doing very well," he said. "Donut Bar is doing very well. Bocho seems to be successful. VegeNation is doing extremely well. Eat is doing well. Perch is doing well. So there's a lot of success happening right there – all restaurants."
Stoll also said that several restaurants have expressed interest in taking over the Glutton space.
Contact Al Mancini at amancini@reviewjournal.com. Follow @AlManciniVegas on Twitter.