Las Vegas may become video gaming powerhouse
January 23, 2018 - 9:17 am
Updated January 24, 2018 - 12:38 am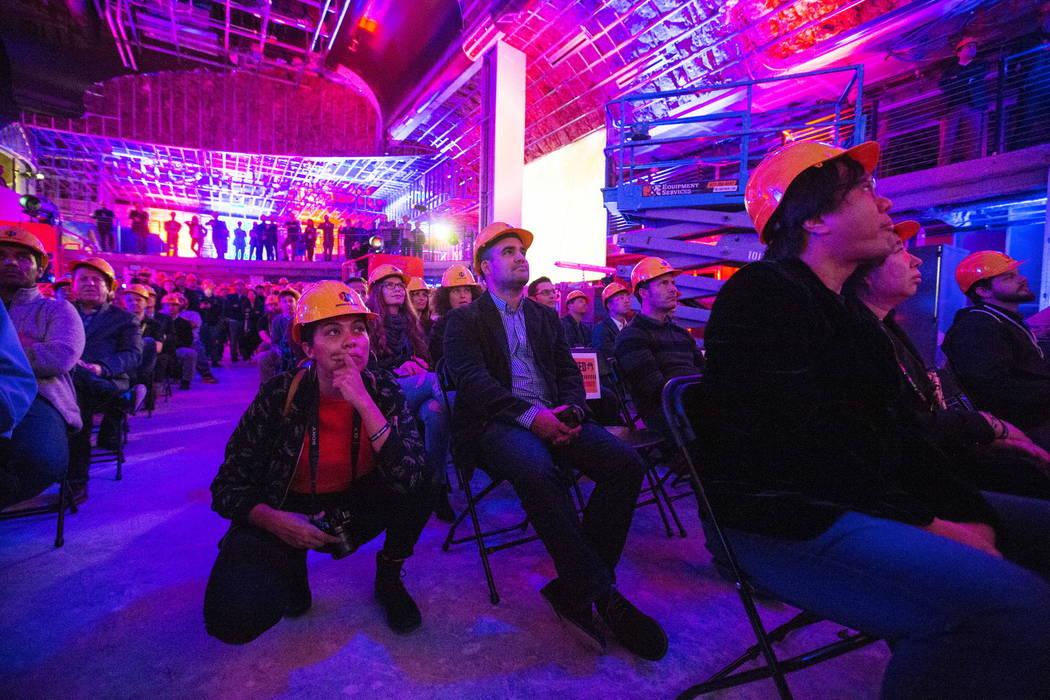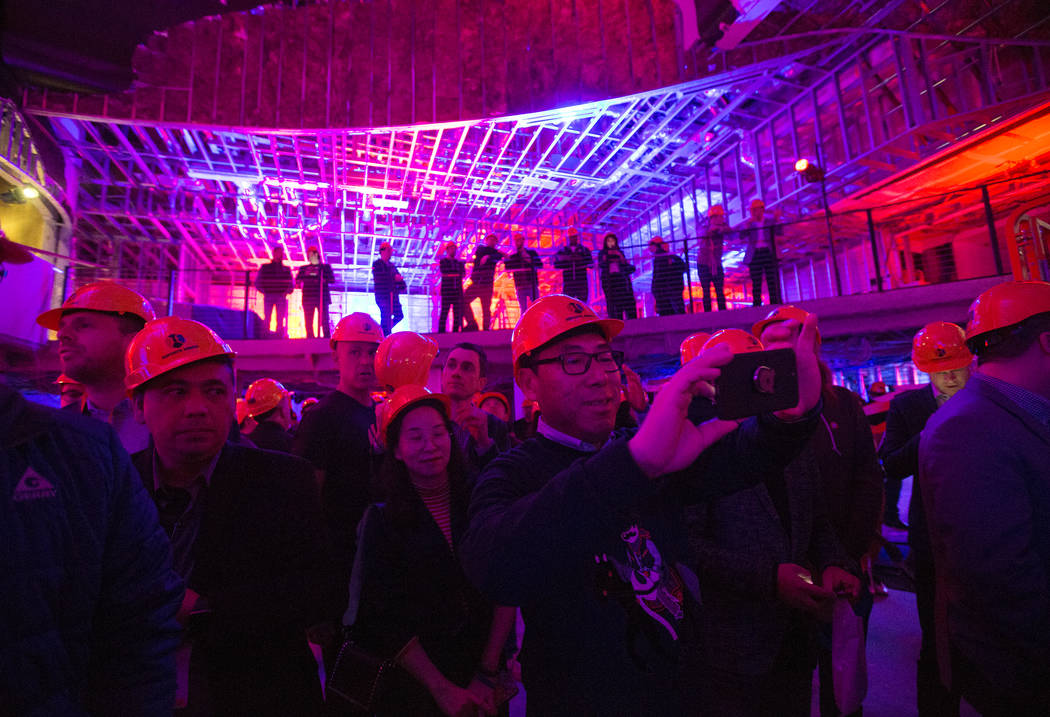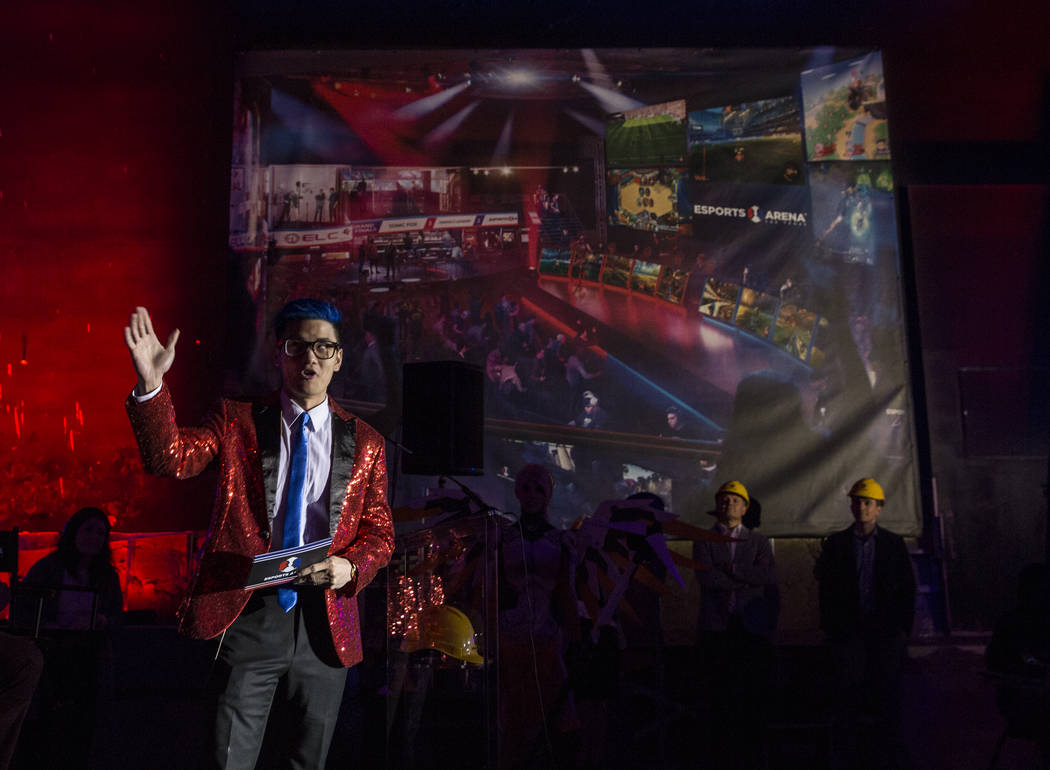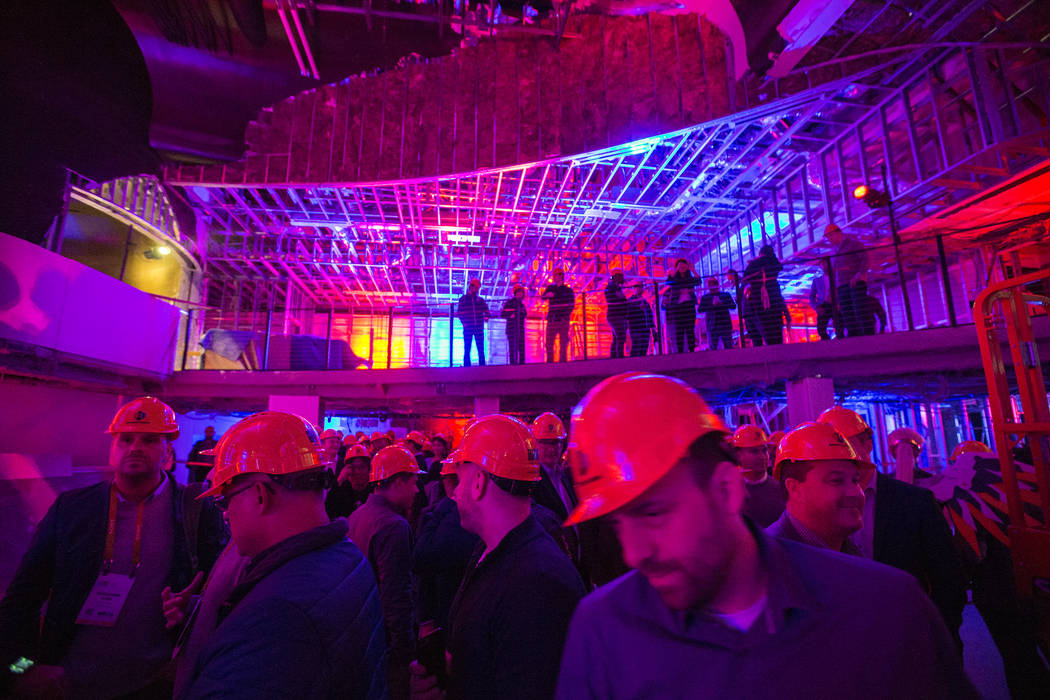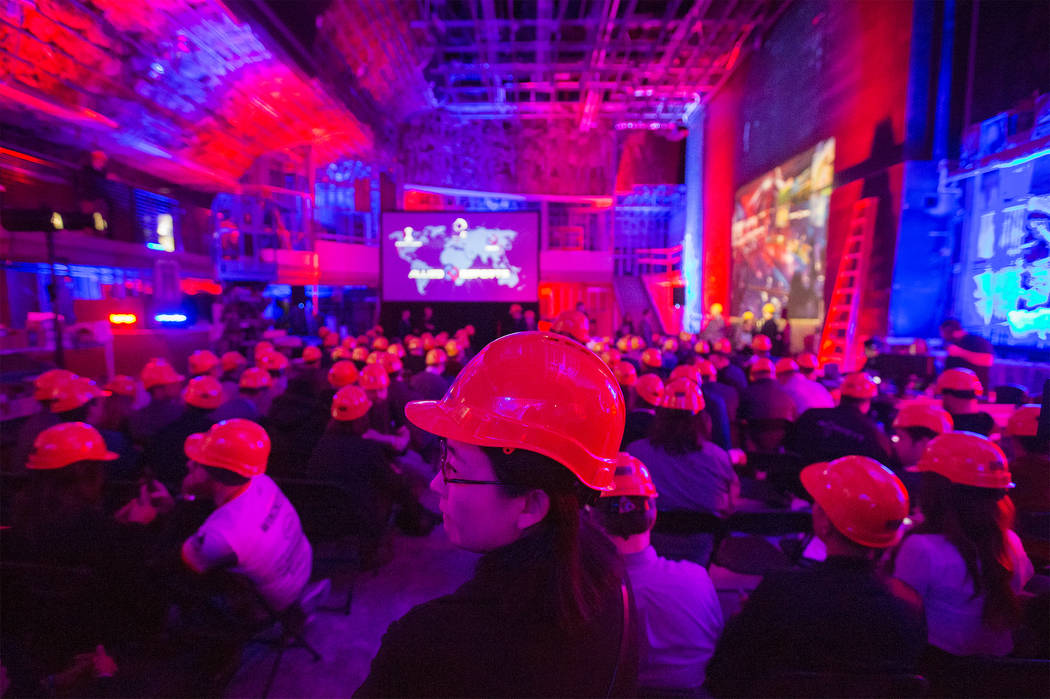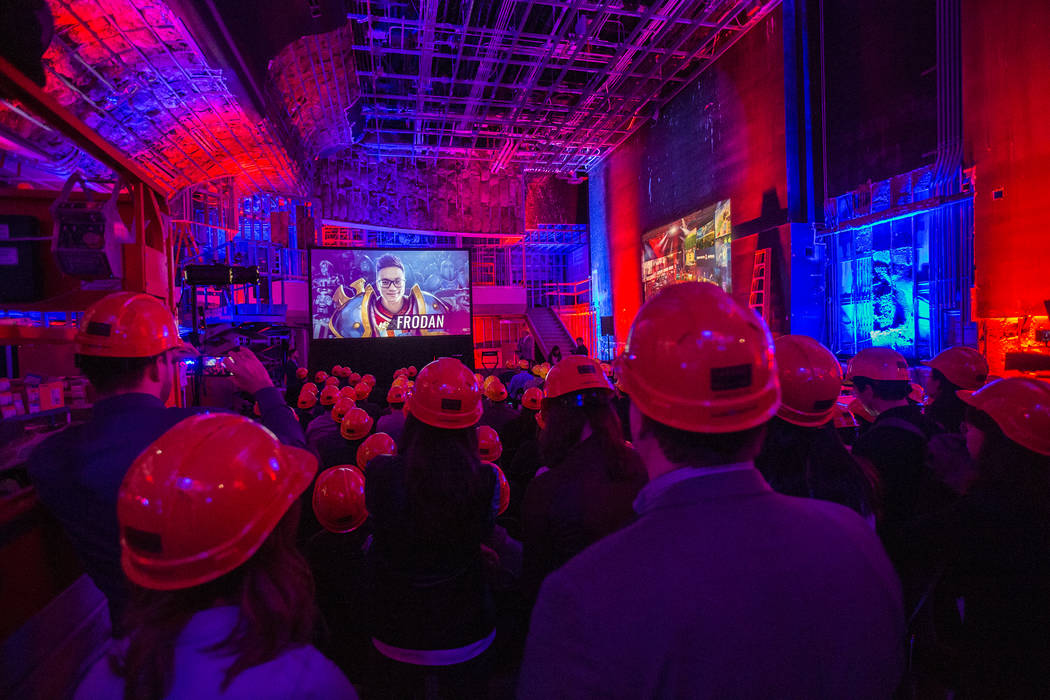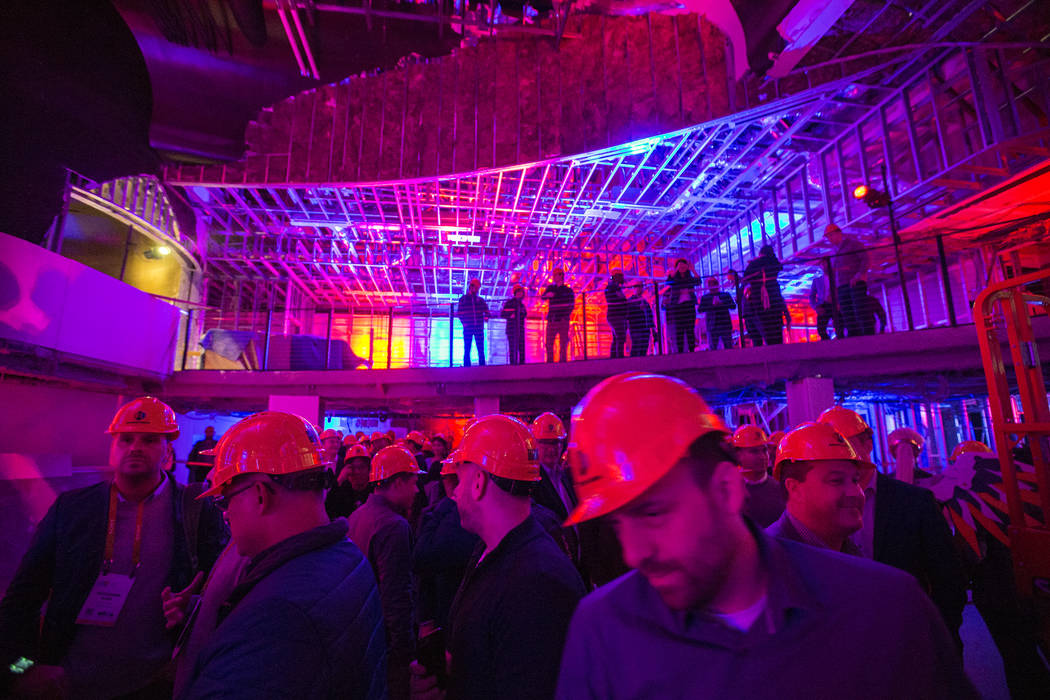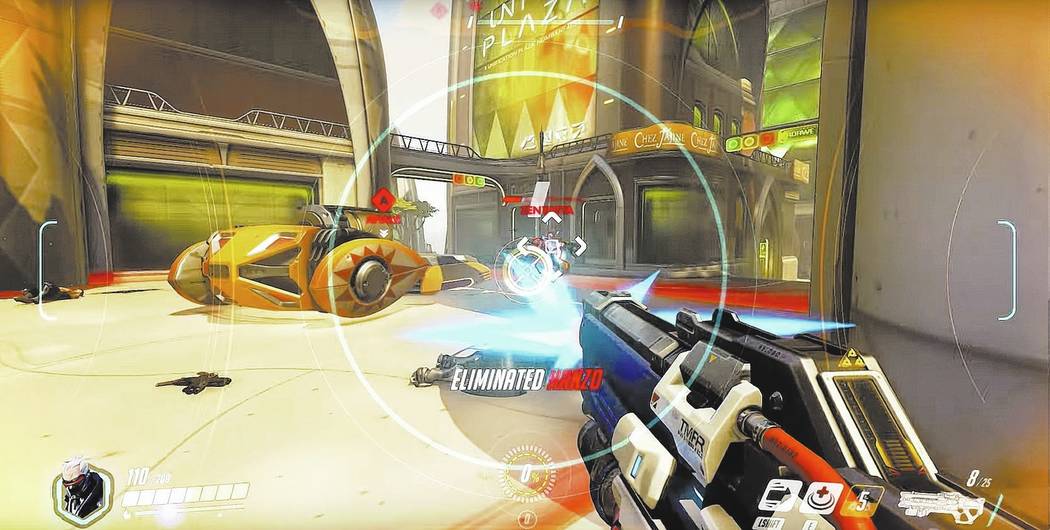 His words are as bold as his Smurf-colored hair.
"We're taking over Olympic stadiums," Dan "Frodan" Chou announces, underscoring his aversion to modesty in a sparkling red sports coat. The popular esports broadcaster is speaking for his industry at large.
Its next conquest: Las Vegas.
Plenty of foot soldiers have gathered before him on an overcast Wednesday evening to get a first look at Esports Arena Las Vegas, a 30,000-square-foot video gaming Xanadu opening in March in what used to be LAX nightclub at Luxor.
Clad in yellow hard hats, a mix of media members and esports industry figures take in a presentation from a number of principals behind the new venue, which is still under construction, exposed piping looming above.
They detail how a luxe nightspot whose parties were once hosted by pop stars such as Britney Spears and Christina Aguilera is being transformed into the esports equivalent of a Vegas staple: the more opulent-than-thou entertainment attraction.
Here, gamers will be able to order gourmet eats provided by world- renowned chef Jose Andres' ThinkFoodGroup as they play titles such as "Call of Duty: WWII" in telescopic seats, surrounded by LED walls in a multilevel playland that also houses its own streaming and TV-ready production studio for broadcasting events.
Esports Arena Las Vegas is being positioned as the crown jewel of Allied esports, a global power player in the industry with venues in Germany and China in addition to North America.
"We wanted a championship destination for our events. That was the mission here," says Allied Esports CEO Jud Hannigan. "There's all this talk throughout the industry that Las Vegas has the potential to be the home of esports. We absolutely subscribe to that potential."
The signs of esports' spread in Las Vegas are everywhere you look: On a recent Friday night, glowing computer monitors supplant neon beer signs as the scant source of bar light at The Commissary downtown, where hoodie-clad gamers gather to play the "FIFA 18" soccer game at one of the venue's weekly tournaments.
A few blocks away on the top floor of Neonopolis, the 15,000-square foot, 200-seat Millennial esports arena occupies the space that once housed a cineplex.
Closer to the Strip, Silver Sevens casino boasts its own esports area, while the MGM Grand now hosts esports events at its Level Up gaming bar.
Esports venues are one piece of the puzzle, though, in Vegas' potential rise to preeminence in the industry.
For a market to be considered a major league city in any sport, it needs its own pro organization.
Vegas is a rising force in this area as well thanks to Rogue, a championship-caliber organization that's built a worldwide following in less than two years.
"A local team is, I think, critical — perhaps indispensable — to establishing Las Vegas as an esports hub," says Chris Grove, a veteran analyst in the gaming industry as well as a Rogue investor and adviser.
This combination of a successful, flagship esports squad, multiple venues and a growing presence for esports in casinos has positioned Vegas as a burgeoning seat of power in a rapidly expanding industry, one rooted in a key demographic crucial to the city's future.
Take it from Steve Aoki, the superstar DJ-producer who was at the forefront of one of Vegas' most recent entertainment booms: the explosive growth of the electronic dance music scene.
Aoki relocated to Vegas from his native L.A. as the city ascended to prominence in the nightclub ranks.
He sees a similar trajectory for esports here. Putting his money where his mouth is, Aoki bought into Rogue as a co-owner last year.
"The landscape's absolutely changing, and it's going to be an exponential change in the next few years," says Aoki, betting big on the industry's continued growth locally. "This is the next hub."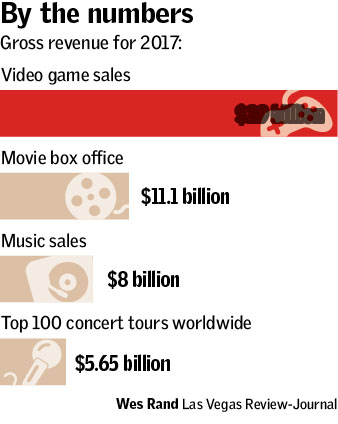 From gaming to gambling:
To forecast how esports could thrive in Vegas — and how Vegas could thrive in esports — it's illustrative to look at how another youth-skewing scene has successfully been developed here in recent years to blockbuster returns: the electronic dance music-centered nightlife ranks.
As little as a decade ago, Las Vegas was far from the EDM capital it's since become — it was barely a backwoods municipality, in fact.
There were only a few true nightclubs on the Strip, and the big-name DJs at the time cast a jaundiced eye on the market, loath to come here and be expected to play Britney Spears remixes for tipsy tourists in so-so clubs that attracted a mixed crowd.
How did all this change?
Well, it started with the whole build-it-and-they-will come formula for gaining a foothold in an industry, with casinos investing hundreds of millions of dollars to construct some of the most elaborately engineered nightclubs in the world and then being similarly loose with the purse strings when paying for star talent.
Vegas assiduously cultivated this market, and now the city is synonymous with a scene currently as popular as any in contemporary music.
Crucially, there was a coolness quotient in it all.
For 20-somethings lured to town to see Tiesto headline XS or Kaskade at Marquee, this was not their parents' Vegas.
This was something new, something that resonated with their tastes.
As such, Vegas was able to cement a strong bond with an increasingly large and lucrative demographic.
Esports have plenty in common with EDM, beginning with millenials, the generation from which Vegas' next whales will be harpooned.
Or not.
"For several years now, 'millennials' have been the buzz word of the gambling industry, they've been viewed as this group who just doesn't spend money — and definitely doesn't spend money on gambling," says Brett Abarbanel, director of research for the International Gaming Institute at UNLV.
Thing is, they're already here.
"There's a ton of millennials in Las Vegas because there's electronic dance music," says Scott London of the New York Angels investment group, which has bought into Rogue.
EDM and esports share more than a similar audience: Both began far outside the mainstream, building their followings on an organic, grassroots level, becoming a culture as much as a source of entertainment for their fans before eventually crossing over and developing a broader following.
So, how do casinos capitalize on the esports the way they did with EDM?
Constructing esports venues and catering to that clientele with events and a local team is part of the equation.
The rest of it lies in monetizing esports via gambling.
This is especially important for the gaming industry, considering how millennials' relationship with traditional sports is evolving — or, perhaps devolving: Renowned venture capitalist Mary Meeker details in her influential annual "Internet Trends" report for 2017 that half of all millennials prefer esports to traditional sports.
This means that the next generation of sports bettors may flock to the books to bet on Rogue as much as the Raiders.
Vegas has certainly taken note.
And that's where a guy like Chris Grove comes in.
Betting on esports
Five years ago, his job title didn't exist.
"Casino integration expert."
That's but one of the designations that could be inscribed on Grove's business card — in this case, for esports betting company Unikrn.
He's also an investor in and adviser for Rogue. ("I focus on how Rogue and the commercial casino can work together for each other's benefit," he explains).
Grove got his start in the gaming industry as a consultant immersed in online poker in the early 2000s. He sees a number of parallels between online poker's rapid popularity growth and what's driving esports' rising fortunes.
"It's very reminiscent, on the gambling side, in that there's this organic expression of demand," Grove says. "A lot of gambling products have to be manufactured. They take money to bring to the market. What we saw with esports gambling products was basically the polar opposite: The demand itself was so strong that it was generating products out of the sheer will of demand. It's pretty rare: You don't see new gambling verticals just pop up in a relatively short time frame."
Grove homed in on esports' gambling potential a few years back when examining a different kind of online betting: daily fantasy sports sites.
He was surprised at the time to discover that there also were fantasy esports sites.
There was a significant difference between the two, however: When it came to marketing their products, the former had money to burn; the latter pennies to spare.
"You had Draft Kings and Fan Duel who had raised almost a billion dollars and were pouring almost all of that money into marketing, just blanketing anything: radio, television, bus stops, McCarran, everywhere," Grove says of the once-ubiquitous fantasy sports betting sites. "And for all that money they spent, they attracted a relatively meager audience of something like 2 (million) to 3 million unique paying players."
Compare this to the fantasy esports side.
"They had raised a little bit of money, but nowhere near what the Draft Kings and Fan Duels had raised, and they were building an audience in the hundreds of thousands through basically organic, ground-up marketing," Grove recalls. "That contrast to me was incredibly compelling: You had one set of companies who were spending upward of a billion dollars trying to make a market, and two others who were clearly harnessing a market that wanted to exist."
Basically, esports was a massive untapped market, the gambling equivalent of Exxon discovering a mammoth oil field just waiting to be drilled.
The gaming industry has gradually started to realize as much.
Online sports betting giant Pinnacle got in the game early, accepting esports bets beginning around 2010, according to Abarbanel. They've since become a bigger betting vertical than rugby or golf for them, she says.
Another gambling powerhouse, William Hill, has delved into esports, and in October, the Downtown Grand took its first esports bets, becoming the only place in the U.S. you could wager on the League of Legends Championship, which took place the following month.
"From what I saw two years ago to what I see now is already a very large evolution," says Kevin Glass, general manager of the Downtown Grand, of esports' future in Vegas. "When it takes off — and I say 'when,' because I know that it will — we'll be ready."
There are still some regulatory hurdles to be cleared for wide-spread esports betting in Vegas, though there's plenty of momentum in that direction, with the Nevada Gaming Control Board's Gaming Policy Committee meeting in November 2016 for a hearing on maintaining fairness and integrity in esports wagering.
Abarbanel sees esports as a natural fit for casinos attempting to connect with a generation weaned on video games.
"Since esports are, of course, centered around video games, the gaming component of that activity has such strong ties to the gaming component of what the gambling industry does," she says. "Because the biggest demographic that ties into esports is indeed that younger millennial group, I think there was a big interest in that."
Abarbanel, a gamer herself, has been on the front lines of esports' growing presence in Vegas: She's a co-founder of the Nevada Esports Alliance, a nonprofit whose efforts include helping to facilitate the integration of esports and gambling (Grove is also one of the organization's directors).
That such an entity exists further underscores how much inroads esports are making locally.
"I think that Las Vegas — and frankly the whole state of Nevada — is very well-positioned to welcome the esports industry," Abarbanel says.
Leading the welcoming committee?
A certain baked goods-hurling DJ.
And Rogue investor.
In it together
The "winner" gets a cake to the face from Steve Aoki.
The losers have to leap from the third story of his house into the pool below.
On a winter afternoon, Rogue's "Call of Duty" team is live-streaming a gaming session from the "Neon Future Cave," a multimedia studio in the adult playhouse that is Aoki's bachelor pad.
"Don't be nice to me," Aoki tells the trio of players seated next to him, all four of them clad in gray-black team hoodies.
Aoki's up first — the action captured on a video posted on Rogue's YouTube site — earning guffaws for his play from the pros by his side.
"That rewind move was sick," Aoki marvels as he goes from player to spectator.
Eventually, John "Johnny" Cookson emerges as the victor, earning the most kills.
Soon, his teammates are donning loud, Aoki-supplied swim trunks and jumping from the top floor of Aoki's home, splashing down into frigid waters.
Aoki joins them.
It's a brief moment with lasting implications, one that encapsulates much of esports' core appeal: Be it pro or amateur, star or fan, everyone takes the plunge together.
"That's the thing about esports, the connectivity between the players and the people watching," Aoki explains in an interview at a later date. "Right now, it's at its most critical stage. We really need to grow that and share that connectivity.
"We're still in the early stages, but we will get there," he promises. "We will get there."
Contact Jason Bracelin at jbracelin@reviewjournal.com or 702-383-0476. Follow @JasonBracelin on Twitter