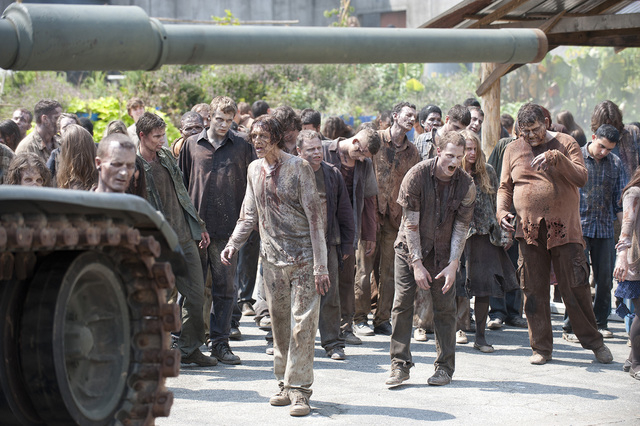 If you've ever gone to Comic-Con and thought, "While I enjoy being surrounded by like-minded individuals, there's nothing here that would help me in an old-timey altercation," Combat Con may be just the thing for you.
The event, set for Thursday through Sunday at the Riviera, 2901 Las Vegas Blvd. South, has all the standard trappings of genre conventions: a costume contest on Friday, a Time Traveler's Ball on Saturday and several opportunities to interact with "Battlestar Galactica's" Richard Hatch.
But Combat Con also offers classes such as "Ancient Fighting Arts: Fundamentals of Gladiatorial Combat"; "Boarding Actions: Maritime Combat from the Golden Age of Sail"; "Introduction to Bare Knuckle Pugilism: A Brutal Art for the Cultured Combatant"; "Irish Stick Fighting"; "Swedish Rapier According to Didrik von Porath"; and "Why Are You Still Parrying?"
Then there's something called "The Smallsword and the Blindfold," which we think is the follow-up to "Fifty Shades of Grey." (We could be wrong.)
Participants also can learn how to crack a whip, throw a knife and be the most convincing zombie out there, thanks to a boot camp that promises "an opportunity to go through the same training that zombies on 'The Walking Dead' go through."
Day passes range from $15 to $90, tickets for the entire convention range from $45 to $200, and some of the classes come with additional fees.
See www.combatcon.com for more information.
Learn more about Nevada
The Silver State's 150th birthday isn't until Halloween — officially — but that's not keeping anybody from getting the party started, including the folks at the Clark County Library, 1401 E. Flamingo Road. At 7 p.m. Thursday, "Nevada's Story: A Sesquicentennial Celebration" gathers several local writers who contributed to the official sesquicentennial book — including Patty Cafferata, Scott Dickensheets, Dayvid Figler, Michael Green and editor Geoff Schumacher — to assess Nevada's colorful past, present and future. A book signing and reception follow the free panel discussion; call 702-507-3459 or visit www.lvccld.org for more information.
Celebrate the World Cup
To celebrate the World Cup, Via Brasil Steakhouse, 1225 S. Fort Apache Road, will open for lunch at noon on Mondays, Tuesdays and Fridays and brunch at noon Saturdays and 2 p.m. Sundays, through July 13. The restaurant's appetizer and salad bar buffet will change daily to reflect the cuisines of the teams playing that day, and if you wear a jersey for your country's team on a day when it wins, you can get a free drink at the bar or $29.99 Rodizio Prime meal in the dining room.
Everything Ethel Merman
"The Book of Mormon" is a tough ticket, but "The Book of Merman" welcomes all shutouts. Singer Kellie Wright and drag comic Jimmy Emerson salute the queen belter of old Broadway, Ethel Merman, under the guiding hand of bandleader Bill Fayne. The cover is $15 for the 8 p.m. cabaret show Friday at the Viva Las Vegas Event Center, 1201 Las Vegas Blvd. South; call 702-384-0771.
Give them The Business
The Business' "Drinking and Driving" may be one of the most un-PC punk anthems ever, but just go ahead and tell these British Oi! mainstays how offended you are, and maybe they'll put down their beer mugs long enough to bash you over the head with one of 'em. See these skinhead die-hards at 8 p.m. Thursday at The Cheyenne Saloon, 3103 N. Rancho Drive. Tickets are $8 in advance, $12 day of show; call 702-645-4139.
LAS VEGAS REVIEW-JOURNAL