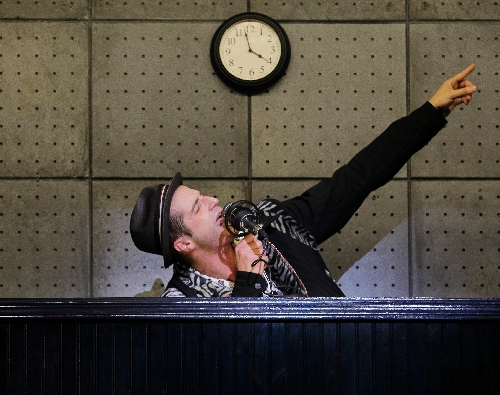 Seems to me you need to make a major adjustment or two to max the enjoyment of the union tour of the Tony-winning "Memphis," showing at The Smith Center: Don't take the plot or score seriously, and don't look for real characters.
This is an outline of dramatic events, and if you're in search of unique vision or sparks of creativity, it's likely you will seek in vain.
But there was so much else to concentrate on that I wound up having a great time anyway during the first act and an OK one during the second.
While the story builds steam – a white Tennessee male DJ in the 1950s makes a star of, and falls in love with, a local black woman – director Christopher Ashley treats us to a parade of spectacle in sound (by Ken Travis), set (David Gallo), lights (Howell Binkley) and costume (Paul Tasewell).
The singing has the sort of professional timbre that you expect of characters wanting to be in the music business. And choreographer Sergio Trujillo offers a frenzied potpourri of movement (well-executed by the cast) that feels as if it were a character onto itself. Trujillo helps you understand what America's vocal revolution in the '50s was all about. Restless postwar white kids discovered not only black people (through the universal language of music), but a new brand of pumped-up energy. The soft crooning of Perry Como and strict racial boundaries would no longer be able to contain the pent-up rhythms of youth.
The approximately two-dozen performers (backed by a 10-member band) have been skillfully cast in lead, supporting and ensemble roles.
As Huey Calhoun, the broke, naive, hustling but childlike lover of hip, "sinful" music, Bryan Fenkart is so down-home likable, you cheer when victory triumphs and wince when defeat stings – even though he's often his own worst enemy. You never tire of watching him, which is lucky for us, since he hardly ever leaves the stage.
Felicia Boswell has a tough role not only in that she's Calhoun's sometimes tortured (literally and figuratively) love interest, but in that her character is supposed to be the kind of skilled singer that producers want to sign up after one listen. Boswell has the talent and charisma to make you believe producers would see dollar signs the moment they hear her sound.
If space permitted, I could signal out just about every member of the cast without fear of hyperbole.
David Bryan's score, though, is by-the-numbers, and Joe DiPietro's script often takes its paper-thin writing too seriously.
The director is guilty of too many shameless, artificial bring-down-the-house shenanigans.
But when the show is light and unaffected – when it just floats by and doesn't dwell on somber lessons of social piety – it's a spirited journey. The razzle dazzle makes it easy to ignore the bumps in the road.
Anthony Del Valle can be reached at vegastheaterchat
@aol.com. You can write him c/o Las Vegas Review-Journal, P.O. Box 70, Las Vegas, NV 89125.
Review
What: "Memphis"
When: 2 and 7:30 p.m. July 19, 7:30 p.m. July 20, 2 and 7:30 p.m. July 21-22
Where: Reynolds Hall, The Smith Center for the Performing Arts, 361 Symphony Park Ave.
Tickets: $27-$141 (749-2000; thesmithcenter.com)
Grade: B-