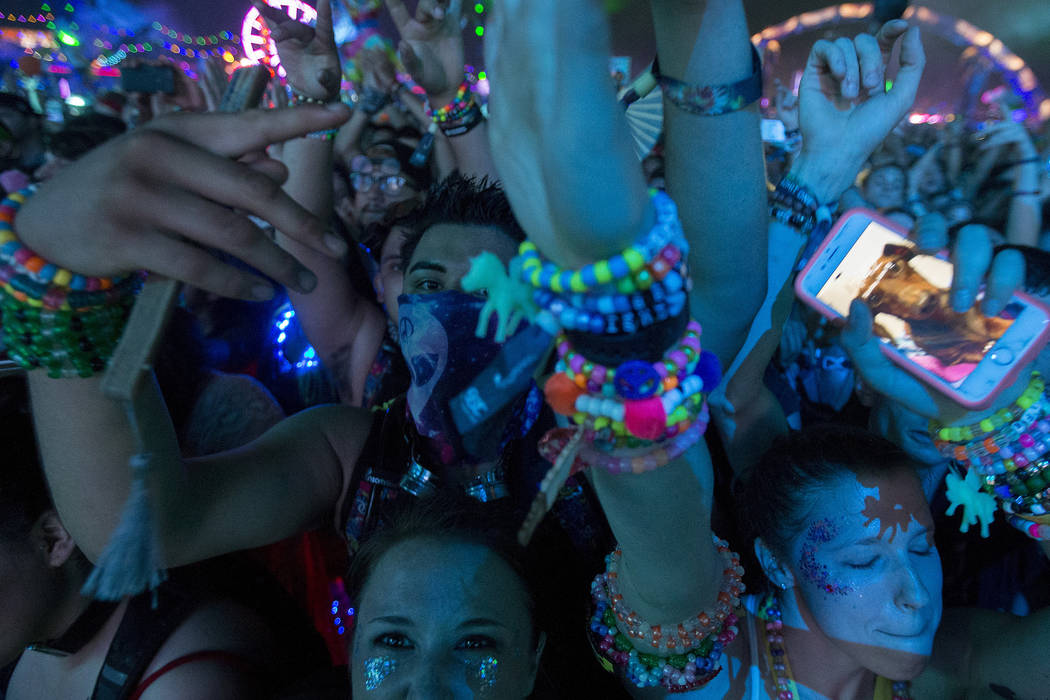 One death was reported at this year's Electric Daisy Carnival, along with an overall medical call increase of nearly 77 percent compared to 2016.
The death of 34-year-old Michael Morse was confirmed Monday by the Clark County coroner's office.
Data released by the Metropolitan Police Department on Monday as the festival concluded showed a total of 1,090 medical calls through 6 a.m. Monday, compared to 617 last year.
Of this year's calls, 15 people were transported to a hospital area. One of those transported was an EDC employee for a pre-existing medical condition, according to the report.
The number of arrests at the festival was flat compared to last year. In 2016, police made 101 narcotic arrests at the carnival, vs. 95 felony arrests this year, 61 of which were drug-related. Police reported eight DUI arrests both years. Last year, 18 misdemeanor citations and five misdemeanor arrests were made vs. 13 misdemeanor citations and 13 arrests this year.
According to Insomniac Productions, 135,000 people attended the festival at the Las Vegas Motor Speedway on Saturday and Sunday, 1,000 fewer than on Friday. Organizers also reported 282 ejections this year, compared with 111 ejections in 2016.
Traffic leaving the speedway early Monday morning was heavier than usual, clogging the southbound Interstate 15 up until the 215 Beltway. According to Metro, 21 traffic citations were issued to festival goers over the three days.
Contact Isabelle Delgado at idelgado@reviewjournal.com or 702-383-0381. Follow @izzydd_ on Twitter.
RELATED
Medical calls so far at EDC outnumber last year's 3-day total
Southbound I15 traffic slow as EDC ends at Las Vegas Speedway
A dusk-till-dawn look at 10 hours at Electric Daisy Carnival