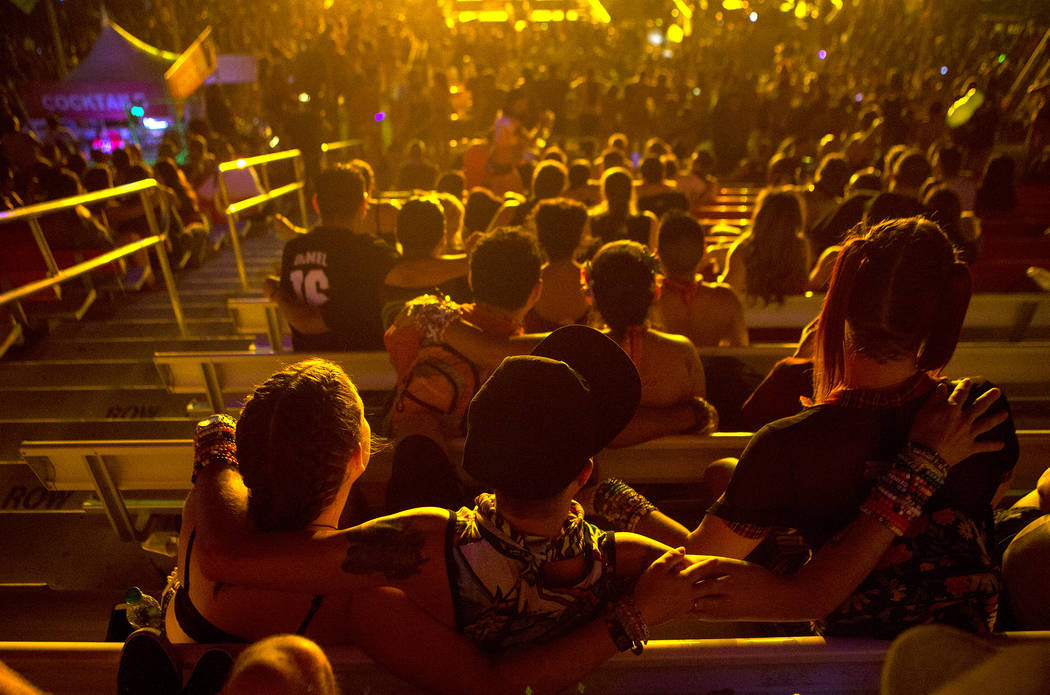 A sharp rise in medical calls from a year earlier continues as the Electric Daisy Carnival moves into its third day, the Metropolitan Police Department said Sunday.
In the first two days of the electronic music festival, running at Las Vegas Motor Speedway, medical calls surpassed last year's three-day total. On the first night, Metro reported 443 calls, and on the second, 305 more were placed. In 2016, Metro received 617 medical calls by the festival's conclusion.
Eleven festivalgoers have gone to the hospital from this year's EDC — six the first night and five the second night, police said. In 2016, the festival had 17 visits.
This year's event coincides with an excessive heat watch issued by the National Weather Service. The average temperature for this time of year is about 100 degrees, but highs for EDC weekend have exceeded 110, with lows in the mid-80s.
Metro said it made four DUI arrests and 27 narcotics-related arrests on Saturday; on Friday 29 narcotics arrests and no DUI arrests were made.
In 2016, 101 EDC attendees were arrested on narcotics charges, beating all previous records for drug arrests since EDC's start in Las Vegas in 2011.
Overnight Saturday, there were also eight misdemeanor arrests, two misdemeanor citations and nine traffic citations, Metro said.
Insomniac Productions, which stages the festival, reported an increase in ejections compared with 2016. The company said 77 people were ejected Saturday, bringing the two-day ejection total to 195 — a 76 percent jump.
Insomniac has not said what prompts attendee ejections or why the ejection total has risen.
Contact Rachel Hershkovitz at rhershkovitz@reviewjournal.com or 702-383-0381. Follow @rzhershkovitz on Twitter.
Related
A dusk-till-dawn look at 10 hours at Electric Daisy Carnival
Behind the booth with EDC lighting designer Steve Lieberman
Music, fashion, fantasy come together as EDC is in full swing
This is what you're missing (besides the music) at EDC