Las Vegas hip-hop producer has worked with Lil Wayne, Rihanna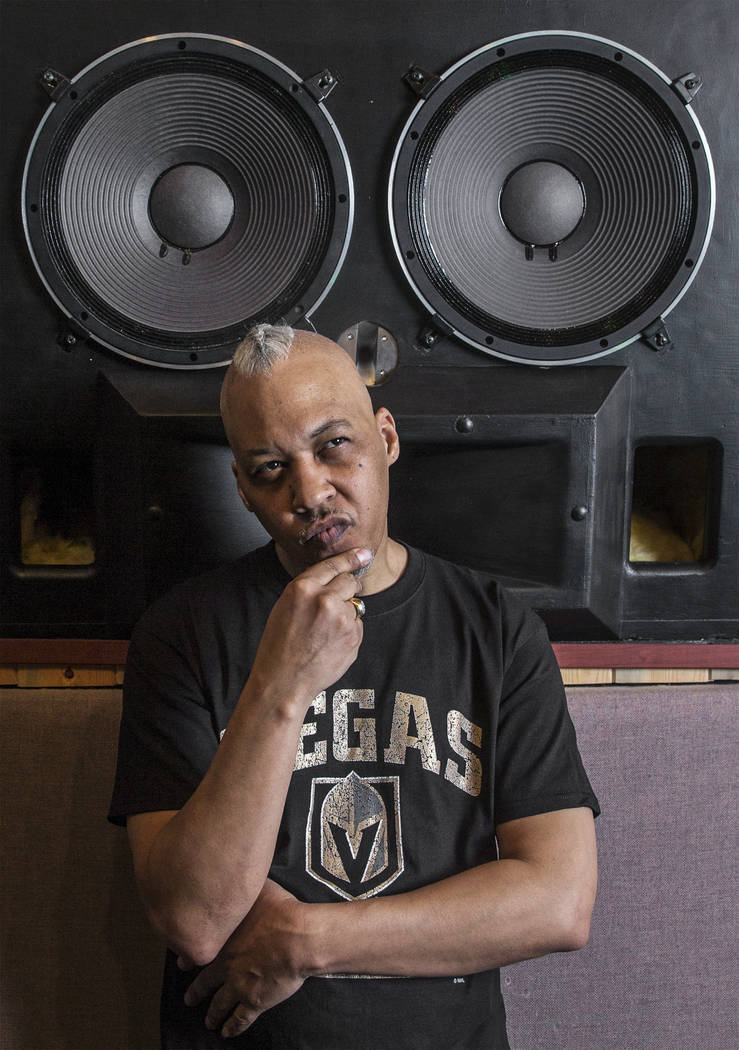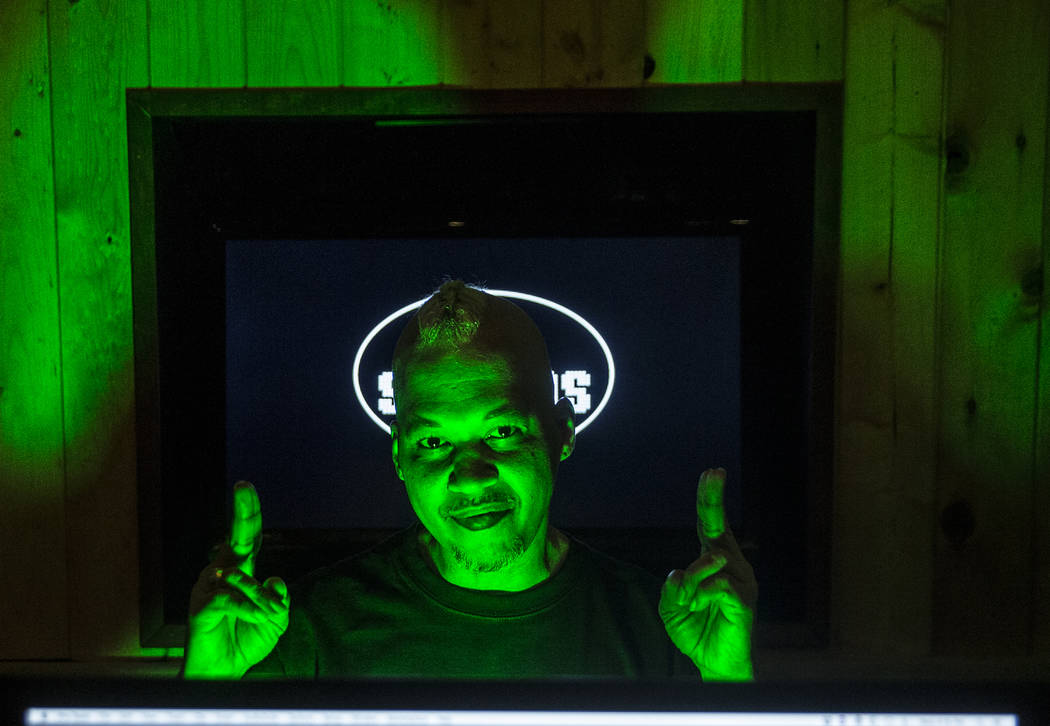 Vegas Voices is a weekly series highlighting notable Las Vegans.
He likes to tell people that he can hear ants walking by when he's sleeping.
"My hearing is a blessing and a curse," Tiger Stylz booms on a Friday afternoon, followed by a peal of laughter.
It's a blessing because it's gotten him here: the wood-grained, high-tech main studio at Digital Insight Recording Studios, which Stylz co-owns with fellow music engineer Mike Lavin.
It's a curse because, well, he can never turn his ears off: The 48-year-old is a sonic obsessive.
"But I love it," says Stylz, sporting a dark UNLV ball cap and Vegas Golden Knights T-shirt, his goatee and ponytail a matching shade of silver. "I wouldn't change it at all."
It's certainly worked for Stylz. Arguably Vegas' longest-tenured hip-hop producer, he began recording and producing music in 1986 on a four-track cassette recorder in his childhood home. Stylz's lengthy resume includes opening for N.W.A. at Artemis Ham Hall in 1989 as part of hip-hop crew V.I.P. Patrol as well as working on albums by Lil Wayne, Mobb Deep and Rihanna years later.
Stylz, who seemingly never stops working, recently took a break to chat about his career.
Review-Journal: We've seen things change in terms of hip-hop production so much. Producers can now make beats on a laptop in their bedroom. How has that impacted things on your end?
Stylz: I started right out of the house, just like they're doing today. It's no different to me. I love it. I love the technology. A lot of the older heads kind of downplay it, because they're not intuitive with it, but not me. A lot of the stuff that just started coming out as far as software, as far as things you can do with this technology, I've been waiting for, for probably 10-15 years. Back then, you had to have a lot of equipment, just to put one song together. Now, you can just get on the laptop, get the track for free and record it right there. It's a big change.
Streaming is changing things exponentially, along with social media, for hip-hop especially. It's driving huge numbers for the genre.
I just got a sync license from Spotify last week from a record I did in 2001. Got a check for the same album from Sound Exchange. So now I'm starting to see it work. I think that's a beautiful thing, that you can make your song and as soon as you're done with it, you can put it out. To see these licenses come in, these checks come in, I'm starting to see the benefits of streaming. Now there's really not the gatekeepers like there used to be: radio, the labels. You had to go to these certain people to get put on.
How does that lack of gatekeepers, determining what is or isn't going to be a hit, affect what you do?
It changes things a lot because you're not stuck by those boundaries. You can say what you want.
When did you realize you could do this for a living?
I started my production company, Ace Productions, in 1998. I ended up getting an investment, a $10,000 check, just because somebody believed in what I did. I didn't know anything about business. I just knew I had a talent with music and now I needed to pinpoint, "How can I make money off of it?" I got my first library card and started looking up audio books, started learning as much as I could. I'm like, "Either I can take this $10,000 and go try to make another record in a studio or I can try to put a studio together myself and we can just do records at the house." Ended up doing it, spent the whole $10,000, got my first computer, and it started from there. I started coming here in 2000. I asked (former Digital Insight owner) Rob (Devlin), "Hey man, you got any openings? You got people looking for producers?" He was like, "Yeah, I have people coming through all the time." Probably a week later, he gave me a call.
What were some of your early breakthroughs?
My very first session was with (Rodney) "Darkchild" Jerkins; he did a lot of production for Michael Jackson, Whitney Houston, stuff like that. He was doing a song called "Supergirl" for a movie. I met him, and it was an "a-ha" moment, because I'm like, "We've got a real producer in the studio and he's right there." I felt like, "I'm in the right place for sure."
Another "a-ha" moment was me, David Banner and Nelly in the studio. (Banner) was trying to do a song for "The Longest Yard" soundtrack. I think they were all in town for an awards show, and David needed a studio. We kicked it. Had a great time. Nelly brought in Goodie Mob. He had Ashanti with him; he was dating her. She tried to sneak up in here undercover. That was one of the coolest sessions, just to see (Banner) in action and the equipment he's using. He'd want me to do certain things, and if I didn't know it at the time, he would show me.
My first big session was with Rihanna. We did "Unfaithful" off her second album (2006's "A Girl Like Me"). She wasn't the Rihanna she is now; she was young and just growing. That was a great session.
Longevity's particularly hard in hip-hop because the sound is constantly evolving.
You have to change with the times. You have to either get with the times or be stuck in your time. I know too many people who are stuck back in the day. I appreciate what I've been through, what I've seen from that past, but I'm making new stories, today and for the future.
■ Place you always take visitors
A lot of people who come through want to find the best eating spots, so I'll probably take them to M&M Soul Food Cafe or Nevada Chicken Cafe.
■ Favorite vacation destination
Northern Nevada, because my son is there.
■ Favorite sport
Boxing. I can watch boxing all day. I'm watching a lot of MMA, UFC, stuff like that.
■ Favorite movie
Any documentary. I really like learning and finding out stuff about different people and situations.
■ Hobbies
(Music) is my love and my hobby. My hobby became my love and my love became my job.
■ Special/unusual talents
I draw. I used to be a graffiti artist. I do art. I used to cut hair. I'm good with my hands. My brother always told me I should have been a surgeon.
Contact Jason Bracelin at jbracelin@reviewjournal.com or 702-383-0476. Follow @JasonBracelin on Twitter.