New Las Vegas hot spot serves up music and sushi
Updated February 22, 2023 - 7:15 pm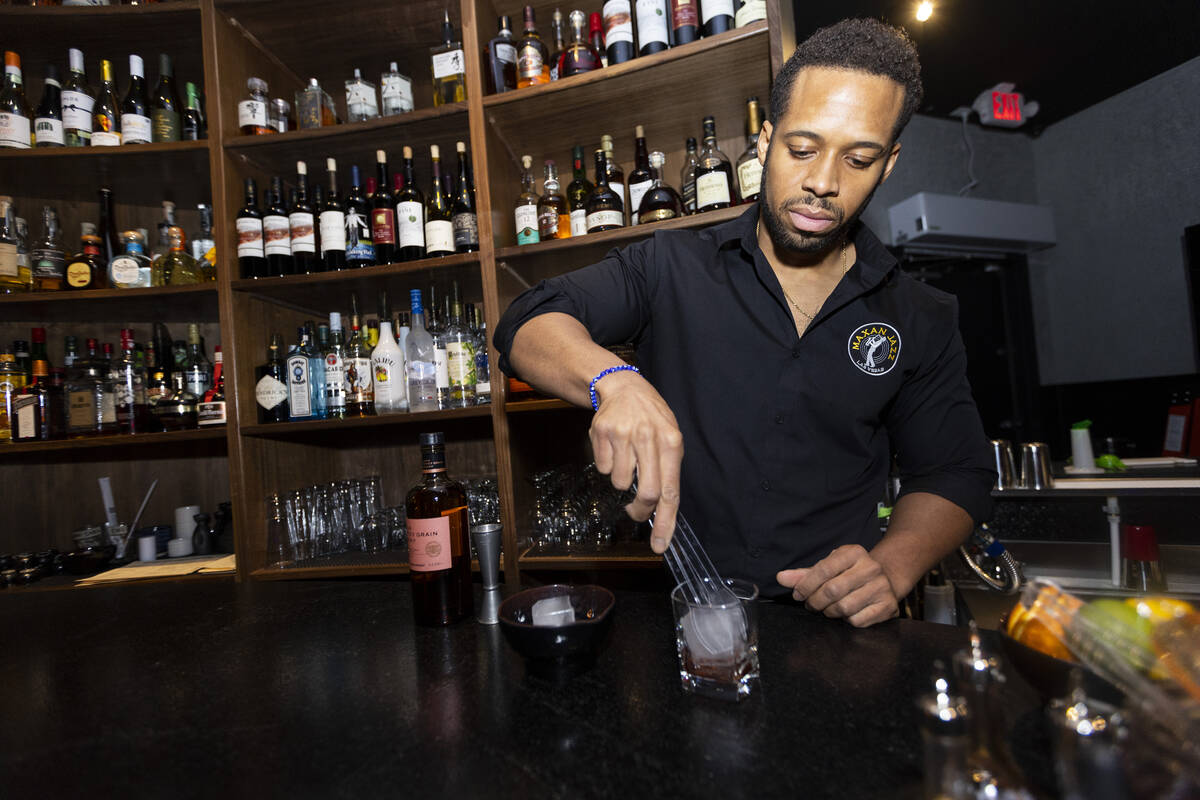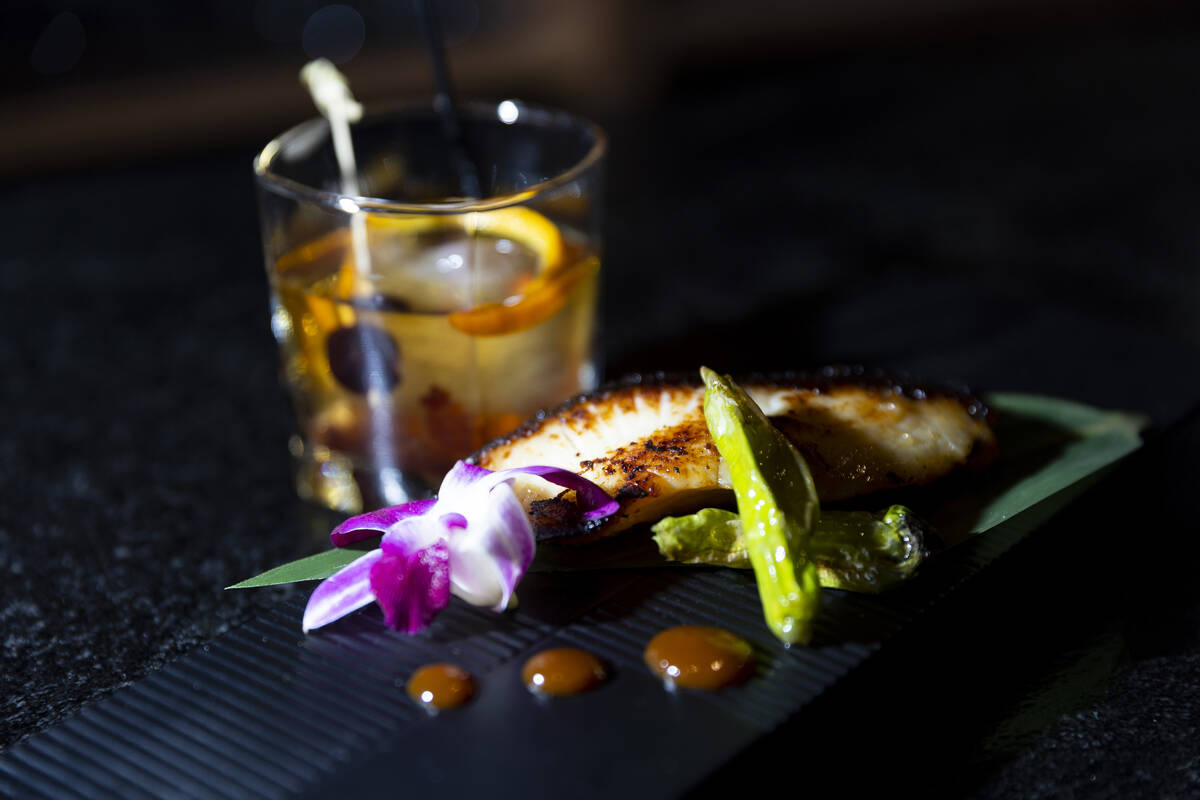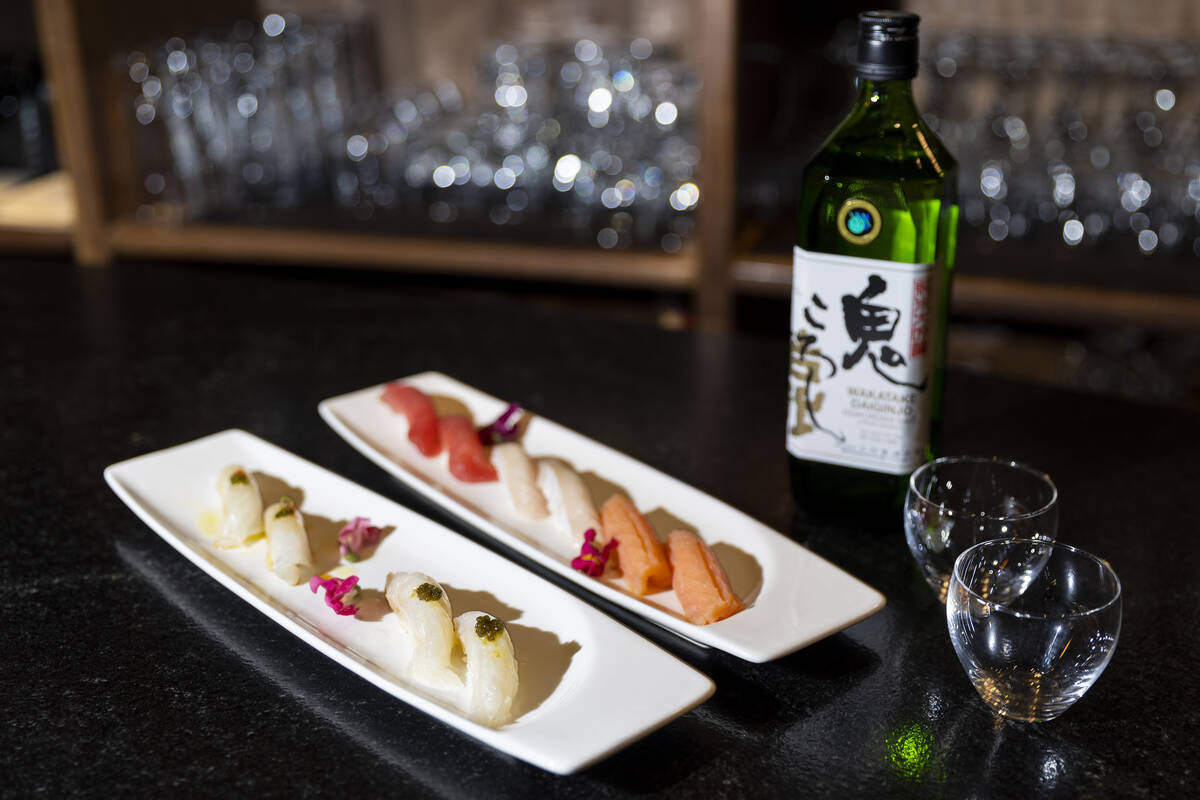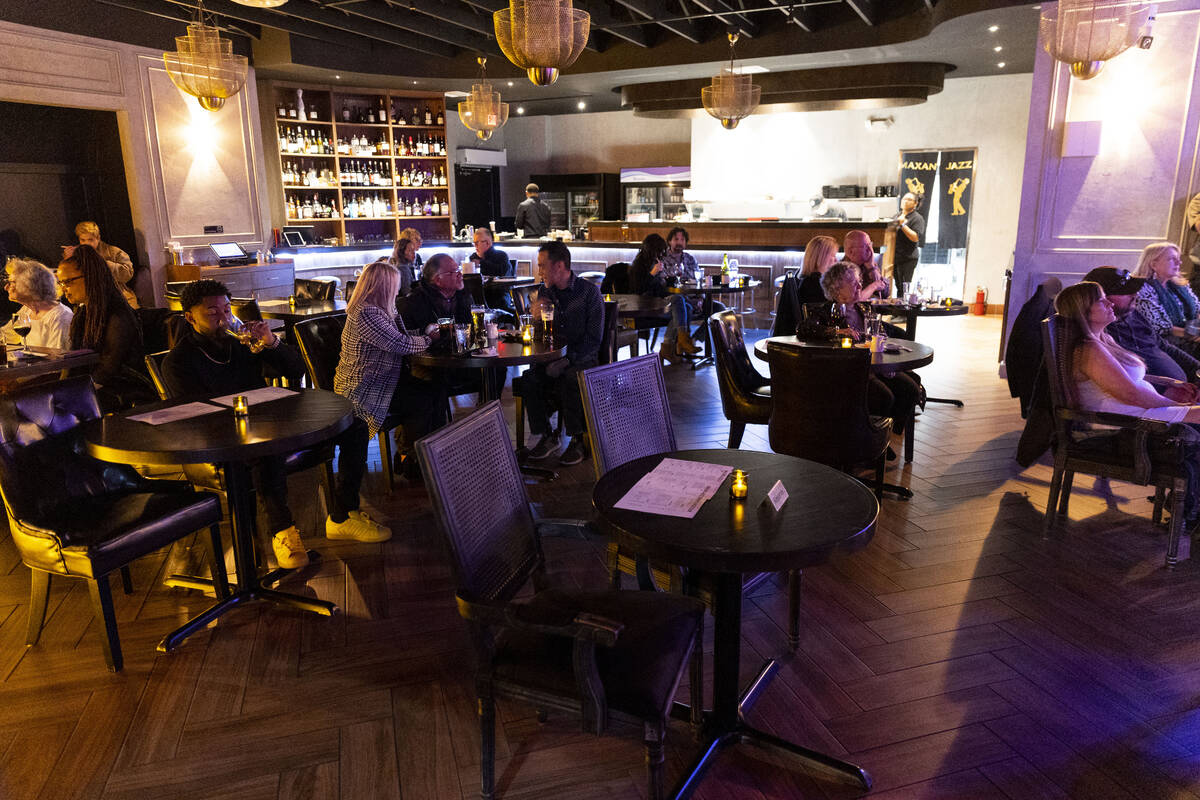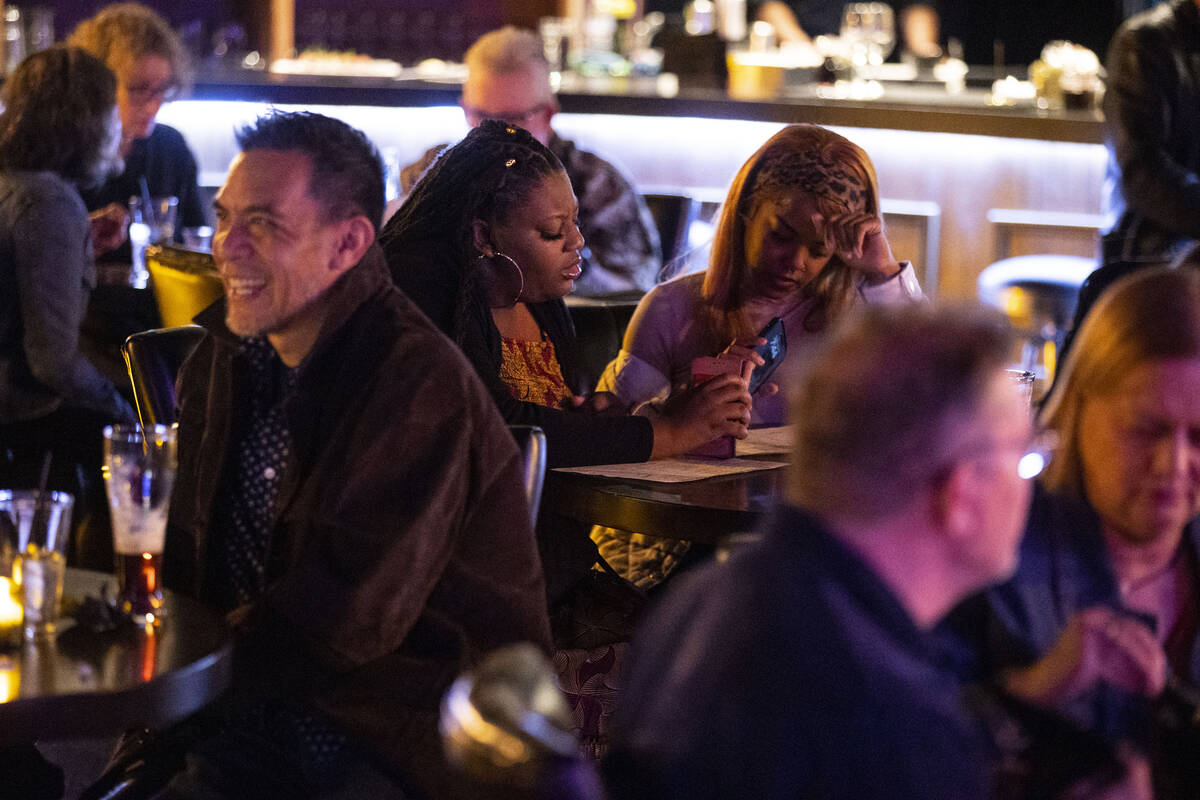 It's as if the electric current surges through his guitar cord and veins simultaneously.
At least it looks that way, watching the young six-stringer quiver, jiggle and shake as he physically wrests the notes from his cream-colored Fender Stratocaster.
It's around 11 p.m. on a recent Friday, and the aforementioned musician and his bassist buddy have joined the Uli Geissendoerfer Trio on stage at Maxan Jazz, a small club currently home to a big sound.
It's a new late-night jam session at this newish venue/upscale sushi lounge, and the duo are holding their own despite being half the age of some of the musicians they're playing with: the bassist laying down a funky shuffle that accelerates into a trilling lead from his cohort, the two adroitly trading lines like a couple of NBAers executing a series of no-look passes.
Shortly thereafter, a lady from the crowd named Loretta comes up to deliver a sultry take on Ella Fitzgerald's version of "But Not for Me," joined by drummer Craig Holiday Haynes, penduluming her hips to the beat.
"My husband and I divorced for religious reasons," she quips by way of introducing the tune. "He thought he was God — and I didn't."
It's a study in contrasts: a couple of young jazz spitfires getting loose before a throwback singer giving voice to a tune originally recorded in the '50s.
And so it goes for the next couple of hours at the after-hours open mic, which runs from 10:30 p.m. to 1 a.m. every Friday and Saturday since debuting in late January.
Though it's only been open since June, Maxan Jazz has carved out its own unique space in Vegas jazz circles thanks to nights like these and a diverse array of performers who span eras and genres alike, from French and Latin-based sounds to bebop traditionalism to finger-snapping takes on video game music.
"It's really cool to see the variety of cultures coming together — and the variety of ages coming together," says Cuba-born singer Noybel Gorgoy, who's performed numerous times at Maxan Jazz. "They're coming really to see what's in there. They're coming to see this new place that is offering music that they're not going to see anywhere else in town. To me, it's really very special."
For Matt Murphy, drummer and bandleader of State of Mind, which puts a jazz twist on classic hits, Maxan Jazz has quickly become a favored outlet for the sounds he trades in.
"Vegas desperately needs more jazz," he says. "There's been a few jazz clubs here since I've lived here, but not like this one."
'I'm ready to go all out'
Max Wirjo gazes at the instrument before him, his eyes flashing in unison with its polished sheen.
There were two must-haves for the Maxan Jazz owner when he was contemplating opening his own place with his wife, Angie. (A combination of their first names forms Maxan's moniker.)
The first: a grand piano, which he gestures at on a recent Thursday morning, seated in his club hours before it will open that evening.
"I want to have a grand piano, because that signifies that I'm serious with the music," he explains.
Wirjo's second requirement: a big stage, like the one they have at Herb Alpert's Vibrato Jazz Grill in L.A., a favorite haunt of his when he used to live in that city.
"They have a bigger stage; they have a bigger piano," he says of the California club. "That's what I like to have."
And so he made it happen — again.
Maxan Jazz is Wirjo's second jazz spot, though the first in America: A former doctor, Wirjo retired in 2012, relocating to Indonesia, where he was born and raised, to open Max Jazz @ D Club in Surabaya in 2017.
He'd planned to open another club in Bali a couple of years later — then the pandemic hit.
"I was so afraid that if I got sick, the health care is not that good there," he says of his homeland.
And so Wirjo and his wife returned to Vegas, where his son lives and they already owned a place.
In 2021, he began looking to start a venue here, eventually finding a spot in a strip mall on the corner of Decatur Boulevard and Flamingo Road in what was formerly a Thai restaurant, drawn there because of its central location and proximity to Chinatown.
At first, he thought of hiring a music director for the club, but Wirjo ultimately decided to book it on his own, better to reflect his anything-goes outlook.
"I realized that I wanted to do it myself, because I want to have the club go a certain direction," he says. "If I've got somebody who's different, playing different, I like to hire them. I'm ready to go all out."
Music to your taste buds
The cuisine always struck a sour note, it seemed.
From Australia to Japan to Europe, Wirjo has visited jazz clubs around the world.
What unites many of them?
"Everywhere I go, the food is not good at the jazz club," Wirjo contends. "It seems like the focus is only on jazz, which is OK, but I think I'm missing something.
"I don't like to have dinner somewhere else and then go to the jazz club afterwards, because they usually start at the time of dinner," he continues. "There are a lot of places that have dinner, but I'm always disappointed."
And so when he began conceptualizing his own club, the menu was key.
He decided to focus on sushi, both because it's a favorite of his wife and, perhaps even more crucially, there's no distracting sound of cutlery hitting plates when eating.
" 'Why don't we just have a food where you use a lot of chopsticks or you use your fingers?' " Wirjo recalls asking himself in coming up with Maxan's food offerings, recruiting a pair of former Nobu chefs to create the menu.
After getting Maxan Jazz up and running, Wirjo remains a hands-on presence at his club.
On the Friday night in question, he runs sound late into the night, bouncing around the room, occasionally taking the stage to adjust a microphone here and there.
One of his priorities in booking the room is providing a spot where performers from various other shows in town have a place to spread their wings outside of their other gigs, from Joey Melotti, Barry Manilow's bandleader at the Westgate, to the various Cirque du Soleil performers found in the group Lumière Noire to Gorgoy herself, who's played all over Vegas in acts ranging from the Hot Club of Las Vegas to Santa Fe &the Fat City Horns to David Perrico's Pop Strings Orchestra.
"It has become a place for a lot of locals, amazing musicians that might have a project that they've been wanting to test out or be able to share with the community," Gorgoy says. "It has become a great platform to be able to bring something unique, something different."
Ultimately, that's Wirjo's aim: to take a chance on taking chances.
"I always want to have the variety — that will be our strength," he says. "I don't want to play something like Oscar Peterson or Louis Armstrong style of music every single day.
"I think that that's the beauty of jazz: You're willing to take a chance and try out new things," he continues. "And that's what I like to do. I don't want to play it safe."
Contact Jason Bracelin at jbracelin@reviewjournal.com or 702-383-0476. Follow @jbracelin76 on Instagram.