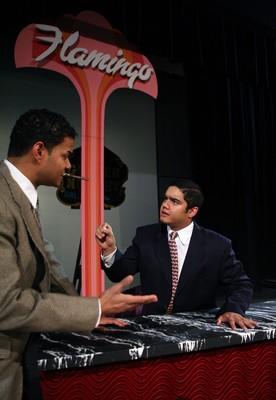 Director Doug Baker wasn't having much luck finding an actor to play Benjamin "Bugsy" Siegel for the Community College of Southern Nevada's big musical production "It's Only Business."
Then one day, while working as an actor on a television commercial for a local casino, Baker heard someone on the set singing between takes.
It turned out to be 37-year-old actor Hunter Gerard, and Baker thought he was perfect for the role of the psychotic mobster.
But Gerard wasn't exactly convinced.
"He told me about the show," Gerard says, "but I told him no, I was having some personal issues at the time. Then he called me and asked me again, and I thought there was a reason I was being offered the role. I'm very glad to do this."
Gerard is black. Bugsy was born to an Austrian Jewish family.
"It's hard, as an African-American, to find roles that people don't typecast," says Gerard, who has appeared in television commercials and in "General Hospital." "I'm hoping the audience will not see color, but the character."
There are several unconventional aspects to the musical, set in Las Vegas in 1946-47, that opens today in the Nicholas J. Horn Theatre at the college's North Las Vegas campus.
The book, lyrics and music were written by Mark Wherry, the school's director of vocal music, who had not written a musical before taking on this project about five years ago.
After trying the performance route — at one time he performed in a funk band in Minneapolis and sang in operas — Wherry went into education, but always with the idea of writing a musical.
Five years ago, he decided it was time. But what to write about? He turned to the old dictum of "write what you know." So Wherry picked the Las Vegas days of Bugsy Siegel.
"For a successful musical, you want to have a person with a dream," he says, and in popular legend, Siegel had a vision of creating a high-class hotel in the middle of the desert.
That wasn't exactly true — the idea came from Hollywood Reporter owner Billy Wilkerson — but Siegel took the idea and got the money from his mob associates to make it happen.
Wherry originally had a scene with Wilkerson but had to cut it. "It didn't work dramatically," he says. "I hope true historians of Las Vegas will forgive that."
While putting the musical through the creative process, Wherry bounced ideas off Baker and Joe Hammond, a professor at the college. After initially centering the show on Siegel and with feedback from Baker and Hammond, Wherry turned the musical more toward Siegel's friend, Meyer Lansky.
The show uses the framework of a congressional hearing. Lansky, played by Jason Andino, is being grilled on what he knows about Siegel. Lansky "dances around the truth, then (onstage) you see what really happened," Wherry explains.
Siegel's romance with Virginia Hill, played by student Tiffany Lawrence, is portrayed onstage, with both characters singing solo ballads backed by a seven-piece orchestra.
Wherry calls the musical "a memory play." The production is historically based but shouldn't be seen as the definitive history of Siegel and Las Vegas, he says. Projection screens flanking the set, designed by Yale Yeandel, and on the back of the stage are used to show real photographs of the era, a backdrop to the fictionalized account onstage.
Baker and Hammond agreed that the musical should be produced at the college.
"Mark has created a really wonderful musical," Baker says. "The music is wonderful. We're trying to bring as much class to it as we can."
what: "It's Only Business" when: 7:30 p.m. today-Saturday; 2 p.m. Sunday (and April 20-22) where: Nicholas J. Horn Theatre, Community College of Southern Nevada, 3200 E. Cheyenne Ave., North Las Vegas tickets: $10-$12.50 (651-5483)