New Van Halen album has Sammy Hagar laughing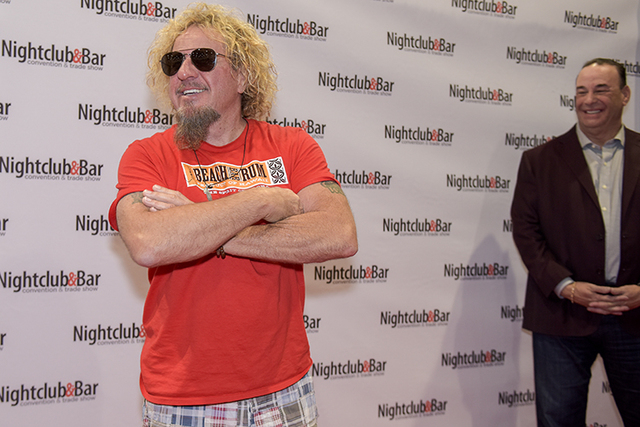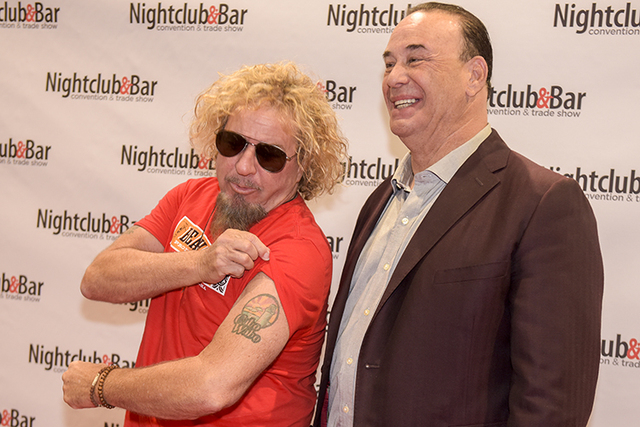 I knew Sammy Hagar was calling me Monday, so I kept saying to myself, "Don't ask him how terrible the new Van Halen album is." But then, Hagar brought up how terrible it is.
Here's the bad-blood background if you're 10 years old or a newly arrived space alien: David Lee Roth sang in Van Halen. Then Hagar sang in Van Halen. Then Roth rejoined Van Halen.
Now the new David-Lee-Roth-Van Halen album, "Tokyo Dome In Concert," is available for purchase, and it's super, super, super, super, super, super, crazy bad.
"I'm trying to tread lightly on the whole thing," Hagar told me. "Every time they do something, I'm like, 'Oh my god, can these guys do anything worse to their reputation and to the level of the music of the band?"
I can't believe Van Halen even released the album with Roth's voice sounding like it does.
"They've got some pretty rough vocals," Hagar said of Roth.
I told Hagar I tried not to even bring up Van Halen.
"I'm glad you didn't, but I did," Hagar said and laughed. "I try to stay away from criticism, but here I am, already starting this interview with it. It's impossible, Doug. It's impossible to stay away from. Standing back, I'm just going, 'What the (expletive) are these guys thinking?'"
Meanwhile, Hagar has a new band called the Circle. It includes Van Halen bassist Michael Anthony, Wabos' guitarist Vic Johnson, and last but not least, Jason Bonham on drums.
This Friday at Fremont Street Experience, a tribute band will perform some Hagar hits. Then around 9 p.m., the Circle will walk on stage with Sammy's Beach Bar's Rum, toast the crowd and watch an overhead-canopy show of Circle songs.
After that show, Hagar will party at his Cabo Wabo Cantina in Planet Hollywood.
Then on Saturday, the Circle performs at the Downtown Las Vegas Events Center.
The Circle has its own live album, "At Your Service," coming out May 19. I've heard one song. That one song sounds infinitely better than the new Van Halen album.
On stage, the Circle performs Van Hagar songs, Hagar solo hits, songs from his days in the band Montrose, and Led Zeppelin classics, since Bonham is the son of Zeppelin's iconic drummer.
Hagar said Bonham, revered in his own right, is at the top of his game.
"In the old days, he was great, but he was crazy. We'd say, 'Where's Jason?' It was like, 'He just got up and walked off stage and went back to the dressing room to get himself a drink.' He was living that real '70s Led Zeppelin style."
Hagar said seeing the Circle is the only way to hear Van Halen musicians play the Van Hagar oeuvre.
"The Van Hagar era — those great songs, 'Poundcake,' 'When It's Love,' 'Right Now,' 'Why Can't This Be Love?,' 'Top of the World,' 'Finish What Ya Started,' 'Best of Both Worlds' — you'll never hear those songs again, unless I'm singing them."
Hagar also has a new TV show starting on AXS, called "Rock and Roll Road Trip." He's interviewing famous friends like Tommy Lee and Alice Cooper on that show. And he is launching a radio show this year.
As you can see, Hagar remains one of the world's most reliable quote machines.
"Yeah, I'll tell you anything," he said. "Then I read my interview, and I go, 'Dammit, I shouldn't have said that. Next time, I gotta watch out.' After my 30,000th interview of my life, I'm still going, 'Oh boy, I shouldn't have done that.'
"The truth of the matter is, everyone is welcome, and has the right, to their own opinion. That would include me."
NEW ELFMAN EPISODE
Did you know Coolio lives in Las Vegas and performed in a Las Vegas-based film called "Two Hundred Thousand Dirty" now available on Netflix?
I just found this out recently. So I interviewed the film's Las Vegas director, Tim Anderson. We talked about classic movies, such as "Groundhog Day," and we debated Chevy Chase vs. Bill Murray. It's a fun, lighthearted episode.
The "Doug Elfman Show" is on iTunes, Android apps, and player.fm/series/doug-elfman-show.
Contact Doug Elfman at delfman@reviewjournal.com. He blogs at reviewjournal.com/elfman. Find him on Twitter: @VegasAnonymous.