November 28, 2008 - 10:00 pm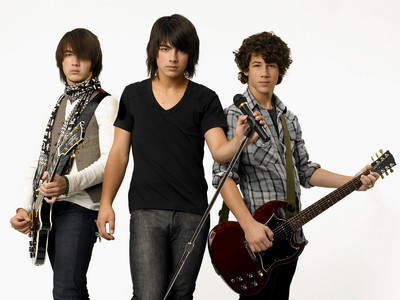 Las Vegas teen Meaghan Jette Martin played a mean girl in her TV debut opposite the Jonas Brothers in The Disney Channel hit "Camp Rock."
In real life, the 16-year-old bubbly blonde is a pal of the blockbuster pop-rock trio who will be on her turf when they appear at the MGM Grand Garden on Saturday.
They've remained friends, she says, and she's been seeing them "on and off" since spending two months on the set of "Camp Rock" over a year ago.
It was such a big hit — Disney's second-most-watched TV movie ever, after "High School Musical 2" — that "Camp Rock 2" is being discussed, and Martin is "hopeful" she'll be among the holdovers.
Her scenes with Joe Jonas, 19, involved her being "madly in love with him and following him around in a creepy sort of way."
Joe tormented her during filming by leaping out of bushes and "scaring me all the time."
Don't even mention the D-word. "No, no, no, no, no," she playfully protests, when asked if she had dated any of the brothers.
She's passed along some "must" stops for eating and shopping for their Las Vegas visit: Port of Subs and The Miracle Mile Shops at Planet Hollywood.
"It's almost scary how awesome they are," Martin says. "They are so humble and down to earth with a grounded family and a grounded lifestyle."
Kevin, the oldest at 21, is "sweet and caring, always making sure you're OK," Martin says. "Joe's the prankster. Nick (16) is the funniest. The stuff that comes out of his mouth."
She just learned she's landed her second starring TV role, this time in ABC Family's version of "10 Things I Hate About You," the 1999 film that co-starred Heath Ledger and Julia Stiles.
Shooting starts Monday on the TV series adaptation.
This time she gets to spread her acting wings. "I'm a social butterfly," she says. She's cast as Bianca, the younger sister of Lindsey Shaw's character.
They will be opposite Gregory Peck's grandson Ethan Peck, who has the role Ledger played in the film based on William Shakespeare's "The Taming of the Shrew."
In the series, the sisters' father is a gynecologist "who decides we are not allowed to date," Martin says. "I was joking with the writer of the show that I really know how to play a gynecologist's daughter."
Her father is John Martin, who has been practicing in Las Vegas for about a dozen years. "He's a lot more lax than the dad on the show," says Meaghan, who was 5 when she did one of her first commercials, a Walker Furniture Christmas deal.
Meaghan, who is home-schooled, and her mother, Joy, shuttle back and forth to Los Angeles every week.
NEW YEAR'S PLANS
Pop star parents Pete Wentz and Ashlee Simpson will host New Year's Eve at Pure nightclub at Caesars Palace.
Wentz, the frontman of Fall Out Boy, and Simpson, Jessica's little sister, had a baby boy recently. They named him Bronx Mowgli.
Caesars Palace headliner Elton John will perform a New Year's concert at The 02 arena in London.
Formerly the under-achieving Millennium Dome, it was purchased by AEG, the Los Angeles-based entertainment and sports conglomerate that built The Colosseum for Celine Dion and Caesars Palace. It's now one of the hippest and hottest concert venues in Europe.
It will cost you $150 to spend New Year's Eve with Hollywood's uber-annoying celebrity couple Heidi Montag and Spencer Pratt of "The Hills."
Back in June, Pratt received a classic David Letterman beatdown after suggesting the Montag-Pratt brand was so hot that he "won't go to a club anymore for less than $100,000."
Letterman responded with guffaws and this ego-battering rebuttal: "Stop it, just stop. For a second there, I thought you actually said $100,000." Then he asked Montag if Pratt's "nonsense" was true.
When she got huffy, Letterman pondered on air if Pratt brings "a pony and have kids take their pictures with it."
The ticket price includes Montag and Pratt leading a midnight countdown and DJ CyberKid.
Tickets can be purchased and table reservations can be made by calling 894-7580 or visiting www.purelv.com/newyears/.
THIS WEEK IN 1973 …
Marie Osmond, all of 14 years old, was enjoying amazing crossover success with "Paper Roses," which soared to No. 5 on Billboard's Top 40 and spent two weeks as the No. 1 country hit. It was a cover of Anita Bryant's that also reached No. 5 on Billboard in 1960.
Norm Clarke can be reached at 702-383-0244 or norm@reviewjournal.com. Find additional sightings and more online at www.normclarke.com.