Pair rescue treasure trove from MGM's Studio 54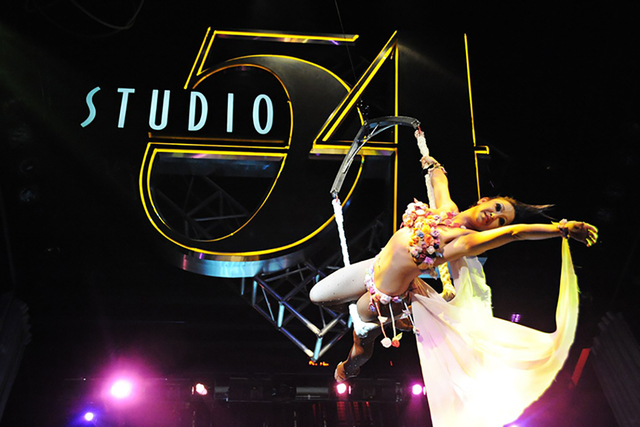 Ah, it was a heady time at MGM Grand's Studio 54 in its heyday. Prince performed there. College kids danced on Ecstasy. Plates of cookies were placed in the VIP section to assist revelers with the mating process.
In 2012, MGM shut down Studio 54 to make way for Hakkasan nightclub. And apparently, much of 54's valuable interior — signs, 130 giant wall photos, and other goodies — was crated up and stored in an MGM parking structure.
For years. And then?
"They (MGM people) paid to have it removed from one of their parking structures by a recycling company," Mike Youngsaid.
Young is a former operations manager at Excalibur and Luxor (MGM properties) who heard about the Studio 54 haul to the recycling company, and when he saw it all, he was shocked it was in crates on dirt, partly exposed to weather during the raining season.
"It was like finding a Corvette in a barn," Young said.
Young called his buddy Joshua Greenrock (a local TV and production freelancer who partied at 54 "at least 30" times by Greenrock's count), and they decided to partner up and buy the former Studio 54 interiors left out in the rain like a cake.
"It was all set to be destroyed," Greenrock said, not happy about that prospect.
"I can't tell you the sleepless nights getting the deal done," Young said. "Every day it was sitting out there, it was getting more damaged."
Young said the price they bargained down to was "a fraction of its assessed value," and previous Studio 54 photos alone were bought for $1,500 to $3,000 apiece in 2013 at a Florida auction.
Once Young and Greenrock owned the goods, someone at MGM contacted the recycling company to get it all back, Young said. Poor old MGM was too late.
Since this recent purchase, hotel tycoon Ian Schrager, original partner from New York's 54 and currently of Morgans Hotel Group, has expressed interest in checking out some of the original, copyrighted photographs.
This trove now fills "a huge warehouse space, enough for a club," Greenrock said.
People have told these guys they should open a new 54.
Instead, at June's First Friday, Studio 54 will come alive again when a fair amount of this booty is rearranged (6-11 p.m., free to see) in downtown's Corner Building, 1201 S. Main St. There will be throwback costumes from Forplay apparel; hosting duties from LasVegas.Net (where Young is marketing and PR manager now); a raffle and fundraiser to benefit The Shade Tree shelter for women, children and pets; and a donation of the largest Studio 54 dance floor sign to the Neon Museum.
Among this collection's not-your-average photos are three vinyl prints (about 30 feet tall) of Donna Summer and Salvador Daliand of Tim Curry in drag.
Young and Greenrock's favorite picture might be a frame of John Travoltastanding inside the Las Vegas 54 looking at a photo of Travolta in the New York Studio 54 while holding a cigarette and a joint beside Sly Stallone, lo so many years ago.
"It was a no-brainer" to buy the goods, said Greenrock, a former staff assistant on "The Hangover," who now owns Rock Solid Productions.
"It's Vegas history. It's pop culture history. It's art. It's photography. It's Vegas, everything wrapped up into one," Greenrock said.
And it all just slipped through MGM's fingers. Crazy.
SHIRTLESS BODY WORKOUT
Granted, Antonio Sabato Jr. is a model, but to be guest-host-dancing in "Chippendales" in the Rio hotel at age 44 is still an accomplishment in the realm of physiques, or being in shape, or whichever terms of objectification you prefer.
Anyway, I'm constantly curious how people in Vegas shows maintain their bread-and-butter guts, so I asked Sabato, who's in the show through June 5, for his exercise regimen. Here it is:
He works out 60 to 90 minutes a day. He kickboxes a bag for 30 to 45 minutes, then he lifts weights for his whole body, does "a lot" of sit-ups, leg raises from a bar, and varies his cardiovascular.
He eats high-protein, low-carb, and unlike the rest of us, he doesn't miss eating ice cream. How can that be? Ice cream alone disqualifies me from ever seeing my ab muscles.
SIGHTINGS
The mastermind who gave birth to our beloved/detested contemporary culture, Kris Jenner, saw the J-Lo show in Planet Hollywood on Wednesday, so did Melanie Griffith, then afterward all three assembled backstage, the Kardashian-maker, the "Working Girl" and the booty-shaking Vegas singer, a floral triumvirate of American power.
Doug Elfman can be reached at delfman@reviewjournal.com. He blogs at reviewjournal.com/elfman. On Twitter: @VegasAnonymous