Rock group adds twist to show — drones
December 3, 2015 - 5:36 pm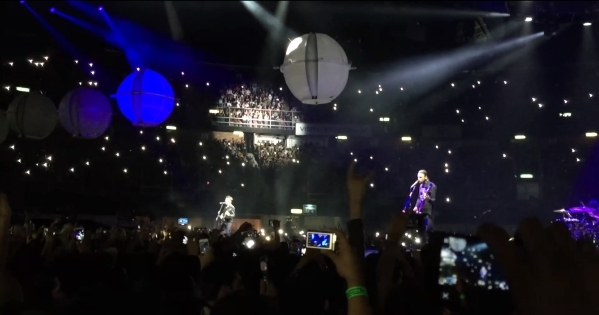 Drones — they kill for the government; they film movies; and now the rock group Muse is using them to loom menacingly above the heads of thousands of fans in concert, but fans are cheering them instead of fearing them.
Muse will bring this drone tour — while promoting their seventh album, "Drones" — to the Mandalay Bay Events Center on Saturday ($37-$69).
"The point of the drones is, they're definitely an intimidating presence," says Muse drummer Dom Howard, who confirms their intended symbolism as a statement of personal rights.
"That was the idea when we brought them into the show. We called them 'hunters' and 'seekers,' hovering over the audience, with spotlights over the audience, filming the audience, and then we project that onto the screen.
"It's this feeling of intimidation, and invasion of your personal space," he said.
And yet, as seen during the few shows Muse has performed on tour, fans take a fancy to these Big Brother orbs, and many video them on their phones for YouTube. This makes sense in the context of people's desire to rock.
"Well, yeah, it is a rock 'n' roll show, don't forget that," Howard said. "I really noticed that in Mexico, just everyone filming it. And it's bizarre, but that's what people do now, is filming it and posting it."
In other words, people are pointing cameras at cameras pointed at them. This is our new house of mirrors.
The drones demand an immense amount of technical prowess to get flown about in "lovely, synchronized choreography, or completely randomly around the venue," Howard said.
"It looks amazing, but to have them not smash into people, and into each other, is kind of mental technology," the Brit said.
Locals might consider the lighted globe drones to feel somewhat reminiscent of paper lanterns that have lighted the night at the Rise Lantern Festival at the Moapa River Indian Reservation.
Muse, often compared with the rock opera of Pink Floyd in scope and heart, has spared no expense on tour, befitting the band that has earned several Best British Live Act statues from the Brit Awards.
The trio will perform on a spinning platform low to the ground, bringing them closer to the audience, on a theater-in-the-round stage. The drummer sits and spins on that little stage while singer-guitarist Matt Bellamy and bassist Chris Wolstenholme stroll across catwalks leading to satellite stages nearby.
It's a financially extravagant spectacle. The group always desired to pull off this kind of a tour, but previously they got scared of the ambition.
Howard said this year, they decided to "man up" to snuggle themselves more intimately among the people.
Playing in the round is a technical strain of mind and sound system physics, Howard said: "I think the reason everyone doesn't do it is, it's actually quite difficult as a performer to pull it off. You're so used to facing one way that, all of a sudden, you realize you have to turn around and face the people that are staring at your back — multiple times throughout the course of one song."
Even the outfits and aura are meant to be "slightly futuristic, slightly military," a tone ingrained in their 2015 album, "Drones," a rawer, more organic and heavier delivery than their previous raids on the senses.
It may seem shocking to Muse's not-old fan base, but the tour marks the trio's 21st year of existence, and they knew each other for years before they banded together. Even more surprising, Howard said they get along better now than ever.
"We're all like brothers in many ways. It's kind of cheesy," he said. "But any relationship of that kind goes to different levels. To have lasted that long, you have to go through good times and (expletive) times."
So fans will happy to hear their favorite band is holding tight.
"I hope we can continue in the future, which, at this stage, is the plan."
— Doug Elfman can be reached at delfman@reviewjournal.com. He blogs at reviewjournal.com/elfman. On Twitter: @VegasAnonymous