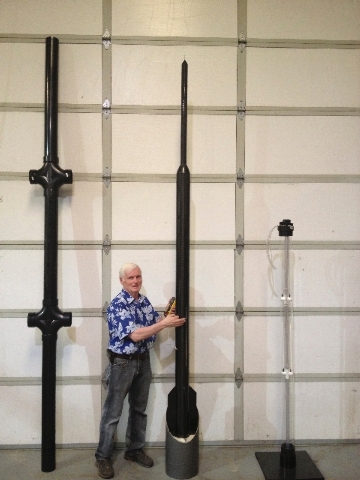 NASA researchers found evidence in 2011 that the building blocks of life — DNA — may have originated in space.
Now, Peter Poulsen, a man with a doctorate in applied sciences and a serious case of nerdiness, wants to send it back.
On Thursday , he intends to officially launch his plans at the Star Trek Convention at the Rio. He thinks it is an appropriate place full of eager listeners. You know, the sort who would want their DNA to boldly go where DNA has apparently gone before?
In 18 months, Poulsen hopes to start sending small rockets loaded with DNA into deep space. There, they will orbit the sun and serve as DNA storage places for, well, eternity. At least until someone figures out how to retrieve the tiny spacecraft.
This DNA will come from people like you or your pets, if you're so inclined. Poulsen is calling his service the "SAEL-Away Adventure" after his company, Space Ark Enterprise, LLC.
And to send your organic matter, the essence of what makes you uniquely "you," into space, you will pay $495. A pittance, really, if you always dreamed of space travel but never got around to it. It's not quite the same thing but if you SAEL-Away, you can sleep just a little better at night knowing there's a piece of you floating in the Milky Way.
Of course, if you are a true space junkie or frustrated astronaut, you probably know Poulsen is not the only guy to dream of sending organic human matter into orbit. Some companies have offered space burials in which they launch cremains into the final frontier, says Dale Etheridge, astronomy guru and director of the College of Southern Nevada Planetarium Observatory.
In 1997, a portion of the remains of "Star Trek" creator Gene Roddenberry was launched into orbit. Next year, a Houston company is planning to send more of Roddenberry's cremains into space along with those of his wife, Majel, and James Doohan, the actor who played Scotty on "Star Trek."
A whole industry has cropped up around the launching of satellites, with entrepreneurs selling a variety of ways for people to slip the surly bonds of Earth, Etheridge says. It is becoming enough of a problem that people are talking about how to regulate it.
Poulsen won't be using the traditional method for this sort of space launch, though. He says he's secured a contract with the Panamanian government that will allow him to use a former military base for his operations. There, he will use a cannon to shoot his rockets into orbit. The reasons for that are complicated; it has something to do with helping the rocket break out of Earth's orbit.
Poulsen is aiming for a specific kind of deep space orbit that will basically turn the DNA spacecraft into a miniplanet. It will have a beacon on board so that customers can track their space pods from their home computers.
People love things like SAEL-Away, Etheridge says, because it makes them feel connected to the universe. They forget that, as earthlings, they're already part of the universe.
"We're on our own spaceship," Etheridge says.
If you want to sign up for an outer space adventure, of sorts, Poulsen will be at the Star Trek Convention exhibition area through Sunday .
Contact reporter Sonya Padgett at spadgett@review journal.com or 702-380-4564. Follow @StripSonya on Twitter.