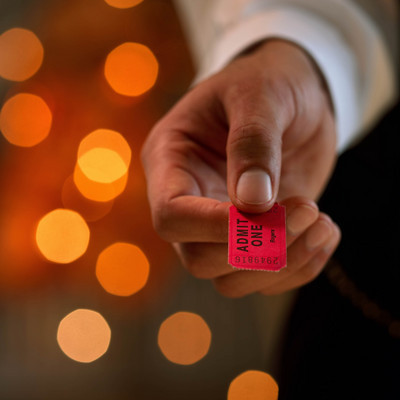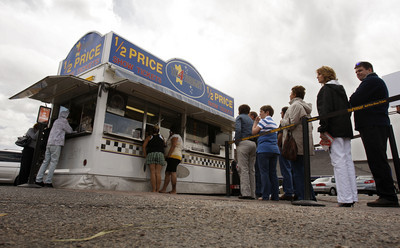 It looks like a casino race book in midafternoon. But rather than a constantly shifting mass of railbirds peering at TV screens to see how their horses are faring, this crowd is made up of theater buffs peering at video monitors to see how much of a discount they can score on tickets for tonight's shows.
It was the promise of seeing "Phantom — The Las Vegas Spectacular" for a few bucks less that last week lured Kate Gladden out of her room at The Venetian to the Tix4Tonight booth at Fashion Show mall.
"I've seen it 21 times at home, so I'm not gonna like it here," says a smiling Gladden, who's from London. "I'm going to pick holes in it."
But, for Gladden, the stroll across and a bit down the Strip was worth it. She scored two prime tickets to that night's show for $75 each.
At the show that night, she might have run into Darren Matthews and Ross Renton, residents of Glasgow, Scotland, who a bit earlier also had stopped by for discount tickets to "Phantom."
Both were familiar with the drill. Renton says he often buys discount tickets back home for shows. "So we thought we'd give it a try."
For savvy tourists and a growing contingent of in-the-know locals, discount ticket booths have become a go-to resource for at least slightly more affordable tickets to Las Vegas attractions.
Mitch Francis's company, Tix4Tonight, opened the first such booth in Las Vegas in November 2002. "It wasn't easy for us to get started," he recalls, and only about a dozen shows came onboard at first.
But very quickly, Francis says, the concept caught on with show producers.
"It really worked. And because it didn't interfere with shows' full-price ticket sales, we just kept growing with more shows. And, with them asking us to sell even more tickets, we were able to get more locations."
Tix4Tonight now operates six half-price ticket booths, at Fashion Show mall, Hawaiian Marketplace, near the Riviera, Showcase mall and Bill's Gambling Hall on the Strip, and downtown at the Four Queens.
Just more than two years ago, another company, All Access Entertainment, entered Las Vegas' discount ticket market. It operates two half-price ticket booths at Circus Circus, as well as booths at the Fashion Show's food court, Tuscany Suites, Tahiti Village and the South Point, says owner Metin Durmus, with "a couple more locations coming up in the next couple of weeks."
The booths operate on a straightforward business model: Casinos or show producers release unsold seats for that day's shows to the discount ticket companies, which then sell those seats to customers on a first-come, first-served basis on the day of the show at discounts of up to 50 percent.
For show producers and casinos, the booths offer a chance to generate at least some revenue from seats that would otherwise be empty when the curtain rises. Customers, meanwhile, can purchase show tickets at anywhere from 25 percent to 50 percent below face value.
Of course, there are a few caveats: Purchases must be made in person; most tickets are available only for that day's performances; not all shows are available, either in general or on a particular day; and, in most cases, buyers don't receive tickets, but vouchers they take to the show's box office in exchange for a ticket and seating assignment (which is why it's wise to head to the box office straight from the booth).
Francis says that, while Tix4Tonight booths open at 10 a.m. daily, lines usually begin forming at 9:30 a.m. or earlier. Many value-seeking customers, he says, arrive with no particular show in mind but with the notion that they'd like to see something.
In fact, Francis says, many "who are coming to us would not be going to a show if they weren't getting a discount. Some of them make reservations for a show they really want to see in advance and pay full price. We think that's great. But, then, they'll get a second, or possibly third show (because of the savings)."
"Phantom"-lover Gladden says she learned of Tix4Tonight through a tourist magazine and was, at first, "a bit dubious, because a lot of people have warned us to be careful of ticket touts."
But Gladden was reassured, she jokes, by "these lovely tops" — the Tix4Tonight-logo T-shirts worn by clerks — and the fact that the booth was, in fact, an actual retail space at the Fashion Show. "They were very organized," she adds. "Good selection. They're not hiding anything. It's all in your face."
Had Gladden not gotten "Phantom" tickets, she could have chosen from among a roster of posted shows and prices that included admission to Madame Tussaud's (half off of a $15 admission), "Crazy Girls" (half off of a $43.96 ticket), David Copperfield (25 percent off a $99.26 ticket), "Ka" (38 percent or 39 percent off a $113.90 or $142.50 ticket), Penn & Teller (about 39 percent off a $85.80 ticket), or a Neil Diamond tribute at the Riviera (half off a $64.50 ticket).
Tourists make up most of Tix4Tonight's customer base, Francis says, although "locals are starting to find us now."
"I think it's very clear that, in these economic times, people are seeking value more than they ever did before," he adds.
Anthony Curtis, publisher of the Las Vegas Advisor, says half-price ticket booths can be "a very good deal" for savvy buyers seeking to counteract "overly inflated" ticket prices.
"If a discount is available to you, you've got to take advantage of it, and one easy fully available source of a discount are the discount booths," he says.
Curtis does note that not all shows are a straight 2-for-1 deal — the companies also charge a service fee, although coupons from the companies' Web sites can halve that — and that you're not usually going to get prime shows. "You're not going to get Cher or anything like that," he says.
In fact, Curtis also notes that "there are other discounts that can be had that are as good or better, and maybe even more convenient. You don't have to go down there."
But, he says, they are a good option "if you don't have an existing discount."
Contact reporter John Przybys at jprzybys@reviewjournal.com or 702-383-0280.