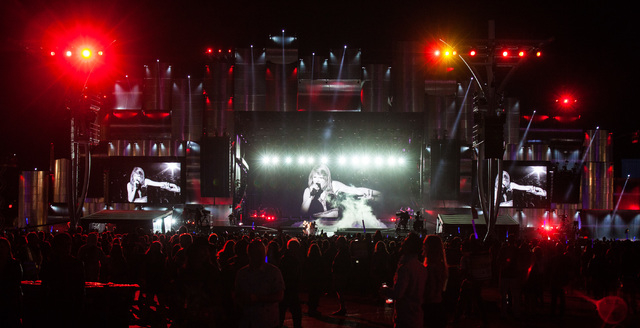 Taylor Swift sent a loud and proud signal that she's dating Scottish DJ Calvin Harris.
Before her Friday performance at the Rock in Rio USA festival, Harris' song "Feel So Close" played before she came onstage.
So much for "rumored" romance. Last week they were spotted holding hands after dining in Santa Monica.
They have been generating headlines since they were seen chatting at the Brit Awards in London early this year.
She's unveiling her new music video "Bad Blood" at the Billboard Music Awards tonight at the MGM Grand Garden.
Swift's use of testimonials from celebrities during her show brought rare criticism for the music phenom.
It came off as "gratuitous, even tacky," wrote Los Angeles Times' music critic Mikael Wood.
"She was showing us what a big deal she's become," Wood added. "She didn't need to tell us, too."
Caesars Palace headliner Mariah Carey also is scheduled to perform.
She had canceled Wednesday's performance at The Colosseum at the last minute, citing bronchitis.
MEDIA NOTES
The poolside wedding setting for former Las Vegas TV personality Molly Sullivan had a special sentimental connection. Sullivan took her first swimming lessons at Sheraton Waikiki, the family's choice for their annual stay in Hawaii. The Green Valley High swim star went on to compete in the 2000 Olympic trials in the mile for the University of North Carolina. Sullivan, who has been the sideline reporter for the Philadelphia 76ers for the past three seasons, married Tommy French on May 7 in Honolulu. He is in the medical field. …
After a falling-out 13 years ago, former KKLZ-FM, 96.3 deejays Ken Johnson and Jim Tofte got back together to do an episode of Tofte's podcast, called thefakeshow.com. They had teamed up for 20 years. …
You can find the link for my "State of Nevada" appearance Thursday with host Dave Becker at: www.knpr.org. The interview includes my royal run-in with Prince Andrew, who tried to evict me from a party in Beverly Hills. …
Last Sunday in my Media Notes, I mistakenly reported that KLAS-TV, Channel 8 general manager Emily Neilson had left the station. She gave notice last month that she was transitioning out after 35 years, 11 as general manager. Her departure will be in July or August.
THE SCENE AND HEARD
Blues singer Scott Rhiner and the Moanin Blacksnakes dedicated Saturday's show at the Sand Dollar to B.B. King. "He was one of my personal heroes," Rhiner said. "I ran into him at Albertson's one night in the '80s. I said hello and he talked with me for five minutes." …
Britney Spears and Iggy Azalea's "Pretty Girls" collaboration is already being panned as "pretty bleh" by the celebrity site Vulture.com. "But as a music video! It's definitely … something." Spears is cast as "a ditzy '80s valley girl," Vulture said, "and Iggy is an alien who comes to Earth to share the superpower product placement with humanity."
SIGHTINGS
At Hakkasan Restaurant (MGM Grand) on Friday: Singer-songwriter John Legend, dining with his wife Chrissy Teigen. Also there: British singer Rita Ora. … Imagine Dragons frontman Dan Reynolds, with his wife, Aja Volkman, also a musician, at Gordon Ramsay Steak on Friday. … Bally's headliner Veronic, dashing over to meet Mirage headliner Terry Fator during Billboard's "Red Carpet Radio" session Friday. … The Batmobile from the 1989 film "Batman" and 32 DeLoreans, part of a 90-car parade cruising down the Strip on Friday. They were participating in Paul Casey's Las Vegas Car Stars weekend which was marking the 30th anniversary of the film "Back to the Future." Cast members in town for the event included Christopher Lloyd, Lea Thompson, Claudia Wells and Bob Gale, who co-wrote the sci-fi comedy.
THE PUNCH LINE
"In Las Vegas, a musical that is based on the popular reality show 'Duck Dynasty' is shutting down because of poor ticket sales. Now where am I supposed to take my wife for our anniversary?
"You'd think with the size of the duck-hunting community, this show would be a hit. I guess the audiences weren't comfortable with the shooting over their heads." — Jimmy Kimmel
Norm Clarke's column appears Sunday, Monday, Wednesday and Friday. He can be reached at 702-383-0244 or email him at norm@reviewjournal.com. Find more online at www.normclarke.com. Follow Norm on Twitter: @Norm_Clarke