The Chippendale, the Playmate, 50 lions and a baby giraffe
December 9, 2014 - 7:55 am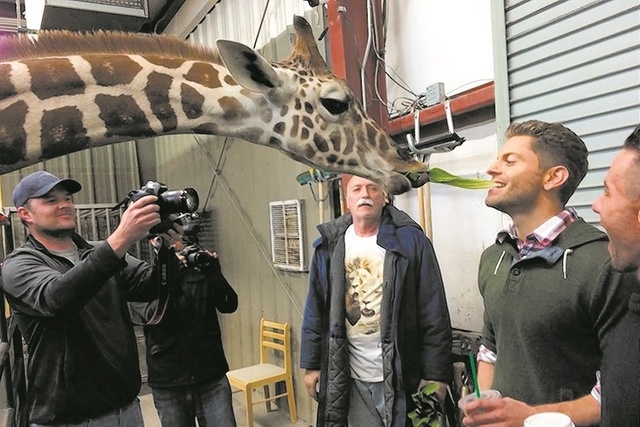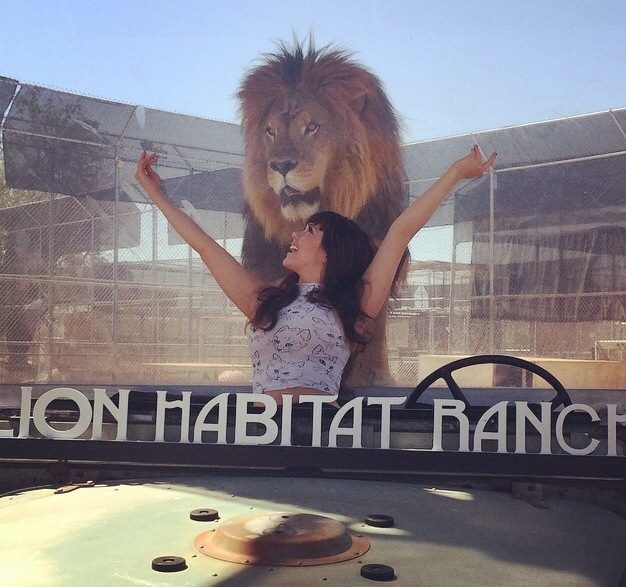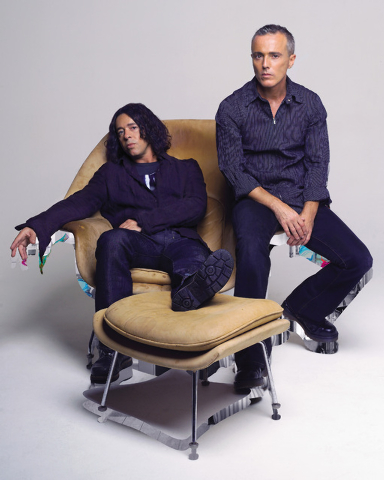 Chippendale Jaymes Vaughn, who came in second on "Amazing Race," is filming a new reality TV show, but details are being kept quiet, because that's usually the case with these things.
Last week, he was filming at the Lion Habitat Ranch, sanctuary for 50 lions, where his favorite animal was this 8-month-old baby giraffe, Ozzie.
Britney Spears and David Copperfield have also taken jaunts to the ranch.
But the craziest photo might be of Playmate Claire Sinclair, star of "Pin Up" at the Stratosphere.
She's just, you know, stretching her arms in front of a lion. Stop that, Claire Sinclair, you're scaring me.
The nonprofit ranch celebrated its first year of being open to the public on Monday. It's open Friday-Monday, 11 a.m.-3 p.m.
You can get in for $25, or by donating 25 pounds of food to Three Square, Las Vegas' award-winning food charity.
Check it out here: http://thecathouse.us/
CAN TEARS FOR FEARS RULE WORLD AGAIN?
What a difference new management makes.
Tears for Fears rocked huge classic hits "Shout" and "Everybody Wants to Rule the World," but the duo hadn't been touring much, until lately.
"It's strange to be working so hard again. I thought we were both semi-retired," says singer Roland Orzabal, who performs with band partner Curt Smith on Saturday at the Palms' Pearl.
"Since hooking up with this new management, we seem to be doing a lot, and getting requests," he told me.
Now Tears is working on a new album and promoting a deluxe version of "Songs From the Big Chair," and they just appeared on "Jimmy Kimmel Live," the popular podcast "Comedy Bang Bang" and a Spotify performance session.
"I'm beginning to realize there's life left in the old dog yet," Orzabal said, speaking in the kind of British accent many American men wish they had.
Orzabal said Tears for Fears is "alive and kicking," which is funny because that's the title of a classic pop song by a different band, Simple Minds. This would be like if Rihanna said she was "Crazy In Love."
What else has Orzabal been up to?
Well, he tried writing a big, serious book — "a historic, grand novel with multiple characters in the past, using Victorian, Edwardian English, lots of long words, lots of philosophy, lots of purple prose."
But that tome turned out confused and not cohesive.
So he wrote an easier book about sex, drugs and opera. It's called "Sex, Drugs &Opera."
That book received good notes. It's about a pop star like Orzabal (who played the pirate king in the "Pirates of Penzance" at age 17) going on a real British TV show called "Popstar to Operastar" (because the Brits, unlike we Americans, aren't allergic to opera).
And weirdly, Orzabal's literary agent persuaded him to join Twitter (@rolandtff) — so now he spins fictional tales about fictional girlfriends on Twitter, like the one about the tall girl who went to his house and stole his trumpet. (Ah, metaphors.)
He likes this intimate relationship with Twitter followers.
"There's obviously a lot of ladies who still think I'm a sexy 30-year-old" on Twitter, he said. "That's a bit strange. But there's also a physics professor.
"I am what Brazilians call, 'Master of Lazwera," he said.
"Lazwera?" What's that?
"I think it's a Brazilian word for (BS)."
I'm positive I'm butchering the spelling of "Lazwera," if Orzabal isn't pulling my chain that the word even exists.
SIGHTING
Ashanti ate food at N9NE Steakhouse Saturday, with her momager, Tina, and sister Shia. N9NE is delicious. I wish I could afford it. … Holly Madison and husband Pasquale Rotella took daughter Rainbow to Sunday's pajama brunch at Simon at the Palms. Simon's is also delicious, and I can afford it, so I go there more.
Doug Elfman's column appears on Tuesdays, Thursdays and Saturdays. Email him at delfman@reviewjournal.com. He blogs at reviewjournal.com/elfman/