The worst of EDC traffic on I-15 is yet to come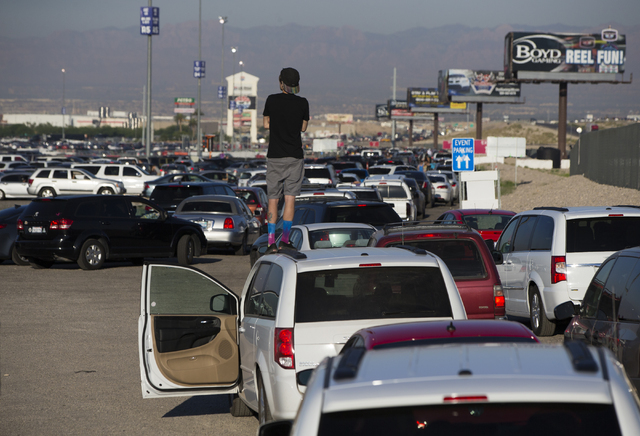 It won't surprise anyone familiar with the Electric Daisy Carnival that traffic from the festival at the Las Vegas Speedway can be torturous.
Saturday's morning traffic — after EDC's opening night Friday — lived up to the festival's nightmarish reputation for clogged roadways leading to Interstate 15 and Las Vegas Boulevard.
Bleary-eyed partyers found themselves stuck in their cars for several hours Saturday morning after the festival ended, including a complete "standstill," leaving the Las Vegas Motor Speedway and getting onto I-15.
It took nearly three hours to return to the Spaghetti Bowl from the EDC parking lot. Just getting from the parking spot to the main driveway leading to all parking lots took two hours.
Many cars were cutting in front of others in long lines of traffic. As the morning wore on, some vehicles looked worse for wear, apparently overheating, with popped hoods telling their tales. A lone traffic worker dressed in a reflective yellow vest didn't seem to be doing much of anything.
Relief for some drivers came about 7:40 a.m., as a Metropolitan Police Department squad car came up to the main exit line leading to I-15, flipped on his lights and directed people to follow him. At least 50 cars left the line and followed the squad car down the previously closed "Blue Path," then newly opened as a path to Las Vegas Boulevard. An hour later, some drivers reached downtown Las Vegas.
Saturday night, traffic was just as bad, if not worse. Some would-be festivalgoers spent more than three hours trying to travel 5 miles from I-15's Cheyenne Avenue off-ramp to Las Vegas Boulevard North. The Speedway was still 2 miles away.
Similar traffic jams are expected Sunday morning. But the worst is yet to come Monday, when revelers leave the speedway for the final time just as commuters head toward downtown and the Strip for work. If you're commuting and not stuck in the EDC parking lot, save yourself. Seek an alternate route and give yourself plenty of time.
Metro Capt. Brian Greenway shared in a Facebook live chat that locals should "stay clear" of both north and south Las Vegas Boulevard from 5 p.m. to 11 p.m. Sunday and from 6 a.m. to 9 a.m. Sunday and Monday to avoid the heaviest delays.
Las Vegas Review-Journal photographer Ben Hager and writer Jessica Terrones contributed to this report. Contact Blake Apgar at bapgar@reviewjournal.com or 702-383-0342. Find @BlakeApgarLV on Twitter.