TV station increases security after Virginia slayings
August 30, 2015 - 10:39 am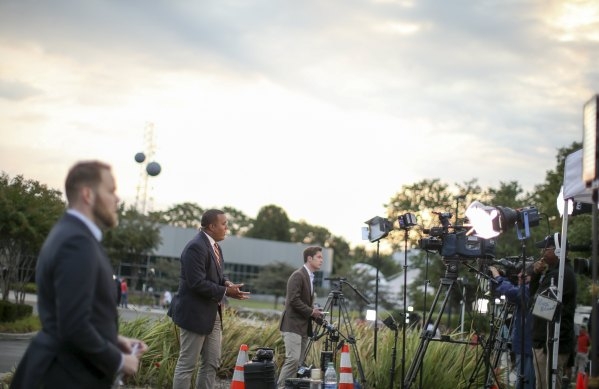 Reacting to the Roanoke, Va., shootings that left a TV reporter and a cameraman dead, a Las Vegas television station is assigning armed security to its reporting crews.
Mark Neerman, news director of NBC affiliate KSNV-TV, Channel 3, confirmed the move and added the station was also "taking a critical look at how we cover stories and making sure we're doing all we can to keep our crews safe."
Slain during a live interview Wednesday were WDBJ reporter Alison Parker, 24, and cameraman Adam Ward, 27. A Chamber of Commerce executive who was shot in the back is expected to live.
Neerman said KSNV plans to hire an outside security firm "to work with our staff to make sure they are properly trained to deal with dangerous situations. We work in one of the most visible and competitive markets in the country, but nothing is more important to us than the safety of our team."
He added, "We also gave reporters the option not to go 'live' if they weren't comfortable."
Extra precautions are long overdue in the TV industry, said a former veteran Las Vegas TV reporter.
The "horrifying" incident "should be a wake up call to all news management," said Lorraine Blanco Moss, who worked in the Las Vegas and San Francisco markets in the past decade.
"Journalists need better security in the field," said Blanco Moss, who was known as Lorraine Blanco while working at KVVU-TV, Channel 5, for seven years (2003 to 2009) as a reporter and weekend anchor before moving to the Bay Area.
She retired from the TV business about two years ago. How much did the frequent danger have to do with leaving? "Around 40 percent," she said by email.
She and her husband, ESPN 1100 radio personality Mitch Moss, returned to Las Vegas in 2013, shortly after she covered a street shooting that ended in an execution-style murder.
"News management tells us to go back to the neighborhood that afternoon and look for anyone who saw the shoot, knows the suspect and/or the victims. We hesitate," she said. "The photographer asks for armed security. The station relents."
But, said Blanco Moss, when they arrived "people are terrified…telling us this a violet area…asking us why we are there. A few are yelling obscenities at us" and the police. "We were genuinely afraid for our lives."
In Las Vegas, she said a news director and producer "told us to go knock on the door of a man who had just killed another man for knocking on his door!"
"News management needs to stop sending news crews to BS live shots just for the sake of looking active and topical," she said.
Joseph Peters, a producer at KTNV-TV, Channel 13, worked with Parker, who was the first target of former co-worker Vester Lee Flanagan II.
Two years ago Peters and Parker started their TV careers together in New Bern, N.C. "We had the same circle of friends. We were always working the same shifts and out on the town," said Peters.
"She was the compete package," he said.
Peters was working the overnight shift Wednesday when the news broke about the Roanoke shootings.
The victims were not immediately identified. Peters knew she worked there.
Alarmed, he sent her a text message "to see if she was OK."
BAD TIMING
Be forewarned: Taking a powder room break or buying a refreshment during Celine Dion's hologram segment featuring Frank Sinatra and Elvis can turn into a lengthy wait.
Theater doors remain closed for about 10-12 minutes during the segment because outside light can ruin the hologram effect.
That means the ushers sometimes get an earful from impatient and impassioned fans.
Last year, I'm told a woman from France fell to her knees, sobbing uncontrollably after learning she couldn't go back in until Celine's hologram segment with Stevie Wonder was over.
But it could have been worse: A couple from Germany arrived late for a Celine performance a few years ago. Really late. An usher informed them the show would end in 20 minutes.
The couple was under the impression the show started at 9:30 p.m., instead of 7:30 p.m. (which often means 8 by the time everyone gets seated).
The German woman collapsed in tears and was inconsolable as her significant other attempted to hoist her back on her feet.
THE SCENE AND HEARD
Dion, during Thursday's preshow press conference, said she is planning a French album in 2016 and one in English in 2017. Her last English album, "Loved Me Back to Life," was released in November, 2013…
On this day, August 30, 1984: Stuntman Dan Koku jumps 326 feet from the top of the Vegas World Hotel, ripping his jumpsuit but emerging from the 20-foot deep airbag unscathed. He earns $1 million in cash from owner Bob Stupak for the record-setting plunge.
SIGHTINGS
Boxing champ Floyd Mayweather Jr., dining with a 70-member entourage on Thursday at N9ne Steakhouse. In training for his Sept. 12 fight with Andre Berto at the MGM Grand, Mayweather ordered a 14-ounce New York sirloin, lobster mashed potatoes and creamed spinach. He and his friends later showed up at Encore Beach Club (Wynn) when they camped out in a cabana. Mayweather was drinking cranberry juice. Also at the club: 50 Cent in a bungalow with friends… At the Showtime Boxing event at the Downtown Las Vegas Event Center on Friday: legendary fight promoter Don King, mixed martial arts icon Randy Couture, with his girlfriend Mindy Robinson, super bantamweight champ Ana Julaton and UFC star Frank Mir. King, Couture and Robinson joined fans at the Longbar at The D, while Mir, his wife Jennifer and Julaton dined at Andiamo's… Elvis' right-hand man Joe Esposito and Memphis Mafia princess Shirley Dieu, touring the Elvis Exhibition at the Westgate Resort on Friday… Former talk-show host Alan Stock, dining with his wife Rhoda at the Pasta Shop Ristorante on Saturday… Flavor Flav, at Sammy's L.A. Pastrami on East Tropicana on Friday night.
THE PUNCH LINE
"It has come out that 100 ESPN employees were on the adultery website Ashley Madison. In other words, infidelity has finally entered the world of sports." — Conan O'Brien
Norm Clarke's column appears Sunday, Monday, Wednesday and Friday. He can be reached at 702-383-0244 or norm@reviewjournal.com. Find more online at www.normclarke.com. On Twitter: @Norm_Clarke