December 18, 2009 - 10:00 pm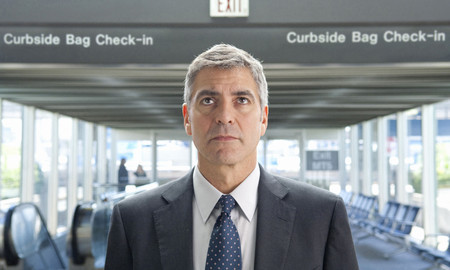 These days, it's a lot easier to miss connections than to make them. Especially if you never come down to earth — which is exactly the way Ryan Bingham lives his so-called life.
Bingham's the protagonist of "Up in the Air," a witty — and sometimes wise — comedy-drama that manages the potentially challenging feat of blending timely and timeless themes with throwaway ease.
Because George Clooney plays Bingham, you might be tempted to consider him the hero of the tale.
But it's tough to describe someone as a hero when his job is telling other people they've lost theirs.
Like a Western gunslinger who rides into town and tells the poor farmers how it's going to be — which is generally how the ruthless cattle baron wants it — Ryan's a "career transition counselor," a hired gun who comes into embattled workplaces and informs employees that their services are no longer required. (Many of these ambush victims are played not by actors but by unemployed workers, who re-create their personal layoff traumas with unsettling directness.)
Rather than brandishing six-shooters, Ryan comes armed with folders informing his targets of their post-employment options — delivered with smoothly rehearsed reassurances that today begins an exciting new chapter in their professional lives. (Assuming they don't mind not knowing where their next paycheck is coming from … and when it might show up.)
Like all rootless gunslingers, Ryan rides alone. But he doesn't even have the chance to bond with his faithful equine companion, because Ryan rides his range in a succession of airplanes and airport lounges and rental cars — and his nights in a succession of anonymous hotel rooms that bear an eerie resemblance to his apartment back home in Omaha.
Where, of course, he never goes. Until the fateful day his boss (deadpan delight Jason Bateman) calls him off the road and introduces him to the future: Natalie Keener ("Twilight's" Anna Kendrick), a newly minted Ivy League MBA who's developed a computer-assisted job-dismissal system that will enable Ryan's boss to pull him off the road — for good.
Before this karmic payback can commence, however, Ryan and Anna hit the road so he can show her the ropes.
Along the way, Ryan will re-encounter Alex Goran (Vera Farmiga), a scintillating road warrior who's at least as self-possessed as Ryan himself — and ponder how the other half lives when he heads home to small-town Wisconsin for a family wedding.
Director Jason Reitman ("Juno," "Thank You for Smoking") began adapting Walter Kirn's novel while the U.S. economy was still booming.
Since things went boom, however, Reitman's had to downplay some of the source material's more satirical elements and give his cynical protagonist a twinge or two of actual humanity.
Occasionally, it's a twinge or two too many; "Up in the Air" at times veers perilously close to out-and-out sentiment, but Reitman manages to course-correct whenever the movie threatens to go all warm and fuzzy on us.
Which is not to suggest, despite its sometimes sobering themes, that "Up in the Air" is the cinematic equivalent of a dark, rain-saturated cloud.
But never fear. Reitman's pacing snaps and pops with the urgency of a frequent flier rushing to make a final boarding call, while the screenplay (co-written by Reitman and Sheldon Turner) delights in the kind of teasing, drop-dead dialogue that makes "Up in the Air" a treat for ear as well as eye.
Especially when that dialogue's being delivered by Reitman's high-flying actors.
"Juno" veterans Bateman and J.K. Simmons (as one of the loyal employees Ryan fires) score bull's-eyes in brief but pivotal roles. And while Kendrick seems a bit young for the role of budding corporate assassin, her take-charge bravado captures the irony of a supposed human-resources expert who doesn't know the first thing about dealing with people.
As for "Up in the Air's" star performers, their characters know, all too well, who — and what — they are.
Farmiga's cool, teasingly inscrutable flair makes Alex seem (almost) as alluring to us as she seems to Ryan. (And what a pleasure to see Clooney demonstrate an on-screen rapport with someone other than Brad Pitt for a change.)
Speaking of Clooney — as well we should — "Up in the Air" stays airborne, and flies as high as it does, largely on the strength of his performance.
Clooney uses his sleek leading-man looks and playful charm with practiced ease, drawing us in and making us like Ryan Bingham in spite of what he does. But Clooney's also canny enough to reveal the cracks in Ryan's carefully maintained facade — and, ultimately, how desperate he is for the connections he just can't bring himself to make.
Contact movie critic Carol Cling at ccling@reviewjournal.com or 702-383-0272.
Review
"Up in the Air"
109 minutes
R; profanity, sexual content, brief nudity
Grade: B+
at multiple locations
Deja View
Travelers at the crossroads of their lives inspire these memorable cinematic road trips:
"Sullivan's Travels" (1941) — Yearning to make a profound cinematic statement, a successful Hollywood director (Joel McCrea) hits the road as a hobo in writer-director Preston Sturges' classic tribute to the power of laughter in a dark world.
"Five Easy Pieces" (1970) — Jack Nicholson's Oscar-nominated performance (his first as a leading man) keys Bob Rafelson's brilliant study of '70s alienation, featuring Karen Black, Susan Anspach and a pre-"All in the Family" Sally Struthers.
"Scarecrow" (1973) — In this Cannes award-winner, a tough ex-con (Gene Hackman) and a sailor (Al Pacino) home from the sea drift across America in search of something better.
"The Straight Story" (1999) — When he learns that his estranged brother is dying, 73-year-old Alvin Straight (Richard Farnsworth) hits the road — and rides his riding lawnmower to Wisconsin — in director David Lynch's award-winning, fact-based odyssey.
"Sideways" (2004) — A frustrated writer (Paul Giamatti) sets off to do some serious soul-searching when he and his affable actor pal (Thomas Haden Church) take a weeklong road trip through Southern California wine country.
— By CAROL CLING