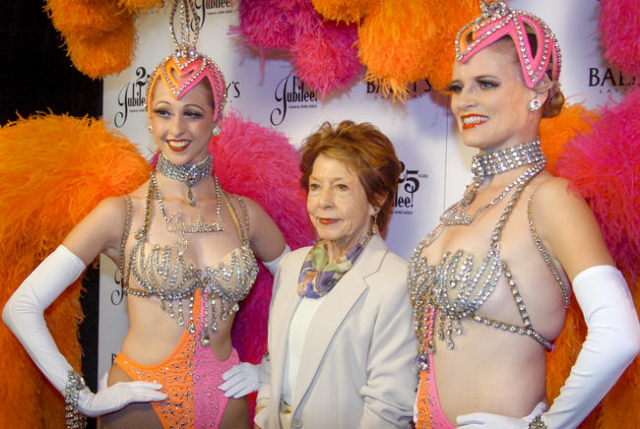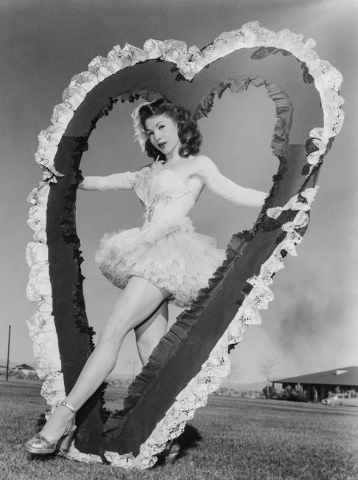 Ffolliott "Fluff" LeCoque, who rose from a Montana miner's daughter to manage the city's most glamorous production shows "Hallelujah Hollywood" and "Jubilee!", died Thursday.
LeCoque, who retired in 2010, was 92.
Born in 1923 in Butte, Mont., where her father worked in the mines, she grew up in Seattle, attended dance school in New York and worked in Hollywood before arriving in Las Vegas in 1947.
She danced in floor shows at the Desert Inn. At 43, she moved into management and played a role in the entertainment boom that helped make Las Vegas the global destination it is today.
As company manager of producer Donn Arden's famed productions, she auditioned thousands of dancers and showgirls during her career.
She was in charge of the 100-plus cast members of "Hallelujah Hollywood" at the original MGM Grand, now Bally's.
I was with The Associated Press when I interviewed LeCoque backstage in May 1980.
She got straight to the point: Showgirls, a longtime symbol of Las Vegas' sexy entertainment, were on their last legs.
"They're becoming obsolete," she said. "Why hire a girl who can only walk when you can hire a tall, beautiful dancer who can do everything better, and sing, too?"
The bigger stages required a more fast-paced production, she said.
She was immortalized for her cameo in the Las Vegas-set mob classic "Casino," which came out in 1995.
Director Martin Scorsese spotted her while she was reading lines fed to her by leading man Robert De Niro.
Cast as a feuding partner of a union guy, she was whacked by a gunman.
"I did (the scene) 12 times because the gun was supposed to fire three times," she told me on the eve of her 88th birthday, Aug. 7, 2011.
"I had 12 outfits and had to change every time because there was Karo syrup with food coloring in it."
Miss Universe and Trump
Miss Universe Paulina Vega says she's emerging from a "chaotic" no-win situation after Donald Trump's controversial immigration comments.
Mexico and Bolivia cut ties with the Miss Universe organization, which was owned by Trump at the time he contended Mexican immigrants were bringing drugs, crime and rape to the United States.
When Vega called Trump's remarks "hurtful and unfair," the Republican presidential hopeful called her a "hypocrite" for not giving up the title.
Her response was that she had no intention of stepping down "because the Miss Universe organization does meaningful social work in communities around the world."
Interviewed by the Review-Journal this week, Vega said fellow Latin Americans pressured her to relinquish her crown, saying, "You can't work for that man."
She said, "A lot of people support him."
Asked if Trump would be welcome to South America any time soon, her response was, "too risky, too risky."
The Miss Universe pageant will be held Dec. 20 at the Axis Theater at Planet Hollywood Resort. The scene and heard
Clarification: In Wednesday's column, Frank Sinatra impressionist Bob Anderson criticized Alicia Keys for the way she sang "I've Got a Crush on You" in the CBS Sinatra tribute. Anderson said in his Facebook post, "Alicia Keys had no clue on how to interpret that Sammy Cahn song." George Gershwin composed the song, with lyrics by Ira Gershwin. …
The $50 Sinatra special at Hugo's Cellar at the Four Queens runs through Saturday. Binion's Steakhouse is also offering the deal, inspired by Sinatra's favorite dish at the exclusive Regency Room at the Sands.
On this day
Dec. 11, 2009: Country star Garth Brooks ends his semi-retirement with a headliner residency at Encore Theater at Wynn Las Vegas. The deal included an 11-seat private jet so Brooks could spend time with his family. Dec. 12, 1976: Elvis Presley performs his last show in Las Vegas, a midnight concert at the Hilton. He dies eight months later in Memphis, Tenn., at the age of 42. Sightings Actress and comedian Mindy Kaling, backstage after Penn & Teller's show Wednesday at the Rio. … Miss Universe contestants, riding the High Roller at The Linq on Tuesday.
The punch line
"Donald Trump said he would not put Muslims in internment camps. He said they would all stay at his luxurious new Trump Hotel and Internment Resort." — Conan O'Brien
— Norm Clarke's column appears Sunday, Monday, Wednesday and Friday. He can be reached at 702-383-0244 or norm@reviewjournal.com. Find more online at www.normclarke.com. On Twitter: @Norm_Clarke