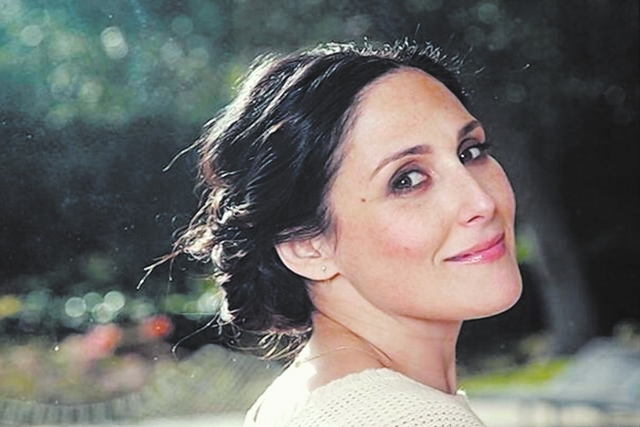 Talk show host Ricki Lake will join Las Vegas politicians on Tuesday for a "marijuana shark tank forum" at Green Valley Ranch Resort.
Following the style of the TV show "Shark Tank," weed ganjapreneurs will pitch ideas to judges in hopes of winning seed funds to grow business ideas.
It's bipartisan. With Lake will be Democrats (U.S. Rep. Dina Titus and Las Vegas' state Sen. Tick Segerblom), as well as Republicans, such as New York Assemblyman Steve Katz, who has vowed to invest millions in weed.
You know, this event would have been crazy a few years ago.
But as strange as this may sound to, say, seniors, America is experiencing a weed revolution.
Even Sarah Palin's Alaska voted on Tuesday to legalize recreational weed during a Republican-wave, off-year election in which young people didn't vote.
So everyone sees the writing on the wall that Nevada voters will most likely approve legal recreational marijuana in 2016. Prohibition seems to be coming to its end.
You know what that means. Here comes the massive commercialization of weed.
Among Tuesday's judges are wealthy executives associated with Dixie Brands and Zynga, including powerhouse Tom Bollich.
The event is hosted by the ArcView Investor Network of billionaires and techies.
There are no show tickets; the event is for ArcView members, invited guests and national media.
CAGE FILMING HERE AGAIN
Las Vegas' most famous actor in residence, Nicolas Cage, will begin filming a crime thriller in Las Vegas starting in early 2015.
The movie is in preproduction here now. It's called "The Trust," and it follows two bad cops whose lives unravel after they discover a safe, according to Variety and other movie sites Friday morning.
Cage is placing his trust in two young brothers from L.A. who direct together — Alex and Ben Brewer. (Ben Brewer co-wrote the script.)
The Brewer brothers have shown a steady hand in directing high-concept music videos ensconced in today's American film language, which is this: Beautiful girls plus razors-and-blood equals heroic superhorror.
The Brewers cemented their portfolio by filming an 11-minute video, "Are You Okay," for the excellent band the Dum Dum Girls, based on a concept by "American Psycho" author Bret Easton Ellis, a master of fictional paranoid psychosis.
In that Dum Dum video: a pretty woman walks toward blood and death and redemption, slowly and figuratively.
Sounds like a perfect match for Cage. He's wild at heart.
PLAYSTATION COMING TO VEGAS
Remember when Las Vegas had the "Star Trek: The Experience" and bar at the Las Vegas Hilton, where zillions of tourists trekked for nerd fun, before the Hilton idiotically, stupidly, horrendously got rid of it?
Well, Sony is bringing "PlayStation Experience" to the Sands Expo on Dec. 6-7 for 40,000 square feet of game dorking, panels, contests and merchandising.
How many people are coming for this event?
Sony says keynote seating is first come, first serve for the first 5,500 attendants.
What?
Tickets cost $55 a day or $95.50 for both days, via Ticketmaster.
This is just a two-day event. My dream is hotel executives will launch a video game experience in Vegas, similar to "Star Trek: The Experience," to give gamers an annual mecca to trek to, year-round, for community organizing of fan boys and girls of all platforms — PlayStation, Xbox, Nintendo, Android, Apple, PC and Mac.
This is a no-brainer idea, considering arenas that merely show gaming are selling out around the world.
Now is the time for Vegas to capture and capitalize on this market with creativity.
$2 MILLION BRAS
Victoria's Secret "Angels" (um, models) Adriana Lima and Alessandra Ambrosio will be walking around the Fashion Show mall at noon and 6 p.m. Thursday, flashing bras "by Mouawad" which are supposedly valued at $2 million each.
The bras are adorned with 16,000 rubies, diamonds, blue and light-blue sapphires.
This runway bra event is a run-up to CBS's Victoria's Secret Fashion Show, airing Dec. 9.
Victoria's Secret keeps asking me if I want to interview these "Angels," but I can't decide. What do you think I should do?
STRIPPERS FOR A CAUSE
Crazy Horse III has begun hosting its annual "Show Us Your Cans" food drive for Three Square Food Bank. Through Nov. 26, taking five nonperishable food items to the strip club gets you a free cocktail.
If your organization is offering real charity deals, let me know on Twitter @VegasAnonymous, attach a fetching photo, and I'll retweet those who are trying to help the world.
Doug Elfman's column appears Tuesdays, Thursdays and Saturdays. Email him at delfman@reviewjournal.com. He blogs at reviewjournal.com/elfman.